Had a nice wee meet up with Rob from Montane and Phil at the Tiso cafe for a catch up with this, that, the other and Montane. If was going well until my camera died before it saved the first photie, so its just as well my phone was fully charged. However, it hates low light so many of the photies below are rubbish and do little justice to the handsome faces or kit portrayed within.
Some are actually making the kit look like they're made of hessian or roofing felt, I shall point out what to ignore as we go.
Above is the updated Extreme Smock. Always a nice bit of kit, the pile is now finer textured and lighter, the hood is better too.
Below  there's a couple of the new Primino base layers, long sleeve zip neck and crew. The fabric feels very nice indeed as it's a blend of 50% merino, 25% polyester and 50%Primaloft fibres, which doesn't means it's overly warm, Primaloft is just a very good polyester fibre. I've had Primaloft fibre running socks to test and they were just soft and comfy.
Above is the Axion Neo Alpha jacket, a monster ski, architect site visit jacket with  Polartec Neoshell outer and Alpha 100g fill.
Looks pretty classy.
The first on a few Pertex/Primaloft stuff bags of joy. This Fireball hat might make you look special, but it weighs nothing and in a tent in winter who cares what you look like.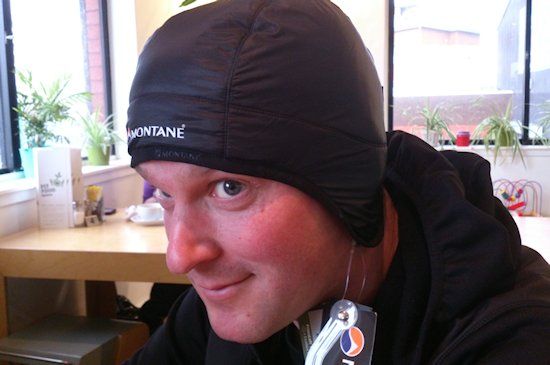 These two  tiny weightless stuffsacks contain what will become vital kit for many of us I'd imagine.
Above are the Prism Gloves with the Prism Mitts below. Pertex Microlight outers, Primaloft Gold (used to be called One) lining with a great fit. Love, and indeed need both of these. I feel the cold on my hands more than ever, mitts and warm gloves are where it's at for me and when it comes small and light but still performs it's a big win.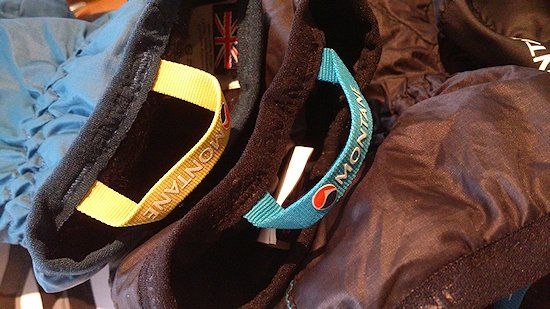 The Punk Balaclava is a mix of Polartec and  Pertex, but I still look like an old hippy. That skip is nice, sits well on its own but should layer well too as it's soft enough.
The pack range is going all mosnter with the Dragon 20, Jaws 10 and Fang 5. Similar concepts run through them but they are all different packs with a similar outlook, low weight, stability and on the go accessibility.
There's elastic wasitbands, multiple storage options from stash pockets to bungee webs to shoulder bottle attachments. The packs are all zipped access, waterproof zips too as the fabric is waterproof and the seams are taped making for a very weather proof pack indeed. For biking and running where you just end up minging in bad weather these guys are looking good.
The contact area of the front harness/storage straps should keep the pack stable, I've used this concept before and I like it. The detailing and thought built into the packs looks sound.
Weights are 320g, 282g and 247g for the three capacities, in the order you'd expect with no obvious corners cut to meet the numbers. We'll see.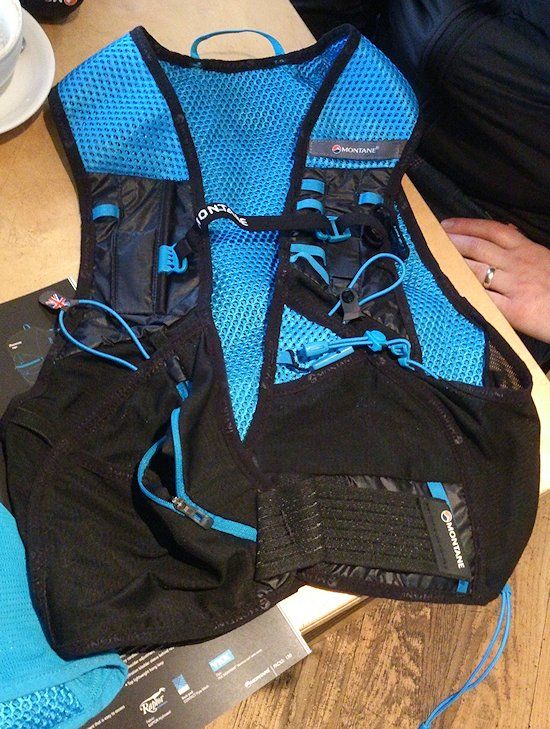 The classic Flux gets an update and also gets matching Flux Pants. The outers are Pertex Classic Eco with a mic of 100g and 60g Primaloft in the jacket and 60g in the pants.
I've reviewed the Flux in the past and the newer models don't stray too far from the script, it's not the lightest for the warmth but it's just such a usable jacket, wearable instead of just a pull-on for rest stops or camp.
The phone has killed this one, in reality the Power Up Hoodie above is gorgeous, cut from smooth Polartec Powerstretch in a lovely bright blue. There's a simple hood, zipped chest pockets and two handwarmer pockets placed just above a pack hipbelt.
On of my favourites of the day.
Above on the left is the Alpha Guide Jacket, a hybrid jacket with Polartec Alpha in the body for core insulation. The outer is Pertex Microlight, weight is around 458g and it comes with a simple hood and neat cut which Phil fits and I don't. Damn you Montane and your sample sizing.
Its beefier looking neighbour is the Alpha 100 Jacket, a warmer take on the Alpha technology with a Pertex Quantum outer and an adjustable mountain hood.
Above in an overly grainy shot is the Rock Guide Jacket. Pertex Microlight Stretch outer, honeycomb inner, feels like nice all-day jacket and it's good a nice hood, which has quirks. There's two little zipped slits at the side so you can slip a helmet chin strap through it and still get face protection.
You can also smoke a pipe or eat a Curly Wurly through the gaps.
Below is the Spitfire One Jacket which is a wee step up from the Ice Guide Jacket which has served me well on numerous occasions. There's Pertex Endurance to keep the weathe off your Primaloft fill and the same pocket layout as the Ice Guide. Nice.
The Chonos Ultra Down Jacket. 650g, Pertex Quantum Y ( different fibre, it's Y shaped, I saw a photie), 259g of 800+ fill 90/10 non-live plucked goose down. The construction is box-wall, thew body is long, the hood is awesome, the pockets are big and there were smiles all round. Not from me though as it was too small to try on. Dammit.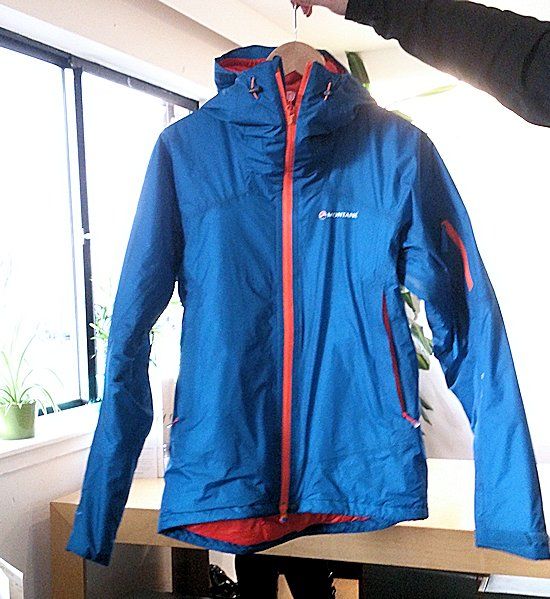 Above is the Minimus Hybrid Jacket, Pertex Shield with 60g Primaloft fill. A kind of outdooorsey lifestyle jacket, ski maybe, but one of those jackets that would get a lot of use as it's generally useful.
This is the Trailblazer Stretch Jacket made from Aquapro Dynamic which is yet another wonderful Montane name here used for a super stretchy (see below) waterproof laminated fabric. The hydrostatic head and MVTR performance on paper looks good and the jacket is specced just right with a weight of 328g.
This is one to watch.
The sleeping bag range is full of quirks and different looks at common issues. Here we have the Alpinist whose rating you can see below.
The outer is Pertex, Endurance on the bottom for water resistance and Microlight on the top. Inside the 1450g total weight is 670g of 800 fill goose down, non live plucked.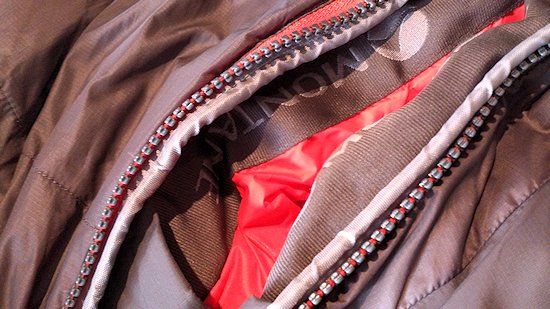 The zips have anti snag detailing that actually works, seriously, be as aggressive as you like and it doesn't snag. Will it still work at 3am when it's -15C and I need a pee? Here's hoping.
The bottom has some grippy dot printing to help keep you on your sleepmat. It'll be interesting to see what effect this has. The baffling is trapezoidal and very well shaped, it's a very 3D bag, especially the foot section which has to be the most foot shaped foot-box I've seen.
The hood is genius. A skip to catch drips from your condensation soaked inner, multiple adjustments of the closure and cleverly shaped inner baffle and inner pockets, one for whatever you like and another zipped one for camera batteries. Yes, it is.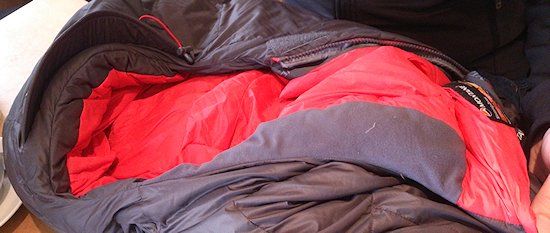 The Minimus has a waterproof Pertex Shield outer, 360g of down in it's kilo total and it's got a good temperature rating too. Good for a bivy maybe?
Definitely impressed with the bags, like they did with the packs they've hit the ground running by the looks of it.
That's that then, good to get myself up to speed again. There were a few things I couldn't cover or forgot to take photies, the trousers got passed over which is a bummer as the Terra Stretches are nice and then there were the new pants I can't show you, they look like a very good beefy but stretchy mountain pant, I like them a lot, very rugged.