There's no point in fannying around here and waiting for the conclusion, the bottom line is that the Montane Fury is micro fleece done right.
I got this in for test last winter and it's first task was walking from Rannoch Station to Spean Bridge in almost constant rain, so it spend it's time layered under an eVent shell. This is where microfleece still wins over softshell for me, warmth and comfort when it's layered up in nasty weahter and also better comfort at rest. The lighter fleece dries quick too, so after steaming in a bothy for a while it was all cozy and minimal dampness. The fabrics are Polartec Micro and Powerdry, low bulk and soft with very stretchy panels at the torso sides, along the under arms and at the sides of the hood.
Talking of which, I've gone down the comfy route there at first with the banter, but the Fury is actually a real technical jacket with both eyes on the mountains so the hood is spot on. It makes no concession to casual use so it's a simple close fitting affair that  pulls on and off (even when the zip's fastened right up to just under your nose) easily due to the good fabrics and moves perfectly with my size 59 napper. Simple hoods like this layer very well under shell hoods as they don't interfere with the peak and adjustment on a shell, somewhere soft shells can lose out and get annoying.
The red panels you can see are two little bits of Pertex cleverness sewn into the front following the stitch lines you can see set back from the zip about an inch and going to down to just below er, bra level. What's this then? A little extra help with chill deflection when layering, you can let the heat out of your shell by unzipping it and the Fury keeps the wind off your damp baselayer. It works fine, and something I like as it's the same reason I often wear a Buff around my neck in winter. Hey, it's the little things that make the difference.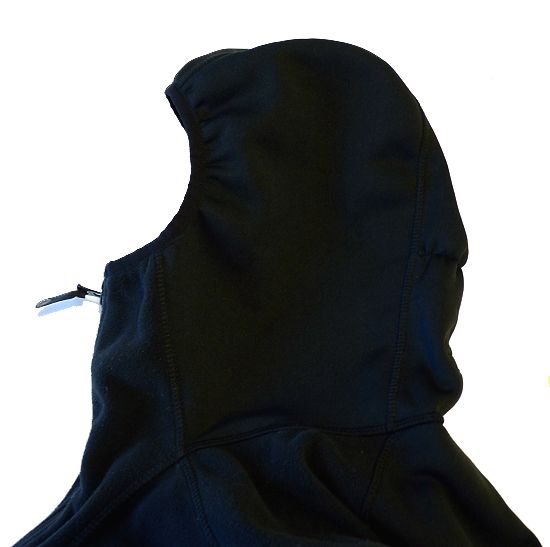 Aa very nice 372g for my size large features are also light on complication, the main zip has a nice baffle that stays put and doesn't snag, the cuffs are simple lycra bound versions and the hem has drawcord adjustment with captured adjusters.
The pockets are big and are mesh backed for some extra ventilation where there are no rucksack straps or arm movement to interfere with it. The pocket placement is very good, being something of a compromise between high to clear a harness and low to keep your hands warm when walking the dog, this makes them perfectly usuable and me very happy.
The cut is very slim, unforgivingly so, but it's the only way to go, the fabrics work better, the jacket's lighter and a well designed bit of kit doesn't need extra fabric to make up for lack of articulation in the arms, and here you can wheel your arms like a wacky waving inflatable arm flailing tube man and the hem doesn't lift. The slim fit means it stays put under a shell too, which is lucky because in typical Montane style the body is as short as they can get away with.
I was glad when it got cold again and I got the Fury back out, it's a brilliant bit of kit. The materials and design are just right, although taller folk might not like the high cut waist, it's fine on me I'm glad to say.
I've often talked misty eyed about the Haglöfs Triton Hood, the perfect microfleece hoody, finally there's a successor.