When the original Montane Air Jacket (left in the photie above) came out about five years ago the reaction was often what you'd expect: very whiny indeed. "The fabric's shiny", "It's too tight", "It's only got one pocket", "It's too light, I'll die" etc. So, both it and it's outstanding matching pants slipped away again quite quickly while the more regular Super Fly captured the nations hearts.
But, for those of us that got one when they came out it was a revelation. Yes the eVent fabric was shiny, it was also light years away in performance from any other membrane fabric out there, Gore Tex was suddenly nowhere. The tight fit helped the fabric operate as well as it did, but there was movement enough if you wore it beyond the shop as they grey panels you can see were a stretch fabric and the articulation was superb anyway. That single pocket was huge and was all I ever needed and I suffered no ill effects from wind rain or snow in it. I went on trip where four of us had an Air Jacket on (admittedly I was the only one with an Air that wasn't black…) and I never heard said a bad word about it.
But, it really wasn't perfect. The hood was a compromise, great peak and fit, but it's roll-away nature left your face exposed and that daft collar it went inside was bulky and the construction added weight. The cuffs were velcro and elastic too, a sure fire way of making ventilation and glove-tucking impossible.
358g for a large it was, very impressive at the time, and indeed ahead of its time. At 324g in sleek black to the right of the photies we have the all-new Air Jacket, we're used to lightweight and minimalist shells now, we're used to eVent too and other fabrics have caught right up with it. For me, using the Air name gave it a big pair of shoes to fill, I got one in for test towards the end of last winter to see if during its time away the Air Jacket had been training in a mountain hideout to come back as a killer ninja or if it had been on the couch with the curtains shut watching Bargain Hunt and picking Kettle Chips out of its belly button.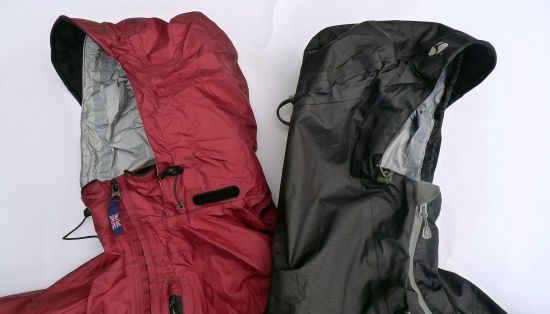 Straight to the hood. The old peak is remembered in the new one with its wired edge and big size for good protection, but this time it's a proper hood thank Jimmy.
The hood has good coverage around the face with proper adjustment too, bungee's for face and at the rear for volume, none of the daft velcro tab volume adjusters once much favoured by Montane. There's a nice big velvety-feeling chin/beard/nose guard that hides the zip puller too and inside there's a velcroed tab (with a corresponding external velcro patch) for securing a folded down hood.
The zip is water resistant with a wide storm flap behind it, this works by the way I've walked into wind driven rain for several hours in this jacket and had no moisture get into my other layers, but maybe most surprisingly the zip is full-length with a zip pull at either end. They could have made this a smock and dropped the weight below 300g, but very deliberately chose the function of a full zip instead.
The single chest pocket also has a water resistant zip with a zipper garage and inside the pocket is mesh for a bit of extra venting as well as stretch for packing more stuff in. There's a little D-ring on a webbing tab inside for attaching lanyards or mini krabs onto, I like that, it's more tech-minded than a keyclip and won't break my thumbnails when I try to open it.
The cuffs as seen below are elastic-free, letting me push the sleeves up my forearms. The tabs are self-fabric which I much prefer to the rubbery ones that everyone uses and the cuff edge is scooped for a little extra hand protection.
The only other real features are a bungeed hem with an adjuster at each hip and some subtle reflective patches here and there.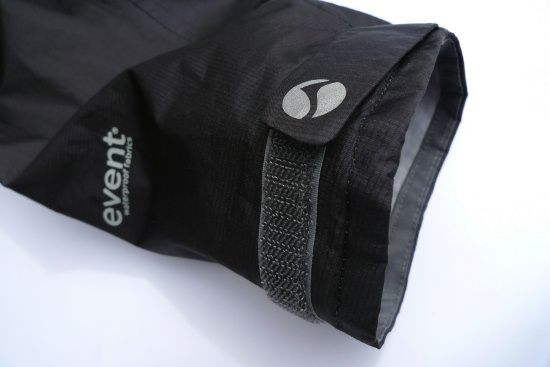 The eVent fabric used here is superb, it's light and supple and works perfectly. I walked from Rannoch Station to Spean Bridge in almost constant rain or drizzle in the Air, even when the sun shone briefly and the temperature rose with it I kept it on and I stayed dry inside.
It is slim fit, you can feel that when you put it on, but just like its predecessor it settled quickly and the lack of extra fabric sticking out or flapping around is they way it should be. Outdoor gear should be worn as close as possible, it doesn't matter what you look like, the fabrics all work better. If it's cut right like the Air is, slim isn't restrictive, it's comfortable.
Getting slim fit, articulation and low weight is also an art. I've had jackets in for test that proclaim their weight as their main features and then their cuffs slide straight up to your elbow because the weight's be attained by missing out some vital movement-enhancing seams and that's just pointless.
The Air is quite short at the front, good for leg lifts, which shows it's active/multisport intentions, but it didn't cause me any mischief just trail walking, it doesn't pull out of my rucksack hipbelt or anything, due in part to the arm articulation which is also inherited from it's dad.
Construction is pretty neat, seams are where the articulation has been sculpted around the shoulders and around the hood, leaving the back and the pocketless side with big breathable areas.
So does it deserve the name of Air? Yes and no. It's a very different jacket, the original Air was much more tailored to use without a hood and with an even slimmer body and arms that made it perfect for biking and running. The new Air is definitely more mountain, and all-season mountain too with a hood that keeps the sting of winter off your face.
So while it's not a direct replacement, it's a natural evolution of the Air design. It's a cracking jacket and if anything deserves to the carry the Air name, it's that fella there below.