Just caught the end of the news. Deficit, growth, recession, depression, debt.
It will never be sorted, the debt will never be repaid, ever.
To make a real profit, of national not personal scale, you have to exploit someone for raw materials and labour and then sell the proceeds at home and abroad.
Success means someone has to suffer, at least a little bit.
Not so easy to blatantly exploit other countries or your own people these days unless you're China hoovering up all the remaining resources in Africa and you're scared of no one.
Mind you, when we're all penniless who's going to be buying Made in China? No one, they'll be buying cheap and cheerful Made in the UK. Made in UK workhouses or poorhouses probably.
Money doesn't work. It did when the world was bigger and slower and no one could hear what was going on in the next town never mind the next country, but not now.
If we reset the meter to zero, had a debt amnesty would it mean we would do it different? Or would we just hope that we could get away with until it we were dead and someone else would have to fix the system later?
I say let's do away with money, or at least let's do away with the unachievable goal of eternal financial growth, at least until we find another planet to export stuff too to bring some money in.
Naive? Maybe, but the dicks who run the current system are shite at it so don't knock my idea 'til you've tried it.
In next week's episode I'll be suggesting ways to fix the schism between incompatible religious doctrines.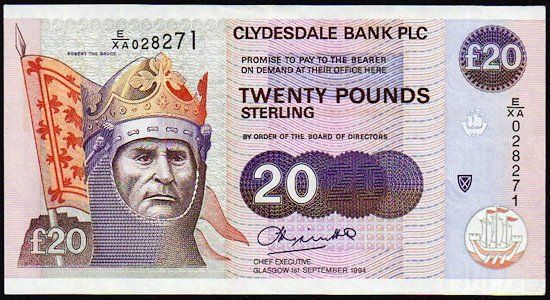 PS, for a fun time, just try and spend that banknote above south of the border. Bastard retard shopkeepers "What's this?" "It's ten pounds Sterling, dick".