I had intended to have a spin on the bike at tea time to test my newly found lights. It had been in my head that "kitchen" was somehow relevant to my lights which I hadn't seen in years, and actually quite a few of those. I went into all the jars on high shelves, tins, kelly kettles, looked in baking trays, the back of the cutlery drawer and found nothing.
On Sunday morning I decided it was do or die, find the lights today or I was going to have to make alternative arrangements, and given the current cost of direct replacements, it was looking like zip tying candles onto the handlebars.
Sitting cross legged on the kitchen floor, pulling stuff out the back of cupboards I soon shook an old tub of Celebrations that had been hidden under a pile of Holly's art stuff, and aye, that feels like paint tubes. I cracked the lid and peered in, posted paints and my Exposure Maxx D and Joystick. Oh my goodness.
I'd had the chargers ready to go as they were easy to find in the mighty box of all known chargers (good luck dear visitor) all along so I plugged them in and they lit up as they always did for a charging cycle. These are ten or eleven year old lithium ion batteries, would they go on fire, would they just not charge?
I was cooking round at my folks for family dinner and dominoes night, I'd see how it went later.
I prepped all my dinner stuff and kitted up, I'd get an hour, maybe and hour and a half and the last half of that would be in the dark. Stretch the legs, see how the lights fared, work up and appetite and properly enjoy my dinner.
It was pretty dull, grey with a a hint of warmth from the low sun but it didn't look like it was going anywhere. Still, I packed a camera in case I could get bike light nonsense later.
I took the riverside trails to the Saltings by which time the clouds were beginning to light up. Oh.
Pack off, camera fished out and hung round my neck. Where will I go? Back to the riverside, I jumped back on the saddle.
This is where pull ons with horizontal zipped chest pockets are perfect, my old Buffalo windshirt being the choice for the ride. I dropped the camera in the pocket and half zipped it, safe and sound and most importantly, handy.
Under the Erskine Bridge the sky was warm and the colour was deepening as the sun slipped down into the thinner cloud at the horizon.
The river was dark and rippling along the black rocks at the banks. I was grinning the entire time, I'm pretty sure I giggled too, I just love this.
It wasn't far to the old oil terminal, after a wee bit of dog dodging. That's a point actually, I've noticed two things while I've been back out on wheels.
The first is that the other cyclists I meet are by and large miserable po−faced bastards. These trails and views are making me smile, but apparently I'm likely the only one on two wheels around here seeing it that way.
Second is dog walkers and there's a 50/50 split here. I fitted a wee bell as you are supposed to do because i'm on the canal towpath and old railway for a good bit and it's the right thing to do to keep everyone including me right and safe.
So, there's a lot of dogs being pulled in with smiles and "thanks" being exchanged which is nice, our brief meeting leaves us both better for the experience.
But there's a few dicks who will completely ignore the bell and and look me in the eye while their dogs run around on a long lead or free and they themselves stand right in the way.
It's interesting, since I've been away attitudes seem to have hardened for some. I ride by smiling and say thanks anyway.
A more obliging and generally cheerful soul you will rarely find than myself but I'm only half of the equation and I can see potential for incident here. Bummer.
We have to try to get on people.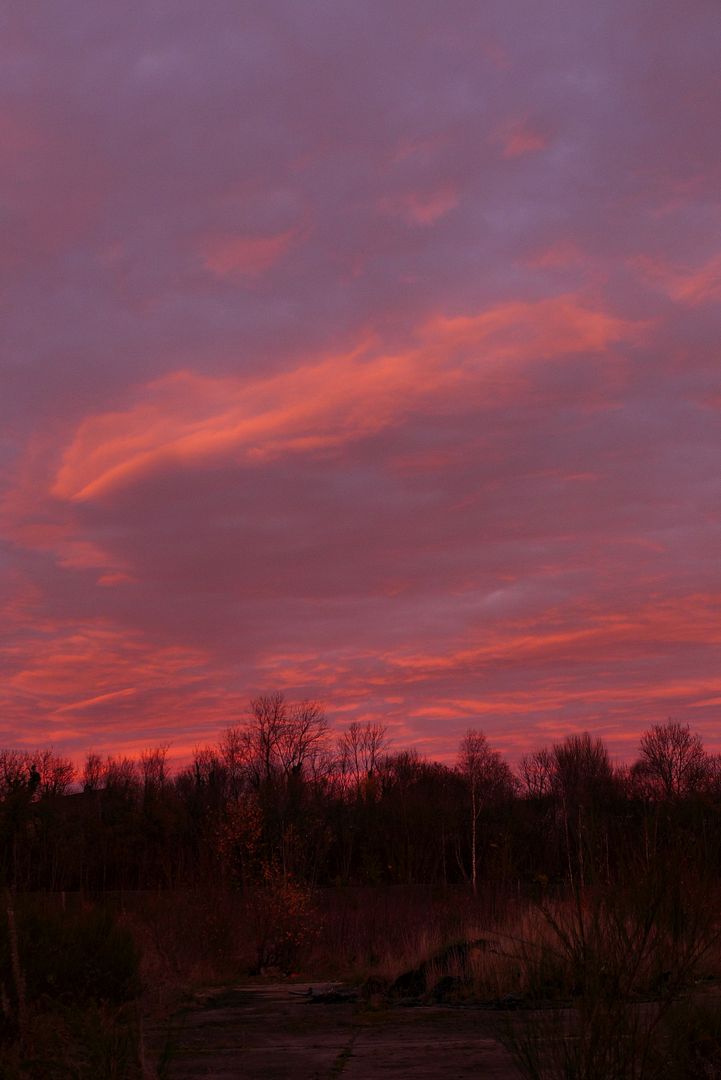 The oil terminal was maybe not the best viewing spot for the sunset itself with a kinda plain southern bank being my foreground, but I don't think I have mych cause to complain with the lightshow that unfolded above me. And you if you were oot.
It was glorious in the other direction too, looking away from the sun the clouds were streaked with pink. I actually said "It's behind you!" to absolutely no one but the ghost of the hundreds of years of forgotten industry that have been and gone where I was standing.
So many birds, flying and calling, it's as if they'd been rattled by the unexpected display. Here, maybe it was me that upset them? Oops.
They looked nice against the sky, so thanks anyway.

The old jetty has had holes cut in it, likely to test it's construction for strength as the site is in the early stages of redevelopment. It does mean you have to watch your feet and wheels though, especially when looking at the view.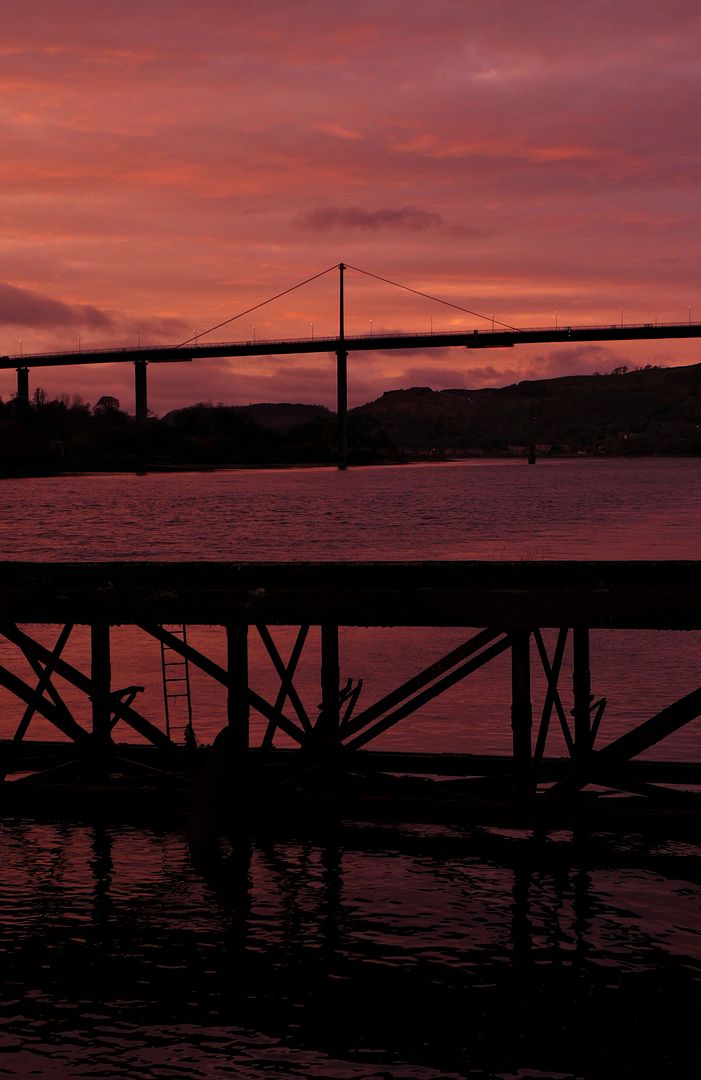 I probably should have rode around looking for different viewpoints but I just stood and watched. It got colder pretty fast too but it was fine, I knew I'd heat up fast once I got back on the bike.
I wonder if that hotel would pay for a print of this?
The wee submarine clouds from earlier were still there too. Trapped between a psychedelic roof and Boden Boo woodland. Not a bad place to be.
It all faded as quickly as it appeared and I got back on the bike and headed towards Clydebank for a while before turning for home with my lights on.
This was it, would they have a meltdown, would they switch off just as I got that narrow gap in the trees?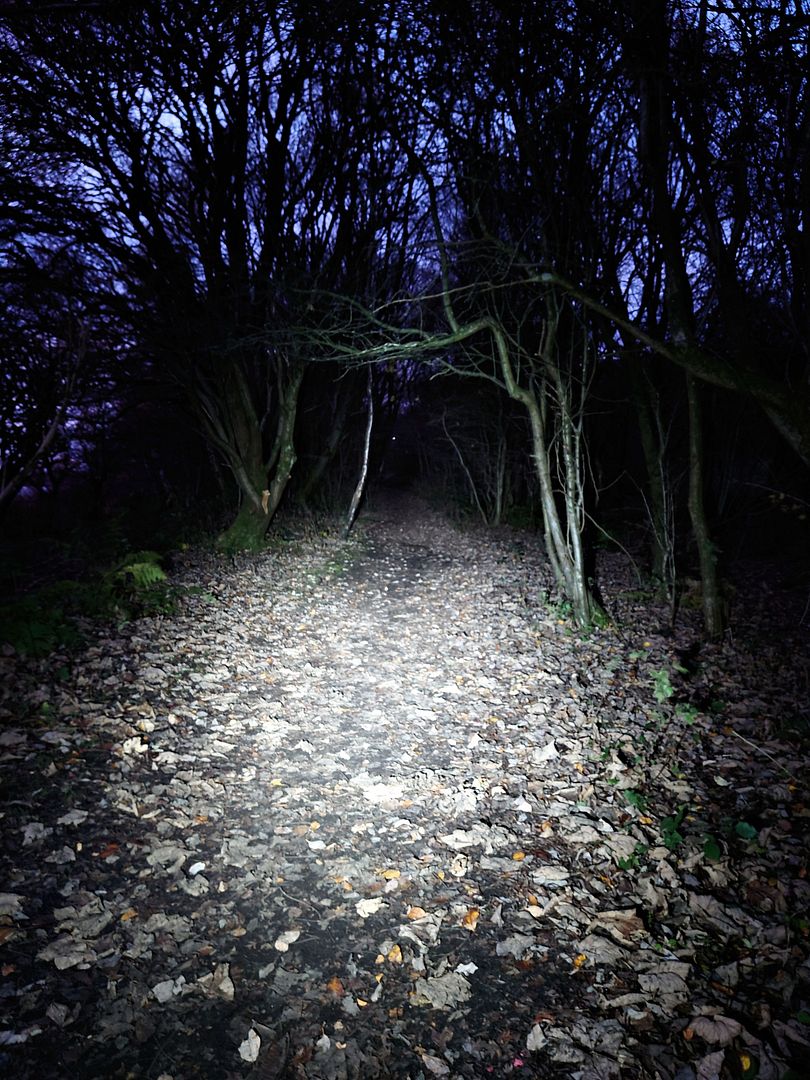 960 lumens is rubbish by current standards for a bike light but it was just fine for me and my old legs. I was riding with a wee bit of confidence and I could see the line despite everything being covered in a thick coat of freshly shed leaves. It's such a lot of fun.
I've been riding these trails for over 40 years, biking has always been a thing for me. I was down here in the 70s on my steel singlespeed Curry and I hope I don't let it slide again like I have these past few years. The bike feeds my soul as much as any of the many things I love but just as importantly it build my fitness and there's a winter coming to the mountains that I intend to enjoy.
My camera was packed again so I took a few phone photies on the riverside trail. It looks magic, I'll need to go back. Wednesday probably. Yay.
When I got to the beach back home I had to get the camera back out. It was beautiful with the sky, the distant lights and the dark beach.
So obviously I spoiled all that with messing a round with lights and a 10 second timer.
Ah the fun of it.
The old railway was deserted on the short run home. People really do disappear this time of year and that's probably a shame, partly because it gives me less folk to grin at and say hello but mostly because the dark months are full of beauty and magic if you take the time to find them, and that's not hard, just wrap up warm and stay out a little longer.
Thank you autumn, I will miss you. But hello winter, what you planning for us this time around?