I've got Lennart Eckberg, Haglöfs Director of Sustainability coming over to do some talks and I thought it might be good to get some folks together for a camp or a bothy night and talk about that sustainability stuff. Maybe a couple of hours trekking from somewhere on our road south from Lochinver, dinner, banter, maybe some hills next day and time enough to get to Fort William for the next lecture on Monday night?
Gus had a good plan and I thought Camban bothy would be perfect. It was big enough to get us all in and had several access routes as well as being right in the middle of mountain heaven between Kintail and Glen Affric.
Easy? Don't be daft.
I was running a wee bit late, but I had plenty of time to catch Morrisons in Ft Bill before it shut at 6 to pick up some supplies and it's less than an hour to Morvich to meet Gus, Lennart and MT. I'd be there by half six at the latest.
The sideways bent car by the loch was a message from the oracle, "Ha" she said "It's all about to go on its tits…". I was a little delayed, the traffic was heavier in front because of the delay and my retro pickup doesn't do fast overtaking.
I counted down the minutes as I ticked off the miles. Morrisons was still far way, I'd get there after five, then it looked like half five, then it was looking like I'd be pounding on locked doors demanding red wine and pastries.
It was dark, cold and foggy. Perfect for the moonlit tops, not so great for progress. I texted Gus – Leave without me, I'll catch you at the bothy.
They were in Ullapool, running just as late and the Co-op at Ballachulish was open. Things were looking up, we'd still meet at Morvich.
That co-op is open til 10 every night by the way, everything just got easier for west coast trips.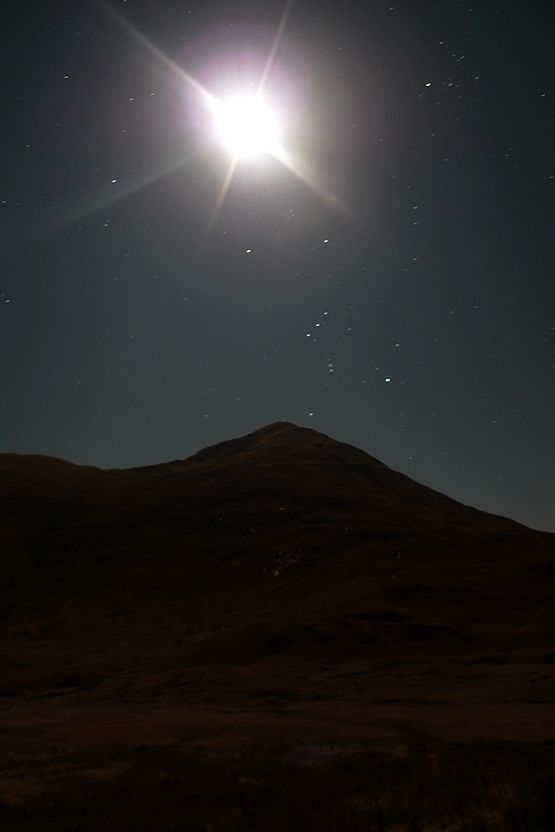 I still pulled in at Ft Bill for diesel and a coffee at the BP garage on the way out of town, and a £2.99 pair of gloves with the electric finger tips. I had thin liners and big mitts, these woolly cheapos seemed to fill a gap of my own making. Ooh look, I can work my phone too…
The phone rang as I plunged through the fog on my way to Glen Garry. I pulled over and phoned Gus back. The Stromeferry bypass was closed and they'd just missed it, the railways guys were polite but firm in their refusal to let them through.
MT had also reported in, he'd arrived at Morvich and while dressed and ready to rock was now sitting in a powerless car, the battery having died and he was getting ever chillier as the frost spread across the windscreen.
Even if I had jumpleads, the bunnet catch on the truck had seized as I'd discovered at the BP garage when I went to top up the washer bottle.
So we had four folk already safely at Camban we hoped, one getting hypothermic at Morvich, two in car not so far away but with no hope of getting there and me laughing helplessly in my truck in a foggy layby as we tried to pull something out of the whirlpool of despair over the phone.
Whatever happened, I had to get to the bothy and tell the folks there what the score was so  I was set. MT would be fine for that too I rightly assumed but what of Gus and Lennart?
I'd trekked the south side of Loch Affric a few months back, it's a straightforward way into the bothy, a lot of miles late at night, but… ?
It was between that and a night in the hotel at Loch Carron where there was a visible "Seafood" sign apparently. They chose the pain, a fast drive east, cut as much corner as the roads allow to get to Cannich and onto the road end at Glen Affric.
Someone from our side would meet them at the youth hostel, where Gus's map stopped and the trail splits in a misleading way if you don't know it.
It'll be fine. Aye.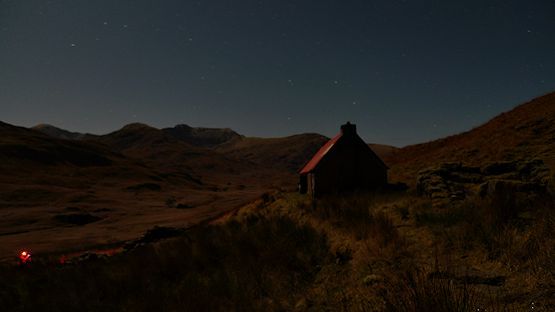 MT was cold but cheery and the banter flowed as I packed and the frost crept up on us.
So many memories of this place, youthful nights at the campsite ticking off Munros, bringing Joycee here on out first trip north 14 years ago and so many visits in recent years. I just love it here and as long as I can walk I'll come back.
We headed down Gleann Lichd. Tall dark and handsome shapes bordered a clear star spattered sky as the moon circled on the fringed of our high horizon. It was a fine trek on the farm road, easy going so plenty of time to banter as the kliks were racked up.
There was enough light to cast a pale glow on the hills ahead and the whole time you feel drawn into the sharp V at the end of the glen. The cottages are passed, we skated over the icy bridges and were on the path upwards to the bealach where waterfalls rumbled worryingly in the darkness.
The trail is a joy, but bloody hell the night stretches it out. There was a bunch of ice as well and progress was haphazard and tiring.
It was late, coming up for midnight, the last couple of k's took forever. How were the other two? I wasn't hungry anymore, I was just tired, tired and thirsty.
The gable end of Camban was as sudden as it was welcome and the glow from inside was the warm orange colour of relief.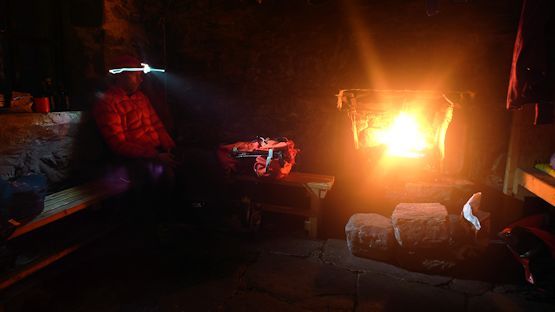 They were all there, Angus and Ian from Gear Pest and Bobinson and Viks were already in their sleeping bags. It was after all past midnight.
Cheery hello's were said and a mug of single malt was thrust into my hand. There was much joy in being here but we still two men down and I needed a wee rest, as did MT's still recovering knee.
Angus and Ian stepped up and headed off to the youth hostel while stoves were lit and down jackets were pulled on. The fire crackled, the tiredness softened and everything felt a little bit better.
Two bikes outside meant something else had gone amiss. Bobinson sleepily recounted the tale of the bog on the way over from Cluanie, it is indeed mighty, the track just stops at it and you're all on your own. Their bikes were still there.
MT and I stepped outside, gloves, hats, cameras and tripods. MT took some proper photies while I plodded around not noticing the big smudge on my lens (it was there until the next day, sigh…).
Feeling much better we set off to see if there was any sign of the rest of the team. A beautiful night, clear, cold with a big moon lighting it as much as it could. Brighter though were the four headtorches that bobbed towards us.
It was all okay, Gus and Lennart were tired but they'd made it and at quarter past two we all walked into the bothy together for banter, laughter, food and drink.
We filled one half of the bothy, there was a fella in the other half who didn't seem keen on being engaged so we left him in peace. I do hope he got some, but we did wind down quite quickly and by four it was just me, MT and Gus sitting by the dying fire drinking a chilled bottle of red from our mugs as we stifled the constant laughter trying not to wake the others.
It was a fine end to the day and my sleeping bag was welcome and warm.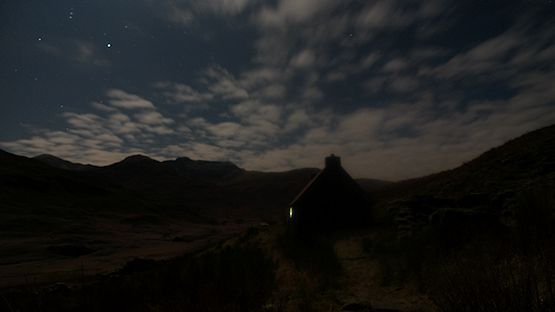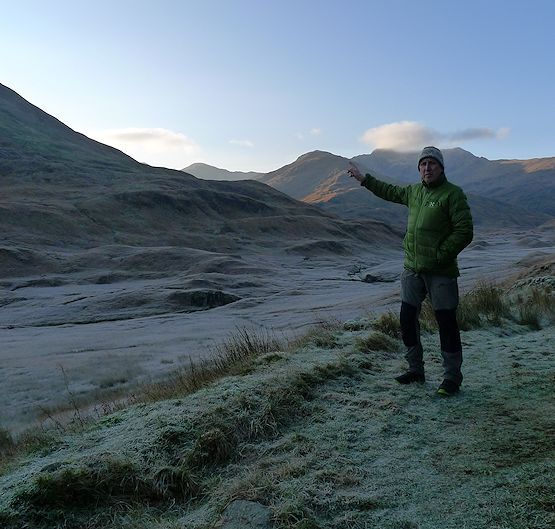 Lennart was in good form in the morning and even a hard frost couldn't dampen his need for throwing disco poses to loosen off. Phil and Viks had sneaked out ninja style to get back to Glasgow and the rest had slept on while MT and I enjoyed porridge in the early light.
Hut boots were a perfect choice for this trip, warm and comfy, all in all it's a very different world from life in a tent.
MT, Angus, Ian, me, Lennart, Gus. Finally over a cuppa outside we got to the whole reason this trip came about – Haglöfs continuing movement into sustainability.
In a relaxed situation like this it's easy to talk over something as big as this. Resources, costs and ethics are things that involve everything we do and everything we purchase and some folk just don't get it.
"Oh, it's too expensive"
I've never heard anyone complain "Oh, there's too much money in my wages" but it's something they're happy to apply to someone else if it means cheaper prices for them. Everyone deserves a good standard of living, a clean and safe workplace and a future. Why should we deny people across the other side of the world that which we see as a right for ourselves?
Folk piss and moan about a £400 jacket but fawn over a £150,000 Aston Martin, I just don't get that, it's like they see the jacket as mocking their income and the car isn't.
Anyway, the bottom line for me is that cheap kit should not come by exploiting people or the planet and that goes from confectionery to air craft carriers.
I've covered a lot of this stuff over the years, especially with my trips to the innov_ex conferences and the Bluesign branding that is applied to any product that meats the criteria for sustainability is now more familiar on the hangtags of outdoor kit.
Haglöfs are still using this and 80% of their clothing in 2015 will be Bluesigned, 50% will be made from recycled material, 50% of hardware will be Bluesigned and 40% of footwear will be made from recycled materials. Good figures I think.
They're labeling all the applicable products with a green coloured Take Care hangtag with isn't shouting, just informing which is the way to go. As much as every product made by everyone needs to be more ethically sourced and produced, folk are tired of the message, especially when money is tight.
Down production was another big topic, but one which I don't think has grabbed the public as much as the misinformed hysteria bout the muelsing of sheep did a few years ago. Maybe folk think pixies are gathering feathers from the nests of geese while they have a little paddle on the river? Well no, the down is either plucked by force from a live, thrashing animal or removed from a bird slaughtered for the food chain. Do you know where your down fill came from?
The chat wasn't doom and gloom though, there was a lot of realism and a lot of good points from what was a bunch of knowledgeable folks. I'd say there was optimism too and when you have a meeting in a place like this you can't help but feel the truth of it: are we contributing to the destruction of the environment we struggled happily to get to last night with our lifestyle and purchasing choices?
Time to go our separate ways. Me and MT west, the rest east. I think we had it better, we#d missed the views in the dark so we retraced our steps through one of the finest stretches of trail I have known.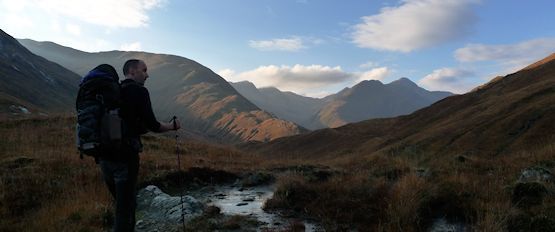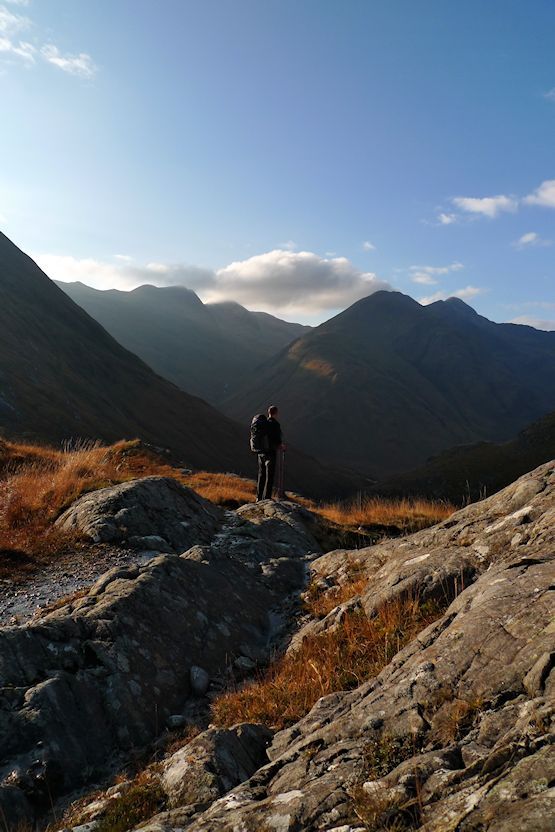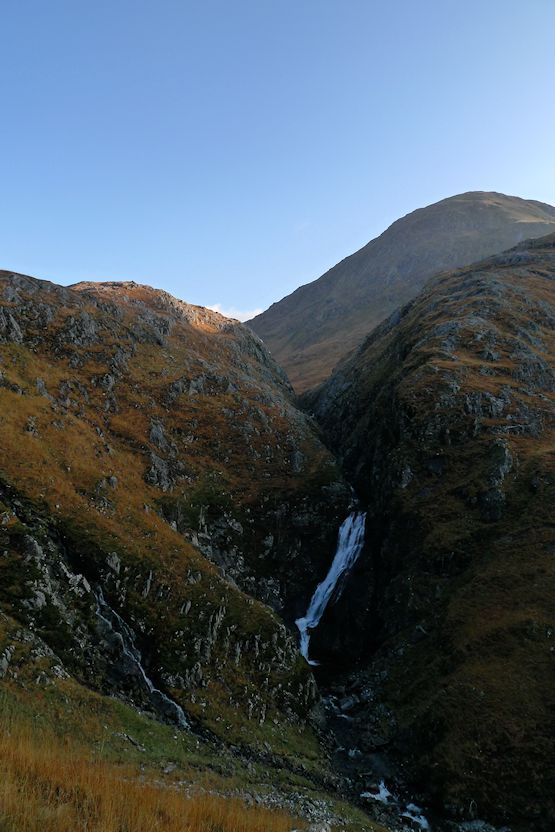 It took a long time to get there, it's only around 12km, but it feels so much more. It's no hardship, the Five Sisters grow taller ahead with every step and the secret back end of the other hills above Glen Shiel pulled at us with every sun dazzled view into a coire where there might be a perfect camp site.
I wanted to come back already and I wasn't back at the truck.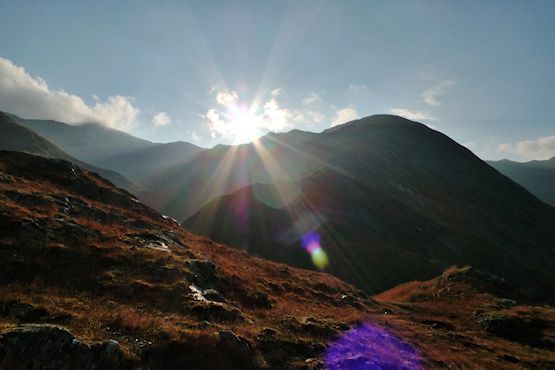 MT phoned the AA who would be an hour and a half. We unpacked the cooking kit onto the tailgate of the truck and there was soon clouds of spicy steam and bubbling sounds as a soundtrack to the debrief of the trip over as we waited.
There was no hurry and that was why the tow truck was an hour early. Karma at its best.
MT's motor started easy and we were on the road in the dark once again. I stopped at the BP garage in Ft Bill again, they do the best coffee and to my disappointment there were no £2.99 gloves left, Damn, I should have stocked up, they wicked and breathed better than my techy liners.
Gus and Lennart had battled fatigue all the way out and had just made their five o'clock lecture. Another win.
A text said Phil and Viks were good too. I got home through the dark and fog without issue or a cross word said.
It was fantastic. Thank you all.