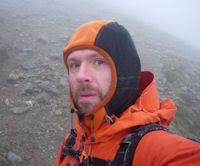 Aye, my coupon says it all there. The wind was the blow you off your feet variety, the temperature plummeted and eveything froze. Poles and axes were glazed with ice, the webbing in the rucksacks went rigid, every wee fibre grew a bloom of ice. Fantastic.
We were on Ben Vorlich at Loch Earn. We had planned to continue onto Stuc a Chroin, but the weather was just too bad so it was out and back. However, our retreat was to the Tast Fry in Callander. A finer chippy you'd be hard to find, so with various suppers, cans of Irn Bru and some fine banter from the ladies of chips, the day was complete.
It's nice to get weather you have to fight, that's what all the gear is for. Besides look at the row of grins there, that's me, Elaina and Steve.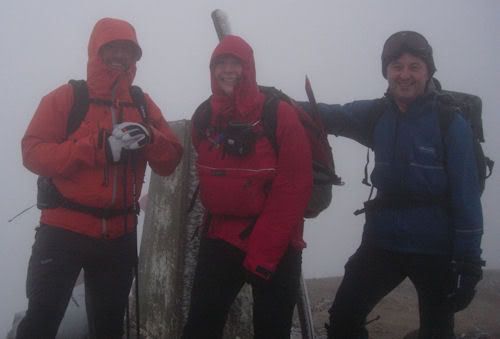 Talking of gear, there was much newness in evidence. The Icebug Speeds crossed their first 900m contour, they supplied grip, comfort and warmth all day. I was carrying aluminium Kahtoolas which fit them very well, but the snow was somewhere else it seems, in the past mostly. We also carried some CAMP Corsa ice axes, all I can say is that they're light and stay attached to your rucksack very well…
That orange wonder there is a Haglöfs Spitz. My favourite shell of all time was the Karrimor Summit of the 1990s. It had the best hood, great pockets, proper arm movement, a short length that didn't get in the way. The Spitz just went into my memory, tore the Summit off my back, dragged it screaming to it's car and threw it in the boot. It then drove to the top of the Rest and be Thankful where it jammed a brick against the accelerator and sent the car and it's passenger tumbling down the hillside in a cartwheel of twisted metal, broken glass, Gore Tex and sugar sachets from the wee dookit between the seats, stolen from cafes nationwide.
The Spitz has the short cut, with a slimmer body which eliminates riding up, better arm movement and the best hood I've ever used on any jacket. It has big pockets, pitzips, big cuffs with room for warm glovevs, it's lightweight, it's orange. I absolutely love it.
Oh, and those things I'm leaning on? Later…