Here's something I've never done on here, a group test. I've constantly rotated all the test kit below, some have been on the go for 18 months or more, I've worn them, carried them, slept in them, spilled cuppas on them, sweated in them and even washed them. They're all pretty different, materials, price, fit, but in any contest there has to be a winner. It's time I nailed my colours to the mast.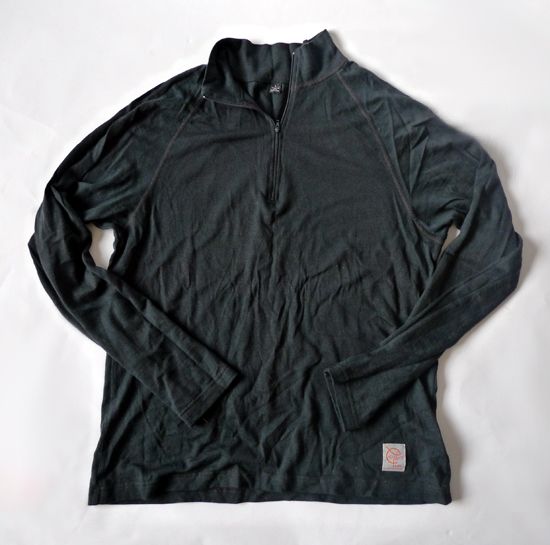 Weight: 344g
UK Price: £67.95
Main Fabric: 260gsm fine Merino
Made in: New Zealand
This has been around a bit now, been worn and washed countless times. The sample's charcoal colour and slightly relaxed cut has meant it's seen as many days out as it has hill days. But on a hill is it's home, and it's strength comes from that fabric and its simple design. As I've mentioned before, a light merino base layer with a heavier merino layer over it makes for a very odd microclimate in cold weather, never too hot or too chilly, wind resistant but still airy feeling. When layered-up the comfort remains, although drying time when you've soaked it on a steep climb will always be slower than a synthetic. But it fights back by being stink-free when you pull it on in the tent next morning. Length is great on the body and arms, the zip is a decent length and the collar is a good height and nice fit on my neck too, I can later under it and over it and still put the zip right up without any trouble.
Now here's the thing, there's no holes in this where my belt/rucksack buckle is despite my not tucking it in, so this merino isn't fragile at all which has surprised me. It's a little heavier than some, but I still pick it regularly over lighter kit because of that fabric.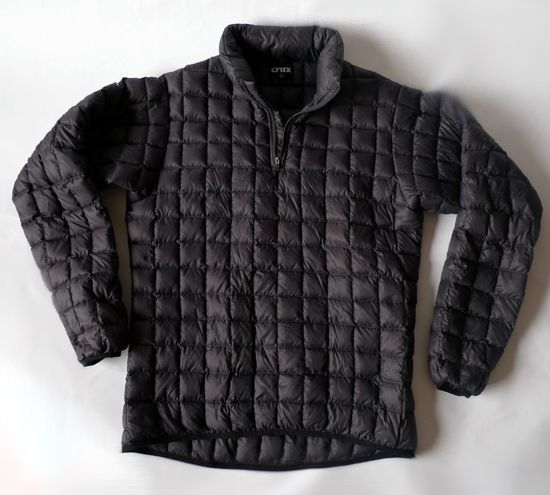 Weight: 232g
UK Price: £100
Main Fabric: Nylon/800fill down
Made in: China
A down midlayer, that very fact plus the fancy quilted construction had me emailing Crux as soon as I saw it. I liked it initially, but it blew down out of the stitching line every time I moved and I got fed up with that and stashed it for a while.
But, I've been carrying and wearing it a lot this summer, including on the bike as it's so small packing and is so bloody warm. The down loss has slowed which is a good thing, and it's got a great long/slim fit which is enough for over a couple of light layers but works under a shell as well, where in cold weather you forget it's a down jacket. It does get damp when you layer it, but the quilting holds the down in place so it doesn't clump and dries surprisingly well. I'm happy taking this on camps instead of a regular midlayer.
The fabric is a good one, good spray resistance, so in some ways this is almost a softshell/lined pertex affair. QAs long as you vierw it as an integral piece or summer insulation it makes sense, in winter it needs a little help.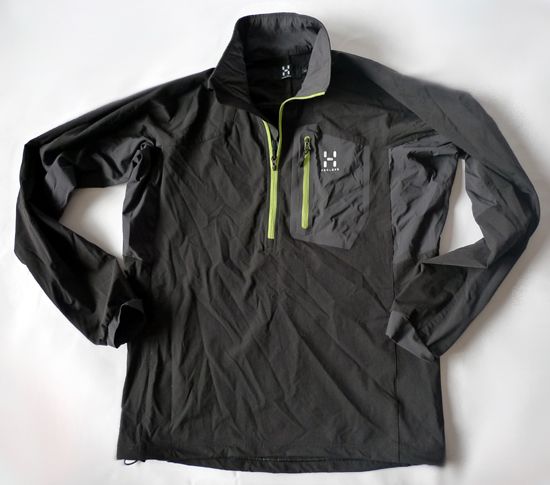 Weight: 358g
UK Price: £100
Main Fabric: Flaxable softshell
Made in: Vietnam
I've worn this a lot, sun, rain, snow, cafe, camp and Kilpatricks. It turns out that there was a gap in the market and the Lizard walked right into it and stuck its middle finger up at us. It's a genuine all-season top, I just change what I wear under it and I'm quite happy. It's thin enough not to roast me when it's warm, it's wind and water resistant enough to keep my shell in my pack until it really craps out and the slim cut and great articulation mean it's pretty much invisible when it's on.
The high collar and longish zip are great, the pocket is handy and the soft cuffs are comfy. The cuff stitching could be stretchier so I could pull the sleeves up further, but that's the single niggle I've found.
There are other softshell pull-one, but this is softer, it feels like it was designed to be active in rather than trudging through the gloom. Frankly, it's vital kit.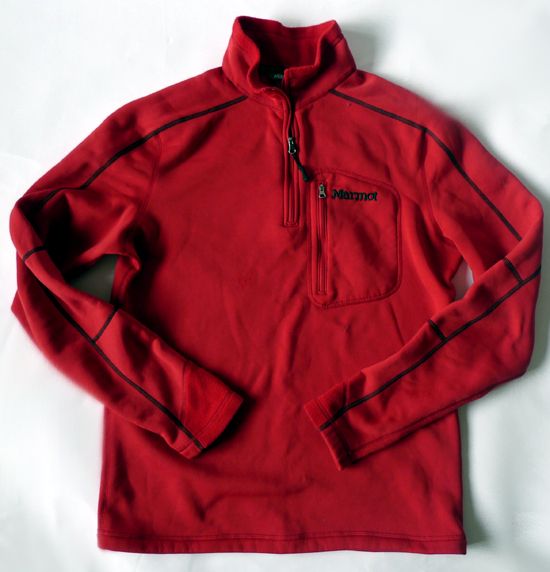 Weight: 294g
UK Price: £75
Main Fabric: Polartec Powerstretch
Made in: China I think
Powerstretch is made by fairies, they weave it under a toadstool at the bottom of Polartec's garden and we are glad.
There's lots of different grades of course and Marmot have chosen a soft, plush version here which has attracted a bit of wear and tear on the outside, but nothing to frighten the horses.
This is a killer winter layer, the fabric keeps you dry, sucking the sweat away and never letting it back through that smooth outer surface, and after hours under a shell, that's just perfect. Unusually I'm a medium in this, the large was bigger-cut that the size large shell they sent me, so careful with those online purchases folks.
There's a high collar where the fabric is reversed at the edge, meaning the furry inside surface is what you get against your neck, and there's a similar thing at the cuff giving you a furry nose or brow-wire patch.
There's just enough detailing to give it a nice look, the ubiquitous chest pocket is handy enough and the weight is good too. Powerstretch jumpers: every home should have one.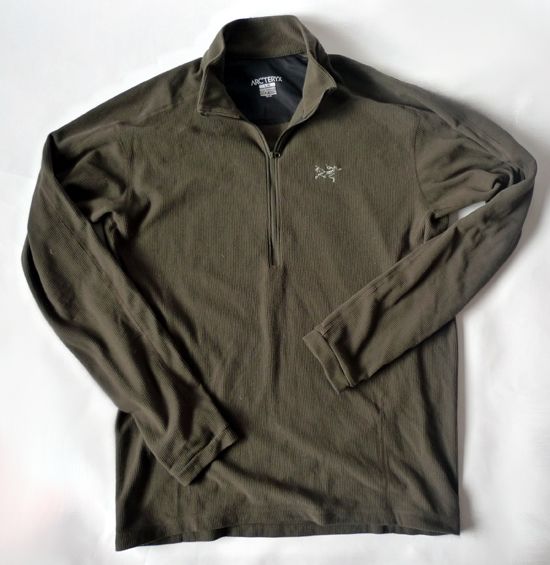 Weight: 255g
UK Price: £60
Main Fabric: Polartec Classic 100 Micro Velour Small Grid
Made in: Thailand
I initially chose this to test because of the LT tag, it was the lightweight version, as I didn't know the Arc'teryx range at all. Luckily it was a good call as it turned out to be pure function in brown Polartec. It's very plain to look at, clean lines, understated fossil logo, and that's possibly whey Tiso had racks of them in their sale earlier in the year. I hope we all bought one, because it's a killer bit of kit.
At 255g you don't feel it in your pack or when you're wearing it, which is helped  by a great active cut and a fitted but not overly-slim cut. The length is good too and on a driech day last winter I remember tucking this into my waterproof pants and pulling the cuffs down into my gloves as I trudged into the frozen murk. The grid pattern fabric is great to layer, a good balance between insulation and low absorbency to keep you dry under a shell. Over a baselayer on a good day there's good warmth and high breathability which has meant keeping it on and regulating my warmth with the zip and the sleeves which roll up pretty well.
Very underrated bit of kit.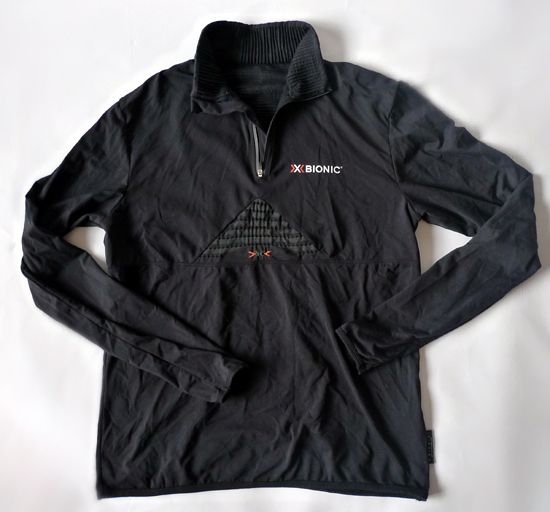 Weight: 293g
UK Price: £112.50
Main Fabric: Nylon/Elastane
Made in: "Imported Product"
X Bionic kit is always just different. The Humdinger is no exception, it's got the little zones you come to expect on the back and on the chest to draw out the sweat and suck in the goodness, and that patterning extends here to the collar which is vertically ribbed inside, something you might think would be uncomfortable, but is actually rather nice to wear.
The fabric is fine, very soft and even though the cut is very slim, there's no real feeling of compression here. It's a midlayer, designed to work with the the X Bionic base layers, but I've been wearing it with merino and been quite happy. You could quite happily wear it on its own as well as a cool weather base, something I'll need to remember to try, but as a layer under and over other layers it's been outstanding. It's first real test was on a minging wet ascent in Kintail where it was perfect with Paclite over it and merino under it. I've never known such an equilibrium like that, "just right" through all the various temperatures and conditions from car park to sleeping bag 900 metres and a couple of hours later. I stayed dry as well, as with all the synthetic on this page, it wasn't quite as lemon fresh on day two, but it was bone dry after being stuffed into a pocket of the tent. It's comfy, the understated looks make it more accessible that some of the X Bionic gear, and it's bloody good. Good choice for winter biking too.
Berghaus Spectrum Micro Half Zip
Weight: 326g
UK Price: £35
Main Fabric: AWL 100 Microfleece
Made in: Indonesia
When the original batch of Berghaus kit arrived I was the least enthusiastic about the Spectrum, but actually it's become my most-worn bit of outdoor kit.
It's a little boxy in shape, which works well with jeans, but as it turns out it's fine with a rucksack, doesn't feel all frumpy and fill out above the hip-belt like you've wearing an inflatable ring under it. The fabric's okay, it's not as fast-operating as the top-end stuff, but it's comfy, it's wearing well (I wear it to work almost very day) and it's got a nice set of features: tall collar and decent zip, handy wee pocket, a proper drop-tail and it has good long arms and body. The articulation around the arms isn't the best, it's not really cut for climbing trees or hanging from a helicopter, but none of this matters. It's a bit of outdoor gear that just works away, it doesn't ask anything of the wearer, it's just a genuine all-rounder, looks nice and it should be something like this that's the first port of call for anyone getting into gear or looking for a go-to jumper.
Aye, not everything you wear has to look like it's going at 100mph.
Epilogue.
So where does that leave me? Nowhere really, putting these together like this showed me that there is no winner. There has been be a day in which every one of the above tops was perfect, but most of the time they're all just shades of good, no duffers in there at all. Fabric, design, price all played a part, but not necessarily to the degree or in the positive/negative direction that you'd expect.
That's the joy of testing varied kit like this, you get to see the positives and the little shortcomings and find out that it's all about how you work with it, how it fits you, what you wear with it, how hot you run and what you're doing.
So, if you like it, then it's good. Don't let no forum stupid tell you otherwise.