It's been the Mid Term school holiday, and in the last few hours of it we finally got the chance to do something together.
Chips and cuppas on a picnic bench in windy freezing conditions are home ground for us really. Holly's got herself a fine set of freeform parameters to judge her situation by, I'm pulling sheepskin lined gloves to save my fingers and she's just wondering if the woolly hat hanging from a branch on the tree next to us is actually a "treasure bag" left by a pirate. It did have something in it, it hung there like a pouch full of coins or something, but I poked it and declared that it was probably poop which caused some hilarity and attention was then turned back to the rapidly cooling chips.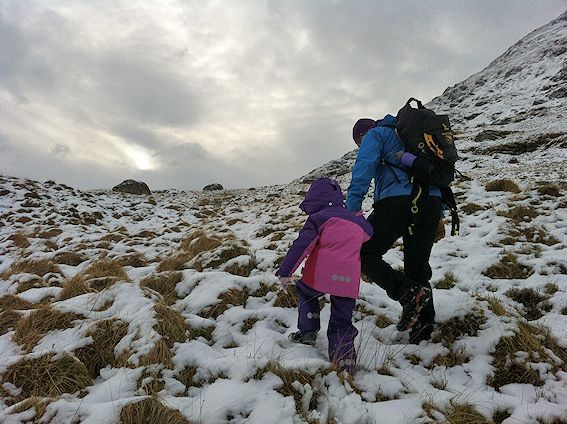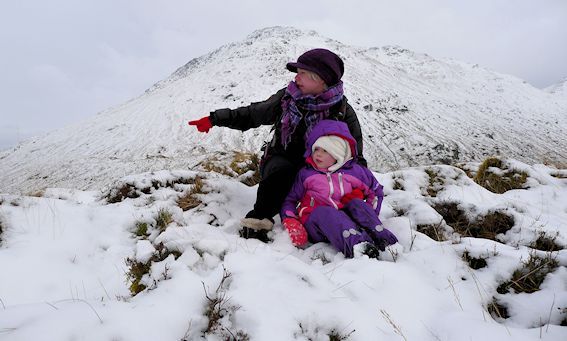 Warmed up, we headed onto the slopes to see what the snow was doing, look out for bear paw prints and see if we could sledge. On a Snowclaw because I left the sledge in the workshop.
We had a wee picnic in a "cave" and then did manage some sliding on the Snowclaw and our arses, some of which was actually planned.
The wind was pretty harsh at 400m, but we were all warm as we were wrapped up and running around the hillside. Rosy cheeks and grins all round, just happy to be out.
We came back down to the lochside soon enough, the secret is never hang around too long or go too far, keep the wee yin happy and mum and dad keep happier. There we found, because I knew it was there, a ruined cottage which of course became the witches cottage which  we had to repair with the Snowclaw. Somehow. Until I mentioned the beach, then the witch was all on her own and back to breeze blocks and bags of ready mix.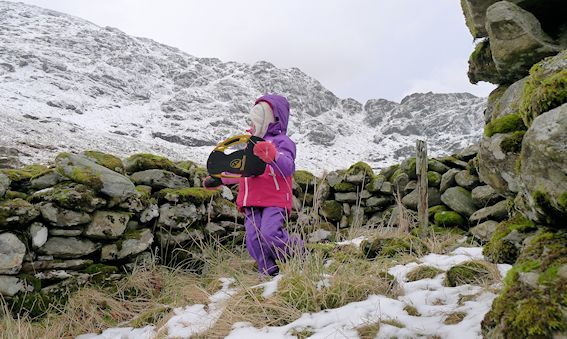 Pictures in the sand, wet feet and back to the motor in perfect time. Ha, I've got chicken feet! She did indeed, I took off Holly's wet boots and socks and put her feet straight into a pair of purple Buffalo DP Mitts. Try it. If your toes are all wrong with the cold, you may just cry with joy.
We're sitting at home right now, the three of us still in our baselayers with the shortest of us declaring that she's sleeping in hers. What a day.