I am either cuppas or Kilpatricks, it could go either way. That was the text I sent, the answer was resolved as Kilpatricks. Phil duly arrived, we left via the M&S food shoppe and took ourselves into the glorious sunshine.
A variation on a theme was the route, taken east and then north, past the bright, lichen-covered sunlit crags through woodland and past quiet water, the roof above the bluest blue where a spattering of cloud flashed silently by.
Dinner was an act of desperation as I was starting to chew the tag on my zip-pull. Cuppas taste better outdoors, so do sammidges. And cake. Visibility was outstanding, every peak it was possible to see from here was clear and recognisable, pretty too as the dark slopes still wear a good amount of snow.
The sun was slipping down as we passed over Doughnot Hill and down to cross the burn towards Black Wood. Maybe not a golden hour, but a golden twenty minutes at least where the low light set the hillside aglow before snuffing out leaving blues and greys.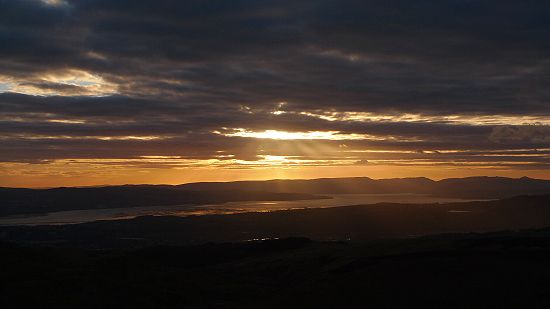 A walk down by the water where it gurgles out of sight of the usual path and then onto the muddy tracks through darkening trees took us back to the lights of Overtoun House. Again a walk through the hills from day into night. Maybe it's a subconscious thing, maybe it's caused by the dragging of heels or stopping to look at the view. Maybe I don't care. The day I hurry off a hill it'll be all over.