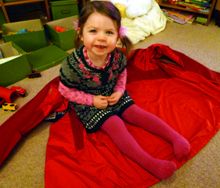 I pulled the jacket flat to take a couple of shots to do a first-look of it. I turned round to get the camera, and by the time I turned back Holly had decided that she liked the shiny red seat and sat there laughing at me.
Is daddy not taking any photies then?
"Ah, no no""
I guess she's geared-out. Wise beyond her years that girl.