I'd got as far as the carpark the previous winter. At 1400hrs I stood there in my kevlar boots and Alpiniste pack and I knew that I'd be coming back in the dark, across snow covered bog and through trees, all on my own and I just couldn't be arsed. It was my own fault for fannying about that I was late of course. So I went to Ft Bill and wasted an hour or two there, visiting all the regular stops including the greatly missed West Coast Outdoor.
Later in the year, now armed with increasing light camping gear I headed up again. To get to the car park you drive along the Mile Dorcha (Gaelic for "These walls are very hairy"), which is a marvel. It's a wee glen that never gets direct sunlight and there's thick spongey moss covering everything in sight. At the end there's the carpark next to the bridge where they tried to hang Liam Neeson. There's a fine water fall as well, the Eas Chia-aig and you climb up beside it and into the forest to get on your way. It's a lovely walk as you rise away from the water on forest trails. Joycee and I were here last year and explored the forest tracks a bit more, it's a lovely spot. But I was heading for bog central on the other side of the forest. There's three glens and plenty hills all draining into here, so it's moist underfoot. It's also quite enclosed, you can't see very far, but feels quite remote. Especially as there's nobody about but me.
The weather was iffy: cloudy, drizzle and bit of wind. Never a favourite combo, and despite me constantly looking for an obvious shortcut up Sron a Choire Ghairbh I soon found myself at the foot of the zigzags to the summit at the top of the Cam Bhealach. Slightly pissed off, I chucked my pack down and ran up into the cloud to get to the top. This took far too long and getting to the cairn was more of an excuse to turn round than the usual meager victory it represents. But on the way back the cloud thinned a little and I could see into Coire Glas which is rocky and wild looking. This brought a grin and by the time I got back to my pack the cloud was really breaking up and I could see the fine curved ridge of Meall Dubh ahead and happy times were here again.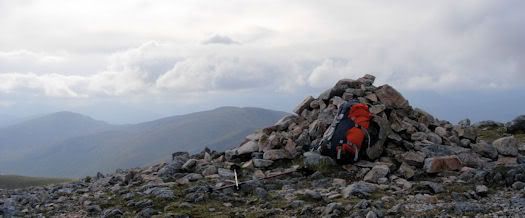 I'm watching for camp sites by now, but it was still early and there was plenty of light, the clouds were higher and the rain was clinging onto them so I hit my usual "see what happens" mode and I soon enough was sitting on the summit of Meall na Teanga drinking my juice looking at Ft Bill in the distance without a care in the world. Knowing that you're not getting any lower 'til morning and that you've got all your stuff right there with you puts a cozy on my teapot of joy even now. There is a very good chance that mountains are just an excuse for me to get the camping gear out and go and look at clouds an' that. I shall consult a therapist and see what he or she says. A Rorschach test will probably have me saying "That's a camping stove…Oh, that's a flaring petrol stove…That's an old Coleman Alpine…That's a shredded Akto blowing in the wind…".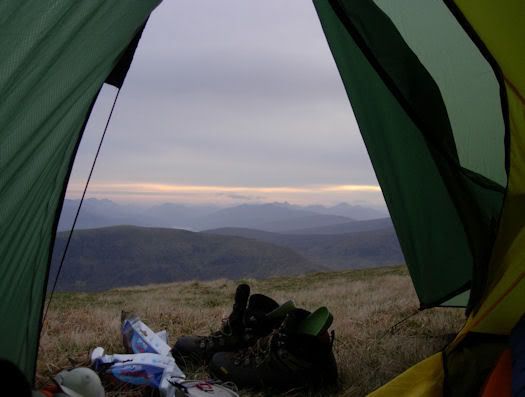 There's a nice wee ridge with an even wee-er scramble and then the trail cuts across the the ridge above the North facing coire's of Coire Odhar Beag and Coire Odhar Mor. If it had have been windy, that's where I would have been heading with the tent, down in there somewhere. It looks great, all boulders and tumbling water. It was getting darker as well so it was all getting a bit more atmospheric. I pitched on Meall Odhar and got down to the serious busiuness of cuppas and dinner. I could see the twinkling lights of FT Bill from the tent now, and it looked like it was a million miles away. All the obvious hills are in sight, but they were all smudged by the fading light, Nevis wasn't making it's presence felt for once. It usually looks as if it's puffing its chest out so that its neighbours know who the local badass is. Aonach Beag might actually be stooping to avoid a confrontation there. Time will tell.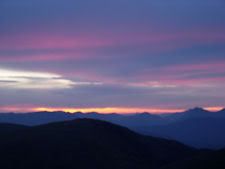 Ping! Somebody pulled the chain on the darkroom's red light. Which didn't make any sense so I stuck my head out of the tent and the rest of me followed. A beautiful sci-fi sky to the West. Another cuppa, warm jacket and hat and I sat on a rock for an hour or more watching it all. That stuff's just better from up there, honest. It's just my camera was (and still is because it's the same one) pish.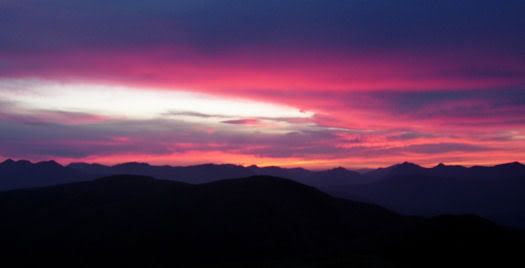 It got very dark very suddenly, so I thew the main switch and I was out of commission until maybe 0600 where a silent eerie greyness had replaced the other weather. It might be like the bakers van, the new weather gets delivered first thing and yesterday's empty weather tray gets picked up.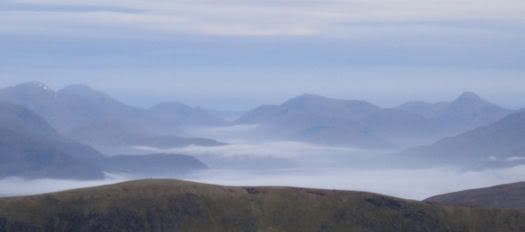 Breakfast, cuppas and away. I picked up the outward trail the edge of the forest in unexpected blazing sunshine. The trees were a relief of coolness in abundance. I was all pleasant thoughts and singing songs to myself as I arrived back at the motor. The usual final cuppa making was abandoned though when the midges spied me and scythed through the air like bucket of garvel emptied off the scaffolding on the sixth floor. I threw me an the kit inside and got the hell out of there.
It's a nice drive back if you stay on the North side of the Caledonian Canal, takes you back to the familiar just after Neptunes Staircase. After that there is only one thing to consider, Nevisport Cafe (still in original guise remember) or Nevis Bakery?
It was for filming Rob Roy, not for being in the Phantom Menace. That hanging thing.