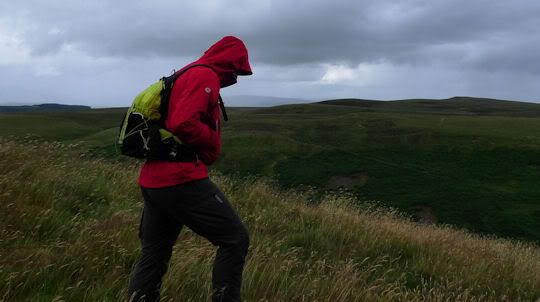 The Nano came in for test just time to be carried in my pack a couple of times and then get worn to work on a few showery mornings. Mind you, it's surprising how much info you can pick up from wearing a waterproof on a factory roof.
I'm back in the Kilpatricks on a regular basis now and I've given the Nano a couple of spins with a pack to see what to expect when autumn comes and I'm wearing it all day.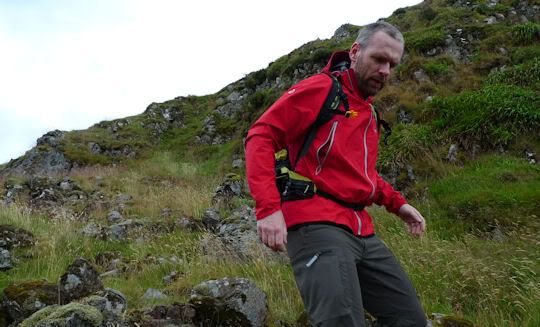 It is light, both in your pack on on your body. The arm length is good, as is the body. The tail definitely sticks down under you pack, but it's still got that alpine-style action cut where they're expecting you to be lifting you legs really high all the time. That brings with it good articulation though, it's definitely a jacket for mobile people.
The zips are all watertight types, and their tonal contrast looks very nice against the bright red, in fact it's a nice looking jacket in general, clean and unfussy but still functional. The two chest pockets are plenty roomy and are vented via laser cut holes on the inside which looks cool and also works. The cuffs are a great touch, being semi elasticated (not overly so, I could roll them up my forearms a good bit) and sculpted around your hand and wrist to give extra protection on the back of your hand.
The hood has a wired peak which holds its shape well and sticks out far enough to keep a blizzard out of your eyes. The captured drawcords pull it in around your face well, but the velcro volume adjuster lets it down. It's in the right place and has the right scope of adjustment, but there's not enough velcro there and sudden or big head movements pop it off. It's not a show stopper though, it's not a huge helmet compatible hood, so it's not flopping over my eyes like the big thick fringe that sometime I imagine I still have in my dreams.
Yes, it's made of Paclite with all the drawbacks, and also the unbeatable low weight. All you have to do is wear less under it and you're laughing. Besides, if you do sweat it up it dries out nice and quick.
I like the Nano, the hood adjustment? We'll see, the rest of the hood is outstanding so I'll bear with it. The weather is turning so I'll get a better chance to see how it fares (and lasts) over the next few months.
I'll be back.