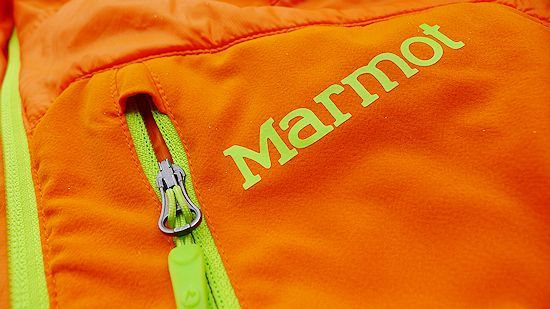 Polartec's Alpha technology is one of the new stories for this year. The basics are that it's a lightweight low volume synthetic fill that's designed to work across a wide range of temperatures and conditions.
I got a Marmot Isoterm Jacket in to test last winter as an example of the technology and as it's a medium it's been working as a slim fit on me and a relaxed fit on Joycee. It's been around and lived a full life, poor thing. What's the results then?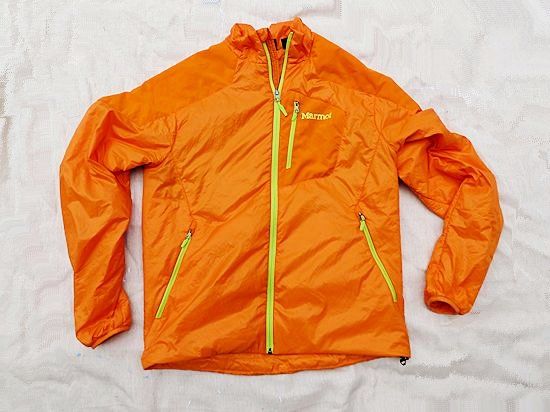 The Isotherm is a regular jacket design, no hood (a hoody is available) and low-set hand warmer pockets. I don't really mind low set pockets, and here the tops of the pockets are set high enough to slip my hands into when I'm wearing a rucksack. The pocket entries are set well back towards the side seams as well as having deep pocket bags, so these are big badass pockets to take all your niknaks and more.
There's a chest pocket which is external and stretchy, not too big but plenty useful. The same stretch fabric is used elsewhere as zipper garages on the pocket zips, a nice wee touch, and also on the shoulders, where it's doing something, not sure what. The arm articulation is pretty good so I'm not sure overarm stretch is needed so I'm going for durability, the rest of the shell is Pertex Quantum and the stretch panels will take all the pack shoulder strap abuse.
The Pertex is as you'd expect, light, silky, packable with decent water resistance. It's stronger that you'd think as well, I've torn Quantum on barbed wire, where it did indeed tear along the ripstop lines making for an easy repair, but in general use it last well against regular abrasion.
The collar is medium height, the main zip has a stiffened baffle and a chin guard. All the zip pulls have big pull tags on there and there's a side-pull single hem adjuster which I've never used as the waist is exactly the same size as me. That's "man sized" if you were wondering.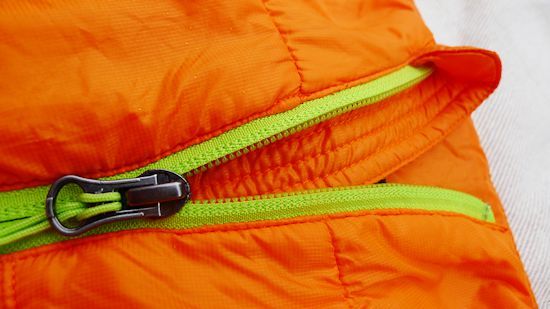 The outside is clean and slick but the inside is a patchwork of fabrics, all there to help the Alpha insulation do it's thing. In amongst more lovely orange Pertex the mesh is DriClime, a long standing Marmot fabric. Who can forget the DriClime Windshirt with the horizontal chest pocket that only fell runners can understand.
The mesh is sensibly placed to try and keep you dry when you start pumping sweat out, almost all of the back has it and the upper chest at the front.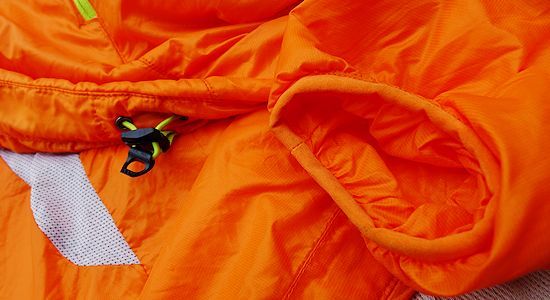 Then there's the Alpha in the middle which Polartec say is based on "Polartec® Thermal Pro® High Loft technology platform". I say that when you hold it up to the light it looks like a string vest made of tiny fleecy strands. So I'm going with that, techno string vest.
But, that's not a bad idea. In winter I like wearing a base, a microfleece and a windshirt or light shell. Alpha is kinda giving you that all in one, because although Alpha is billed as insulation, it's really on-the-move warmth or good weather insulation, it's just not that warm as a camp jacket. Again, not a bad idea. Throw the Isotherm on at the start of the day from now until spring and until it really pisses down with rain the only clothing changes you might make are to pull on a warm jacket at lunch or camp.
I know there's plenty of all-in-one systems like this around, Pertex and Pile, Paramo and more, but it's the lack of warmth that I like here with the Alpha. I'm getting the comfort levels I'm used to but I'm getting it with less kit and less weight. A good thing yes/no?
322g for a medium, compare well to a microfleece and windshirt combo and it compresses down well for packing. How it will age I'm not sure, there's no loft to monitor, so I suppose I'll just watching for the internal string vest to come apart and fall down to the hem in the future.
The sandwich construction does make drying times longer than they might be, a windshirt and microfleece dry quicker when separated. The Isotherm layers very well, great over a baselayer and under a shell or heavier insulation.
It all works perfectly well, the fabrics used and the Alpha insulation are a perfect match, the detail and quality in the Marmot design and construction is excellent. But, I kept on looking for pitzips to cool down and the lycra bound cuff don't quite pull up to my elbows. For me one-pieces still aren't adaptable enough for the range of temperatures my motor runs at.
But if you like your lightly insulated Pertex, you might well love this.