Top end kit maker Mammut have been making some exclusives for GoOutdoors. I've got the Jura Sleeping Bag and Air Pillow on test and they've been out about the past couple of months, here's some thoughts on them.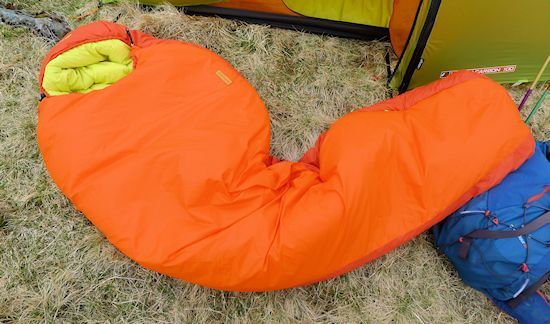 Some years ago Mammut bought Ajungilak who made excellent sleeping bags and these new bags still bear that brand name. Ajungilak synthetic bags served me well over the years and I was pleased to see that quality and functionality remaining in the design of the Jura.
The way the Jura is put together is spot on, the construction is very neat and tidy. The format is a slim mummy shape, in fact I found it very slim indeed around the chest and shoulders. Length is good, plus-six footers will get in here just fine, but better if they're triathletes than pie eaters or weight lifters.
The hood is excellent, roomy and deep with an external drawcord which is easy enough to adjust and keeps clear of your face. The hood cinches in well, I can get my winter friendly porthole above my head if needs be.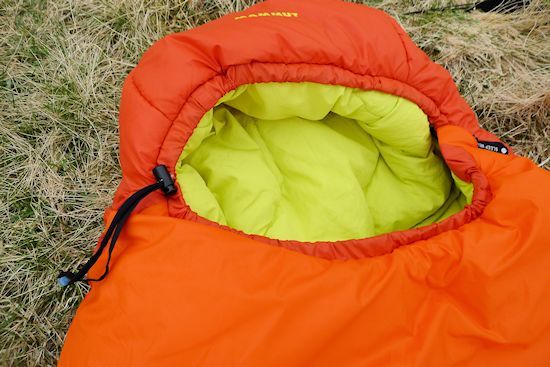 At the other end the footbox is excellent, roomy, well-shaped and fat with insulation. The insulation is own-brand MTI 13, a polyester fill which is double layered here to give the Jura a rating of -5DegC comfort which seems about right to me, I've been properly warm in the Jura around zero with just boxers on. The fill is soft and pleasant to sleep in, regular down users shouldn't feel like they're roughing it here at all.
The shell fabrics are Silky TX inside, a soft-feel nylon and Performance TX outside, a heavier grade nylon with a decent water, or I should say coffee and soup, repellence. It's a good fabric for condensation prone tents, I've had the foot end pretty damp and it dries off quickly and of course the fill is synthetic, so there were no worries about getting damp anyway.
The main zip is okay, an anti-snag strip does its best and it runs as smooth as you'd expect, another inch of width on the shoulders and I'd have been in and out the Jura like a, er, rat out of an aquaduct? It's late, I may change that analogy later. The zip is double ended and I have had me feet cooled by opening up the bottom while I was cozy at the other end.
The Jura's a nice bag, I've enjoyed using it, but whether or not it's the bag for you will come down to two things, price and weight and plotting those two variable on the graph of personal outdoor joy. GoOutdoors have this selling at £140/£125-with the fan club card which all seems ever more sensible as down prices continue to rise hysterically, but the Jura is 1765g, 90g of which is stuffsack and that's a presence in your rucksack that's hard to ignore. It compresses down a bit, but synthetic insulation is what it is, you can't have it all -cheap/durable/light – pick two.
The Jura was perfect for a base camping trip where I left the gear at 500m and headed off to the peaks next day, the materials make for a worry free night in the rain and the construction is excellent. A wee bit wider at the shoulders and I'd be completely happy, but you're not me so it's got to be worth a look.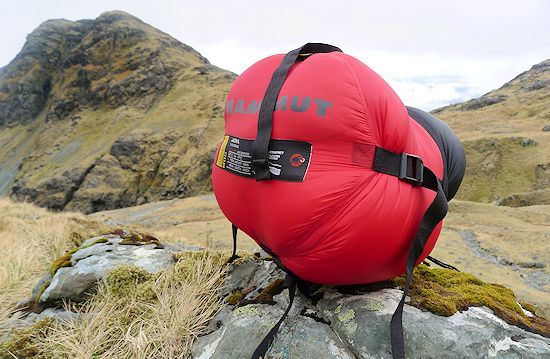 I like pillows at camp, a stuffsack full of clothes just isn't the same, but it's got to be light so the Mammut Air Pillow has been been my new best friend.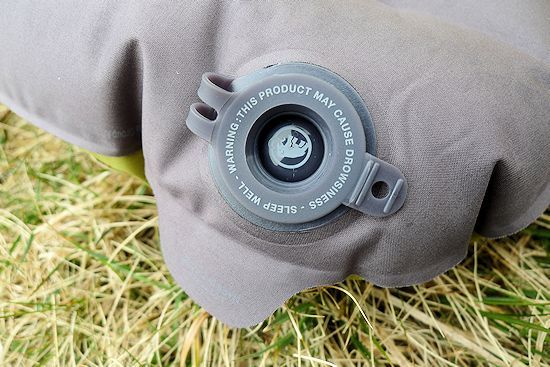 The outdoor trade is depressing devoid of humour and levity and Mammut buck that trend here. The Jura bag above has "Sleep Well/Sov Godt" on the easy to grip zip tag (Hmm, probably should have mentioned that in the review) which is nice as it's an unnecessary embellishment, as is the text on the Air Pillow above "Warning; This product may cause drowsiness". Magic.
That text is on the valve through which a couple of big lungfuls give you a nice soft pillow for the night. To deflate you flip open the cap and stick a finger into the little flap inside to open it and squeeze the air out. Simple.
It's light, 39g apparently, could be right, you can barely feel it in your hand, so there's no need to weigh it. It's small too, which is a good thing because it fits neatly inside sleeping bag hoods, as long as they have good hoods. I've had the pillow in three or four different bags now and it's been great, it stays put and the curved bottom edge fits into your neck just nice.
I was talking recently about camp comfort and little things that make your night better can't be overestimated, be it a book, music, chocolate or a pillow. This is a great wee thing, a tenner with your GoOutdoors fan club card or £15 without. Here's something you don't hear me say often, if this one bursts, I'll buy another.