It's part of the top-end Mammut Eiger Extreme collection, but is the Eiswand Jacket too posh for the Scottish Highlands?
I've used various bits of Mammut kit over the years and was pleased to get the Eiswand in for test. Mammut's technical kit aims high with the best fabrics and a fit and design that show little concession to users that are out of shape or just walking the dog, the kit is cut slim with freedom of movement in mind. The photie at the top shows the arms very well, neat around the shoulders with some subtle gusseting to keep the hem put when you're reaching up.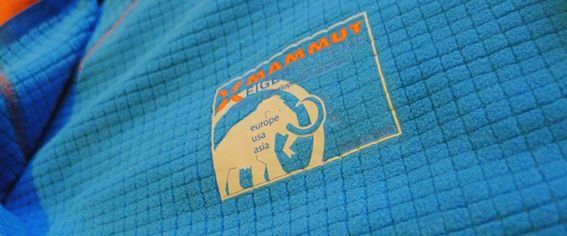 The fabric is under Polartec's Thermal Pro banner, and is another evolution of the grid-backed fleece that's been around for a while now under various names. It's a good design and suits a mid layer very well for several reasons. Although, I say it's fleece, its miles away from a traditional fleece fabric, it's thin and light, more like a heavy baselayer fabric, gridded and sandwiched to a tougher smooth outer face. This outer face uses Polartec's Hard Face technology which gives some wind and water resistance and added durability and it does mean it wears better over time, these grid backed fabrics age much better than regular fleece. I wear a pull-on made from an early version of this fabric two or three days a week and have done on cool days for ten years and it still looks good.
The Eiswand layers well because of the smooth outer as well, no binding on your shell so the jacket stays put. Although there's insulation there in those little fleecy squares, it's not too much under a shell when you're working hard and its good on its own as your outer layer outside of really harsh conditions. It wicks and dries predictably well and wear and wash cycles haven't didmished its powers over the past few months.
The other fabric here is Polartec's Power Stretch, already a favourite of mine, here it makes up some detailing, the inside of the collar for some welcome softness and the binding at the cuffs and the hem where it's stretchiness has replaced an adjustable drawcord.
All very well, but it's no use if you sew a lovely fabric into a mail bag and call it a jacket is it?
No worries here, the spec is good. The cut is just right as you can see in the top photie, slim, trim and allowing full mobility. The collar is what collars should be like, high and cosy, but well shaped so it doesn't compress your neck. The zip has a garage at the top, so no skin or 'tache snagging.

The low placed hip pockets might seem unusual on a technical jacket, but here in the UK is the only place people moan about that apparently. A chest pocket for niknaks, and somewhere to warm your hands and store some gear, pockets don't have good or bad placements, they're just where you you like them or not.
The pockets all have mesh bags, so no hot spots underneath, and the chest pocket has a sewn-in gusset to let you overfill it a bit. The outside of the pockets are reinforced with gorilla tape and the zips are all reversed for an abrasion free outer.
The zippers all have easy to grip pulls which have reflective detailing to match all the logos on the Eiswand which are also reflective.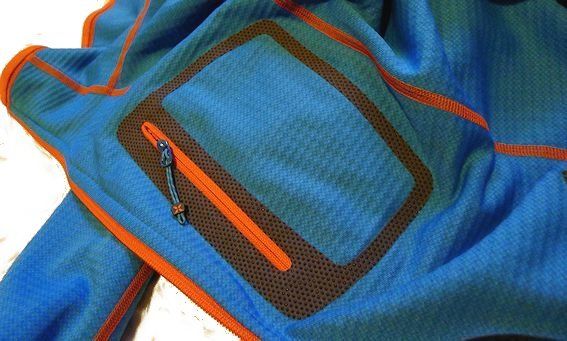 The cuffs are thumbloop style, something Mammut has long been doing, but these are much better than the basic lycra-bound thumb saws of old. The cuff has its Power Stretch binding which sits just behind your knuckles and the thumbholes are nicely constructed with a soft stretchy gaiter which seals up your thumb and still lets it move freely without pressure or abrasion.
The Eiswand is an interesting mix of traditional and right now. The general layout is the same as any Polartec 200 fleece you've ever had which makes it very usable and wearable, but the top-end fabrics and thoughtful detailing make it more usable and more wearable. At 550g for my large it's something you'll want to wear more than carry, but it packs pretty small if you do have to lug it.
It's been designed for mountain use and that's something that also comes through in the uncompromising styling, the Eiger Extreme series is bright and full of contrasting colours, it's designed to shine out from the rockface or the snowslope. That's something that makes me glad as you might imagine, and it's something I can't see being worn to the pub or walking the dog too often.
I'm glad fleeces are evolving and staying relevant, I like a fleece midlayer, from a plain pull-on to something as fully functional as the Eiswand. Softshell has its limits, fleece really doesn't, you can work with it and make it fit into your system all year round.
You don't have to be (Eiger) Extreme to get the most of the Eiswand, it's not too posh for the Highlands at all, it's perfectly at home in fact, on foot or on a mountain bike where it's great for cold weather riding.
The Eiswand is a very nice bit of kit indeed.