We had tents pitched on the lawn, trying them out for size and a wander up the crags never got further than the Overtoun House tea room.
Holly was making sure we weren't wasting this new day.
There was still time for tattie scones though. I mean, the Russian invaders would have to be visible from the windae before we let that go on a weekend.
We thought we'd try some new socks this time around. Holly got her fancy Wigwam anniversaries on and I found an old pair of Injinji's that I was probably supposed to review in 1975. She was still laughing at my feet a mile up the road.
We took the Loch Long road, the A82 was choked once again.
Hmm, instant self edit. I just wrote a rant and deleted it. You know what, I actually don't care what other folk do. We got in the truck to find fun and that lingering air of positivety has sapped my enthusiasm for tearing into Loch Lomond day trippers.
Instead, the most memorable part of the journey is always going to be ELO's Shine a Little Love with us singing along and doing the clapping part in the chorus high-5 style as we went.
Don't let the bastards grind you down? Sometimes.
It was a funny sort of a day. At Butterbridge it was was very warm, the sun was splashed on the hills but we were in a patch of gloom that seemed quite keen to follow us.
We got the occasional burst of unedited sunshine and thought about reaching for the sun cream, but then it would slip away once again.
Still warm though, hats were dipped in the burn, chilled Robinson's lemon was sipped often.
The banter was exceptional and hanging out with Holly like this has reconnected me to the outdoors in subtle ways as well as sharing the "Wow, look at that" moments.
The pace is slower, there's a lot of looking ahead and looking up. I'm explaining and pointing, recounting old tales from the trail and making up just as much as well.
Volume 2 of the Loch Sloy Trolls was sketched out on this walk. Oh the drama, the tension, the bloodshed. The claws…
I'm looking up and thinking, oh I'd like to go there, even when I've been there repeatedly. I'm looking and I'm thinking "Have I got time for this?" and I don't mean hours of daylight, I mean miles left in my legs and useful years of life past the end of this one.
It's odd feeling older but also feeling, I suppose, hungry? Am I finally feeling what it is to be 49?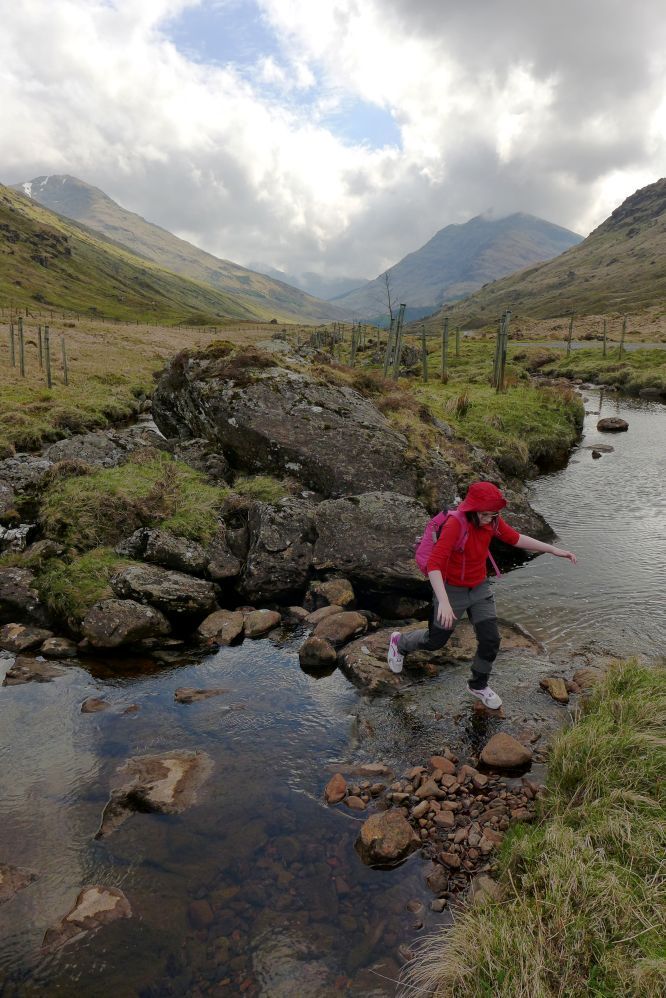 Glen Kinglas isn't overly glamourous I suppose, it's a landrover track serving forestry, farming and the arse end on the Loch Sloy hydro scheme. It's good going underfoot and the views are as awesome as they are unusual. Indeed, the views were also new to me.
As well traveled as I am around here I've never been beyond the Abyssinia hut on this track. I've walked down to here, climbed up the slopes above the hut and walked to the top of Beinn Choranach and I've walked the widely ignored ridge on the other side of the glen from Creag Bhrosgan to Stoban Dubha and down to the hut through the crags. Never beyond though, the next steps were actually kinda exciting.
Beinn an Lochain looks amazing from here, sharp and er, mountainous. Beinn Ime looks unfamiliar, the broken east ridge definitely looks a wee bit racey and Beinn Narnain is a dark, sheer sided ridgeline.
It's like looking at your best friend from the back in a crowd when they're wearing a hat they've just bought that day.
Met a couple from the Netherlands here, on their last full day before their flight home and looking for the most fun route back before a night at Ardgarten. We chatted, I talked too much and fired too much information at them as usual but they smiled as it hit them like a box of tangerines from the top deck of a multi storey carpark (suspiciously specific?).
Damn me though, as we looked back, they took the route up I suggested. I kept looking back as they wound their way uphill. The ridge cleared and stayed clear, it must have been eye watering up there. Fantastic.
The tail of Loch Sloy was annoyingly invisible. Grassy hillside and forest were the dual inconveniences. Lunch, it is was about 1800, so dinner really, was warm and tasty. Protracted too, we had music and everything. And pastries.
Energy renewed, focus regained, we'd go and find the loch. The map said this was unlikely without a lot of effort possibly mixed with re-ascent and some bog hopping. Ach, we'll see.
The forest track seemed more fun, it was a better venue for a story as we walked. I mean, that's a troll bridge if I ever there was.
The riverside was boggy and we stumbled and slopped along it before coming out onto the grass and the sunshine. Here a culvert come aqueduct thing meets the river. It's very like the one that goes to Blackwater Dam from the top of the pipes, being roofed with concrete strips. It curves around to Gleann Uaine picking up the burns around there to feed them into Loch Sloy.
Never seen it mentioned and it was a complete surprise, not really on a hill approach I suppose. So much of the hydro scheme tendrils to stumble upon in these hills.
We stood on a grassy knoll and finally spied the loch. We looked at each other and knew that was enough, it was nearly 100m vertical descent to the waters edge which we'd have to reverse. Nah.
The water level is very low just now so it looks a bit nasty and bare down there anyway, we can reenact the moon landings another time.
The culvert was fun to follow back, the sound of invisible rushing water was an odd accompaniment, like having a broken radio on in the background all the time.
Holly was tired, I checked when I got back and she did 8 miles all in today. The three miles back were fueled by constant banter and Morrisons Marathon* rip-offs, Sprinters bars.
She did so well, at times it was a roaster before the breeze arrived and she put in the miles in good cheer. I am proud as The Dad, but more than that I am so pleased for The Girl. I can see how these wee adventures are affecting her thinking and her bearing.
We had cows staring at us in an alarming fashion, birdlife swooping and bobbing, lambs displaying unbearable cuteness and then pleasantly cold air that came with a darkening sky.
One lamb had the best face ever with a perfect black metal corpse paint look. It had a wee limp as well. I definitely wasn't up late worrying about it.
Might go back and see it this week though, you know, just in case.
*Stick your Snickers re-designation Mr Mars