Just in for test is the Macpac Amp Race 40. Macpac have long been seen as a purveyor of reliable, tough gear, but they also have a pedigree in adventure racing and few years ago just about every international team I saw had at least one member with a Macpac Amp pack, some even with the logo sewn over with their own sponsors…
Times have changed though, racing pack design has been taken to new extremes of light weight but also of functionality.  Where does the Amp 40 sit these days?
It looks a little more like the Amp Race 25 now with that single-buckle lid, a good move for me as I like the single buckle format. It looks to have the usual conservative Macpac volume rating as well, this'll take all my camp kit and more besides.
The main compartment has a bladder sleeve with hangers and drain holes at the bottom, and the foam back stiffener is removable as a shoulder-to-hip sleepmat which meets race regulations but is no fun to sleep on at all!
But viewed against the current race packs, the Amp is looking more like a fast-and-light general purpose pack than a dedicated race pack, not at least because of it's 1160g weight. This is no criticism though, race and multisport needs are what gave us things like mesh pockets and external stowing options, and it's good to see a pack with all the functionality without it being pared down to the minimum elsewhere.
So what functionality is there? It's been designed to be used quickly so it's all pretty simple, eg the main compartment closes with a one-pull cord cleverly threaded through both cord channels. The external storage is another quick-access feature, handy in a race but also for wet tents, snacks and real flexibility.
Below you can see the size of the mesh bottle pockets with a 1L Sigg in one, the external zipped storage pocket (it's sewn onto the outside, so doesn't impact on internal space) with the binoculars, the external mesh pocket with the Galaxy Counters poking out and then there's a web of bungee to attach even more. Add to that internal and external lid pockets, two big mesh hip-belt pockets, a shoulder strap gel-bottle pocket and bottle bungee and you've got more storage options than you've got stuff to store.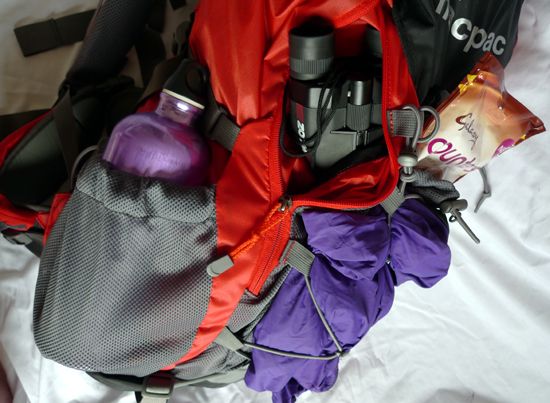 I've used Amp Races a few times over the years and found them stable and comfy, and the harness here seems to be the same design, low profile with a stiff-ish padding which will mould to you after some use. The chest strap, with the now expected whistle buckle, is on the sliding attachments, but here the rail ends are sewn-in to prevent the sliders pinging off.
The back is a simple mesh panel and with just the foam inside is nicely flexible. The removable hipbelt pivots nicely too and it really is a pack which allows a lot of mobility.
There's enough top, side and bottom compression to pull the pack in tight if you need to though.
The fabric feels a little stiffer than the older versions, which isn't be a bad thing, as with ice axe on there and the tall thin shape it's a pack asking to be taken into the mountains and used without having to worry about it.
My first impressions are good, the features and comfort look to be spot on, and I'm hoping they're worth that extra weight the Amp has built-in.
In many ways this is going head to head with my OMM Villain, same size and general layout.
We'll see.