I've spent more than 25 years working in factories, warehouses, workshops and the like fixing their broken stuff or installing new gear and it's given me a brilliant insight into areas of life that we don't always get to see, the ones behind doors marked Authorised Personnel Only. Testing outdoor kit is fine, but more interesting is seeing behind the scenes of where the kit really comes from, so when I was invited to spend a day with Lyon Equipment earlier in the year it was a perfect opportunity to see how the machinery of large scale  distribution works. I learned more though, Lyon have a real technical heritage and they still manufacture a range of kit.
I've driven by Lyon's warehouse plenty times and never knew it was there, nestled just off the M6 at Tebay in sight of the Lakes. At reception you're greeted by a monster shackle, not part of the current product line but a nod to the industrial past. After meeting familiar face and guide for the day Si Tulley I had a chat with Ben Lyon (below), founder and supplier of the name to what is now a big company, doing much more than sticking Petzl headtorches in your local shop.
Ben has the air of a man who has just being doing his own thing all these years and has found himself at the centre of a huge company, and like so many of the old-school folk I've met in the outdoor trade he started by making quality kit in small amounts, here it was caving ladders back in 1965.
Over the next few years Lyon followed the changes in materials, technology and techniques and supplied equipment to suit, ropes and ascenders becoming commonplace in caving alongside ladders. In 1973 a caving expedition to France also brought a visit to a three-man workshop run by Ferdinand Petzl. Petzl gear was exported from France for the first time by Lyon, who changed their name from Lyon Ladders to Lyon Equipment and both manufacturing and distribution continue to this day.
Oroginally Ben was an activist rather than a business man though and his tales of using WW2 hardwear on hairy ropes might make us wince today, but it's that kind of experience that gives anyone a sound technical foundation. To make something the best you can you start from somewhere away to one side and work towards that goal, things are way too easy these days. What do you need? Ah, I've got an app for that.
Ben has been involved in many other things, some of which affect me both at work as well as at play such as the BSI standards for rope access. He's an interesting fella, and I like his single raised-eyebrow attitude to alot of the things that come with being in the outdoor trade. As pretty much every outdoor company you can think of is a simple brand, it was nice to learn that the Lyon name actually belongs to someone who knows what they're doing.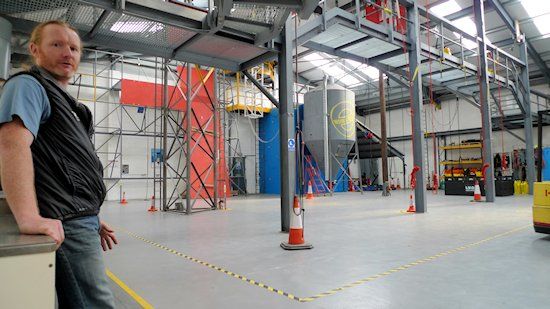 The roped access I mentioned above is an important part of Lyon's business and part of the site is a comprehensive training area for access, rescue and working at height. Mark showed me around the facility and I felt quite at home as there's examples of things I have to tackle on a regular basis, vats, chambers, high walkways, roofs and something I only pay money to see like a concert/ theatre lighting rig.
All these things need equipment and methods to make them safe to work on. Training in here you'll find Police, Fire Brigade and Coastguard as well as blokes like me all feeling out of their depth but looking brave.
There's some rooms attached where you can have a cuppa (important if you're me) and also study for and sit practical exams and on the floor itself there's some testing equipment to check their gear including a frame for weight testing mountain rescue stretchers. They fire 1.5 tonnes of pressure on it and are looking for only 5mm deflection, it if passes it's good enough for you and me to go for a ride on.
There's one exercise I wanted to do as it's something I've done in the past with frayed ropes and crossed fingers, that's slinging a heavy industrial burner from one place to another without breaking it or it touching the floor. Excellent fun.
Si took me to see Graham (left), the warehouse manager, and his patch is big, and getting bigger as the warehouse is expanding. The racks stretch to the roof and right to the back of the huge sheds with layers of kit in boxes that are familiar to us all, LaSportiva in all sizes and colours, Petzl, Exped, Jetboil, Beal, Aquapac, LightMyFire, Ortlieb, Julbo and also a big selection on Lyon's own slings and other equipment.
There's quite a few folk working in there, but the size of the place does hide them very well, the folk making up the orders below are were well concealed in the midst of their ISO inventory system in action.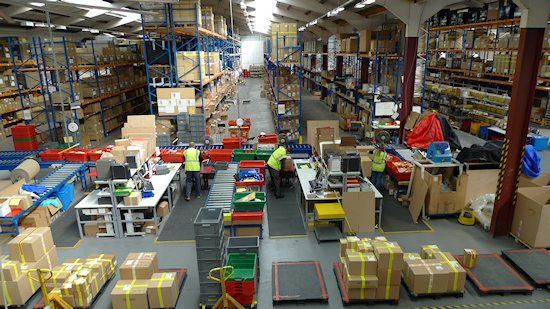 If the warehouse is the base camp, below is the front line, the trenches, the centre of the bullseye, it's Joe and Mike in aftersales.
As an engineer I make a terrible journalist and try as I might I couldn't get either of them to dish any dirt on idiot customers who phone them up with stupid complaints like "I burn my mince in my Jetboil" or "My crampons made hole in my Exped drybag". But these are the guys you speak to, so be courteous when you phone them and they'll help you with advice, repairs, updates, returns and spare parts of which they have many.
They seemed cheery and relaxed bless them, which is probably the best thing to be in those chairs. I'll tell you, I couldn't do their job, I've seen folk whining on outdoor forums about why their new thing isn't perfect and I know what my response would be if they phoned me up.
Lyon's main HQ lies elsewhere in the village of Dent, and although it's not too far away from the warehouse, getting there was an adventure. The road is narrow and twisting and avoiding Postman Pat's van as he hurtles around the corners is a challenge.
Here is where the offices and manufacturing are, it's an old building that's been evolved to its maximum making the layout quirky and it was a joy to wander around it. Check out the original Lyon ladder above.
Michael makes the ladders and other components, he wears a boiler suit and had a cuppa in his hand as we found him in his workshop. I was home.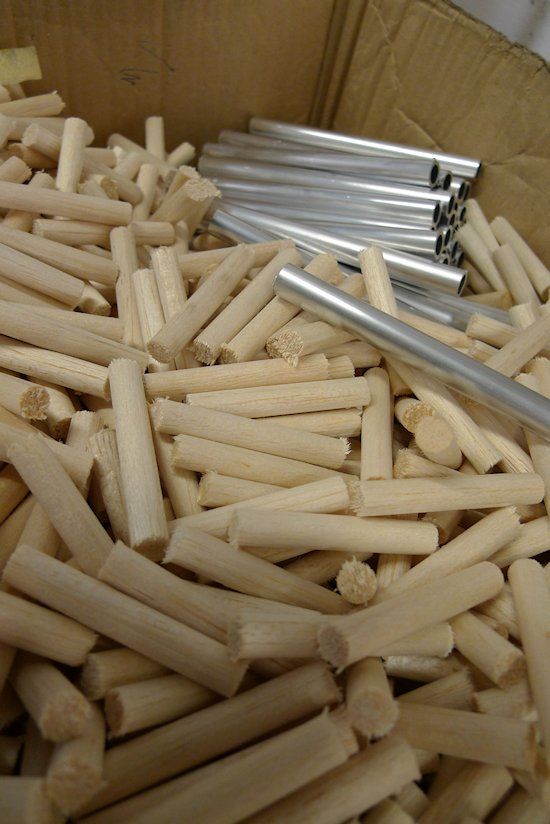 The ladders are hand made from a stock of pre-prepared components, wooden dowels and aluminium tube sections above and below.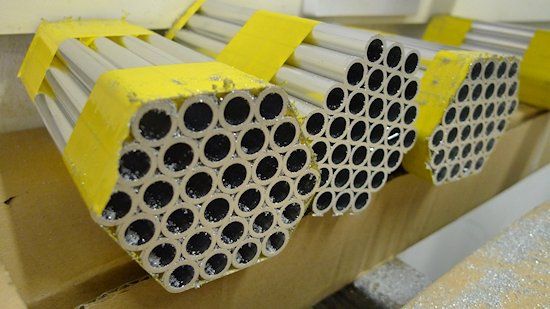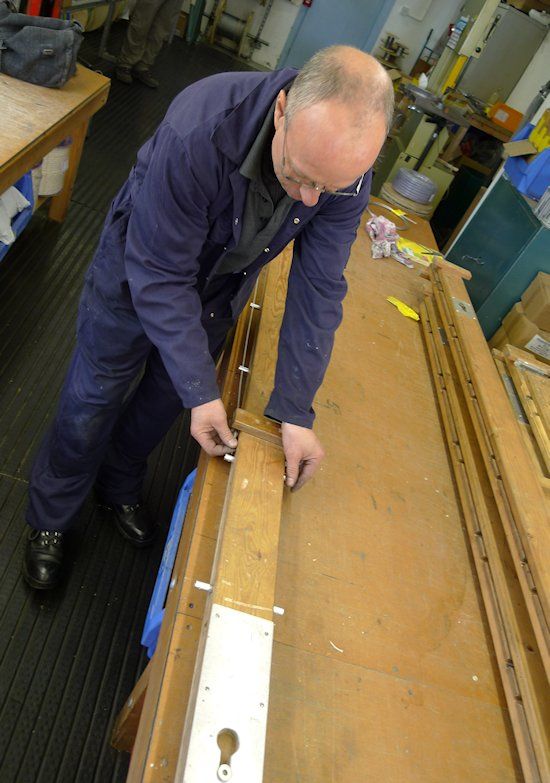 There are long work table with jigs that set out the ladder components to the correct dimensions for assembly. Michael makes it look slick, but I had a wee shot of some assembly and my efforts went straight into the recycle bin. Practice makes perfect and Michael must have done countless rungs in his time with a design that's hasn't changed over the years as it's already light, strong and durable. Like all the stuff we used to make in the UK. But let's not get me started…
Wire components are crimped on the press below, here it's binding the loop into the end of a wire sling. I use these things all the time, and when I picked on e up where I got back to my own workshop I really did look at differently.
I suppose it's like the question asked to school kid: "Where does milk come from?" "The shops Miss". People making stuff, that's what it's all about.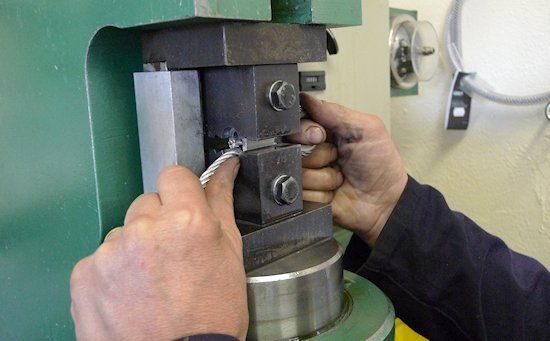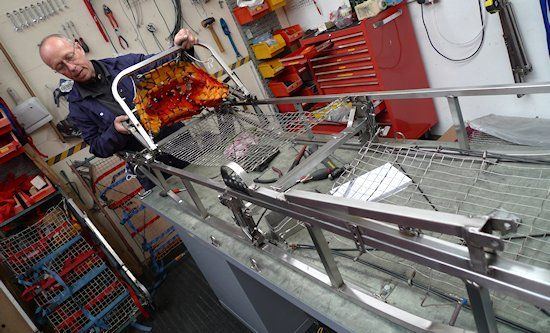 The stretchers that I mentioned above are serviced and maintained here. They're called BELL Mountain stretchers I've never had a proper close up look at one of these and it's a very well made, complicated, expensive and heavy bit of kit. There also not made anymore so keeping on top of repairs makes sense, luckily the only regular damage they seem to get is too the wire and fabric components. I wish you could get BELL mountain knees.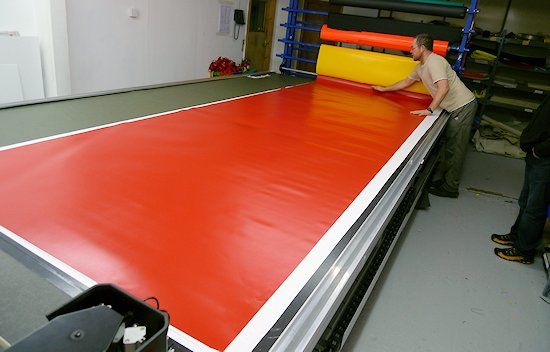 Lyon make a bunch of textile products and Johnny showed me their robot cutting machine at work. At one end there are rolls of fabric, here it's the rubberised stuff you get on haulbags/rope bags and the like, which is drawn down the table and then sliced up repetatively by the uncomplaining cutter on the moving bar. It carved up a dozen shapes or more in no time at all while a I wondered about strapping a block of cheese to the cutter and watching mice chase it around the table while we all placed bets on which mouse would claim the prize.
You might say that a person could be cutting the fabric, but a machine doing it quickly and cheaply might be keeping the folk that sew the pieces together in a job in the UK so I'm all for it.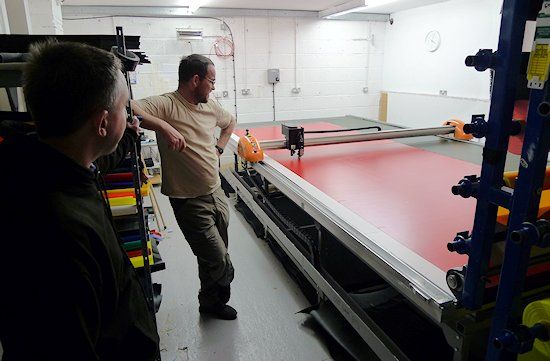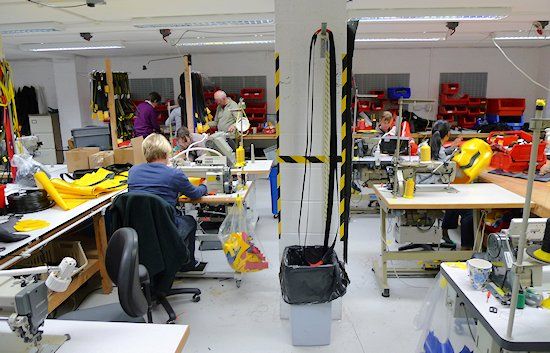 And here is where the sewing and more goes on with folk busy at tables and machines fitting together all sorts of multicoloured shapes together with racks of parts all around and yet more racks and tubs of finished product filling the gaps. A wee hive of activity.
Below is a very fancy sewing machine indeed, one that your life could depend on as it sews together rope and tape into slings. I watched it closely and it varies the pattern as it goes, kinda weaving the thread through the rope to spread the threads through the core for best possible strength.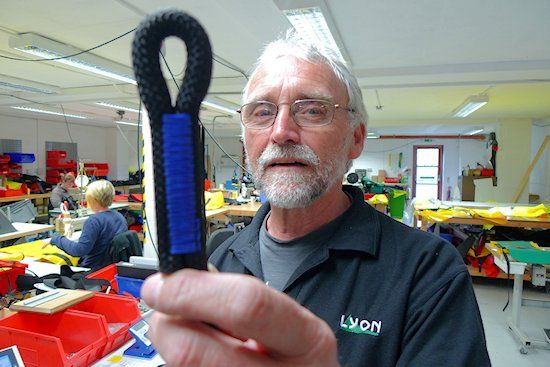 Dusty holds up the finished sling above which was lovely, but the joy was short lived as he had plans fot it. The machine below tests the slings to destruction and Lyon test regularly to keep on top of quality control. There was a tape sling already in there which was pulled apart with a bang that knocked me back on my heels, my poor wee sling was in next and it too exploded with a sharp intensity and volume that no amount of fore warning was going to stop me jumping at.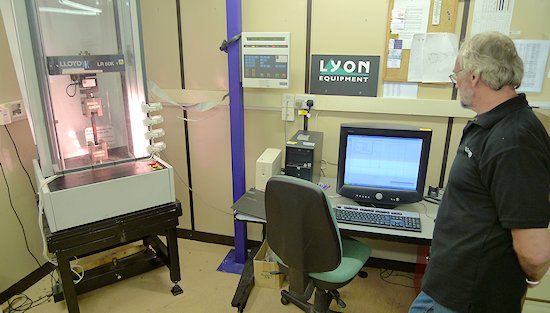 It's interesting to see where it failed and how the stitching took the strain so well as just how much force it took to break it. Modern ropes are just so damned strong.
There's a big bucket of one's they'd made earlier. They must all be used to the sound on them letting go, I was the only one who flinched.
They showed me some of the stuff they make, all specialised and bound for very varied places. Lots of hard wearing hi-viz wearing rescue equipment.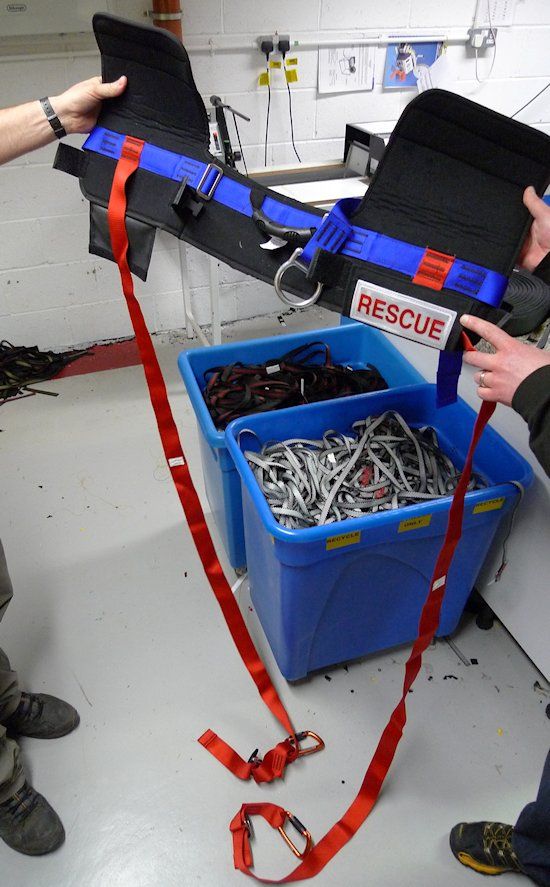 Lots of contrast here though, black ladders bound for armed and silent types and pre-cut fabric sections ready for assembly.
I liked the downstairs, shelves of stuff with surprises lurking in corners for the curious, I'm sure they had a roll of purple ice axe leash tape in there from  '89 that they wouldn't let me have. But upstairs next to an airy office area is the product showroom, where Si slipped into something a little more comfortable, lightweight and incredibly expensive. Got to love those carbon LaSportiva ski boots.
We met Roger and had a look through some of the kit, which I've featured on here over the past few months with some more coming up soon, and there was something that occurred to me. "Why don't you do any outdoor clothes?" It's not their thing, too faddy, too seasonal is what I got reading between the lines. It's an interesting departure from most distributors that's for sure, and it does seem to be working for them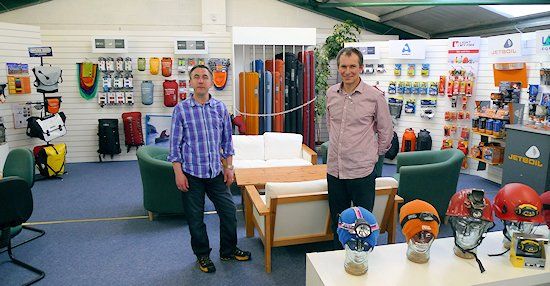 I was pleasantly surprised to find that for all the shiny newness and pushing forward, there is a big streak of geek at play at Lyon. On proud display alongside the new models are a collection of vintage Petzl headtorches with overstretched elastic webbing and aluminium adjusters. That on e with the purple and pink straps above looks just like my original Petzl Zoom. Ah the old days.
This wee figure stands outside the Dent HQ looking very pleased with itself. Well, it's a nice wee place who can blame it.
I'd enjoyed my day too, I like meeting folk and I like to see the wheels of industry going round without having to get my tools out to fix them. Lyon isn't what I'd imagined, most outdoor distributors are physically small companies, but Lyon is big, with the industrial side now taking 50% of their business. They're very professional too, everyone I met knew their stuff and in great detail too.  I was impressed.
Si and all the Lyon folk were friendly and very patient with me, and it was nice of Ben to come in to meet me, thank you to everyone at Tebay and Dent.