I'm pleased to welcome that  big Lowe Alpine logo to these murky pages, an old school brand with some fresh thinking and the first test kit comes in the shape of the Zepton 50 pack.
The Zepton's been out for a while, but when looking for a winter backpacking pack to test, nothing really sang a song I liked until the Zepton and Nanon were pointed out to me.
The dyneema fabric must be the best pack fabric out there, light, but it'll take such a kicking and it's as good as waterproof I've found. The Zepton is pretty basic as well which appeals, no fannying about at all, but what features there are, look like they're right.
The main body is very plain, roomy too, but it cinches down well with the narrow webbing compression straps. All the webbing is narrow in fact which adds to the sparse look, the buckles have all been shrunk to suit but it all seems easy to operate. 
There's side stretch pockets where I can just about get a bottle out when wearing it unloaded, and one of the compression strap runs across it. Always a tricky area to resolve that, straps that run through the pockets tend to catch, those  running outside make getting kit back in tricky without re-adjustment.
You can see the neat wee ice axe attachments too below, there's odd pole-tip catchers as well, and there's a few flashes of what looks like hypalon here and also there at anchor points.
The harness is very low profile (with big vent holes in the foam inner) and feels good with the pack rammed with kit. The hip fins (no pockets, ach) are very mobile at their roots into the pack which I like, light packs and light loads don't need to be welded to your hips like in the old days. The lumbar pad helps locate and secure the hipbelt at the right spot, but again there's still that body movement.
Against your back is thick mesh over foam which does create a wee bit of a gap, so should help with a sweaty back, as in prevention, not encouragement. The front fastens reverse-style, and I think packs should have this or side fastening, other stuff just feels a little clumsy in comparison.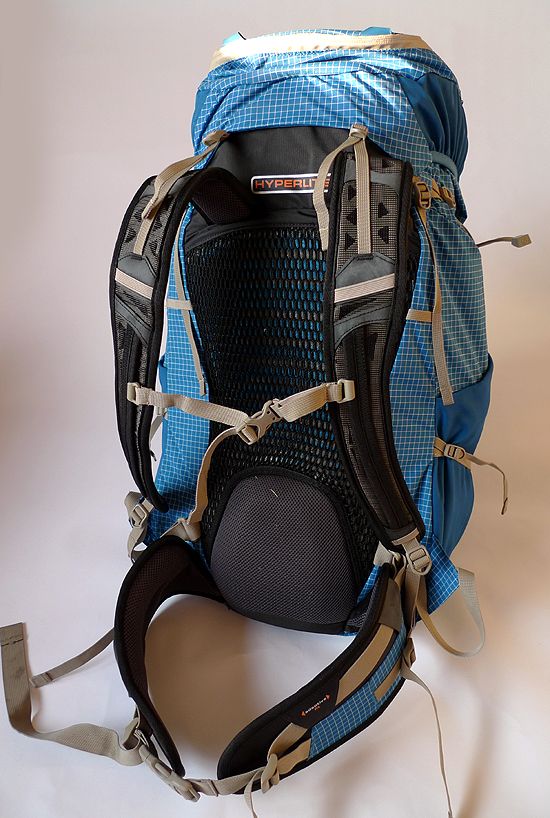 The mountaineering heritage comes through in the removable lid, which is secured so it won't slip and let the snow and rain in. The lid has a huge outer pocket, a smaller inner pocket, a dangly keyclip and attachment point for crampon straps etc
There's not much in the of external storage when you're used to race-derived packs as I've been the past few years, it's more of a basic trad-style updated with modern fabrics and thinking. I felt comfortable with it right away, easy layout, good fit and all should be well I think.
More later.