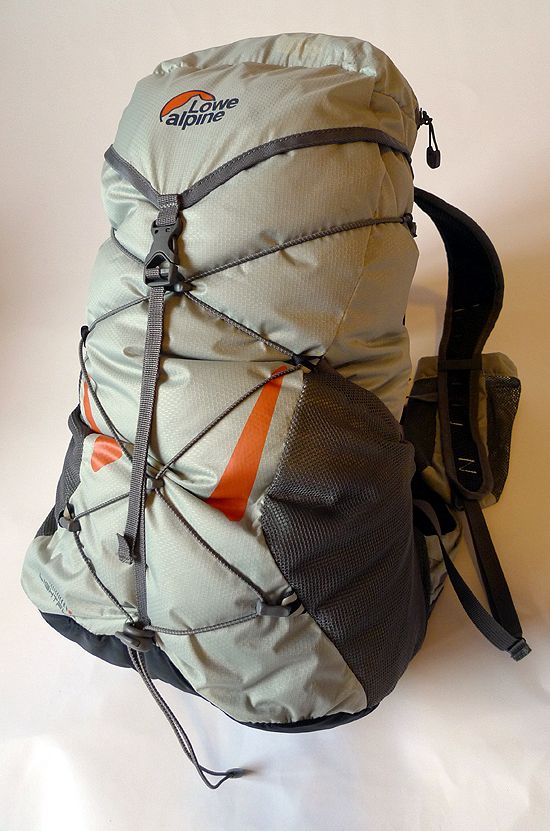 Considering that the company gives its name to the LAMM, Lowe Alpine Mountain Marathon, it really should be at the front when it comes to kit for use in the event. A new range of race/lighweight packs is due in the spring and in for test is the Lightflite 28.
It's weight is billed as 410g, which I'll check for the update when I remember to bring my digital scales back from the workshop, and it does feel light, but there's no shedding of usefulness in the layout to hit that mark.
It's that classic teardrop race pack shape, with a single buckle lid and those big elastic topped mesh pockets it'll feel familiar to folk used to using this kind of pack. There's a bungee web for stashing more kit and this is removable, it clips out of its webbing loops which are also retro-reflective. There's two hydration exits and a reassuringly big , solid and easy to use cordlock on the top closure.
Inside there's a hydration sleeve with a velcro tab for hanging it up, a key clip and a second pocket for the removeable light foam back pad. On the users side of this pad there's a thick stretchy mesh which will give a tiny air gap against your back, and that's better than none. I suspect it'll add stability as well as it grips non-shell fabrics lightly.
The lid has a single external pocket with a rubberised zip, it's an oddly shaped pocket, but it takes a good bit of kit. There's a haul loop at its base too.
The harness is a cracker, low profile and it narrows where it joins the pack body for good flexibility. The light foam inner is punctured regularly for a little venting and is covered in light mesh. There's loops for hydration tubes and more reflective detailing. There's a chest strap, but no whistle buckle which we've all got so used to. I'll need to go and find a whistle now.
The bonus feature here is the removable bottle pockets. They're easy to attach and remove and the design is stable with three points of attachment. The bottles will have to be small, but that's no problem, 750/800ml hanging over your collar bone soon loses it's appeal.
The hipbelt has zipped pockets and also little stash mesh pockets, supposedly for gel wrappers etc, but you can get a Buff in there as well. The buckle is a side fastener as well, which I like. The webbing here and everywhere else is narrow for a little weight saving.
I had this out and about last weekend and it's a good carry, the back's on the shorter side for my frame, but all the storage options are great and it's comfy.
More thoughts when I've had something other than a wander around the Trossachs with it.