There were a few hours spare, and a mission to be done. So Phil and I raced up the road for a wee step into the (relatively) unknown.
Guidebooks should be just that, a guide, not gospel. They're a source of inspiration, a finger pointing to possibilities, confidence given to the reader in words and pictures. They get folk out there and they're also responsible for the knee-deep trenches on many popular hills by concentrating feet on one line of ascent.
Trail's given me a chance to show a handful of routes that will take folk unusual ways, or just to less frequented hills. I realise that there's a minute possibility of increasing traffic to these lesser trodden tracks and pathless hillsides, but if that takes even a couple of folk off of the usual track and into the realms of just using a map and compass for reference, I don't give a shit.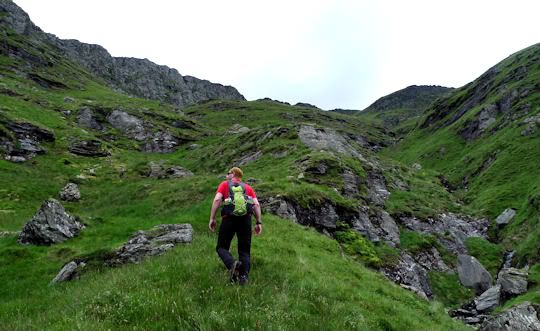 We were on familiar ground and despite the heat and complaining dormant ascent equipment (legs) we made good time. Below the summit ridge is where we went left and everyone else went right. What a good idea it was too.
I'd never been right here before, so familiar, yet completely new. Even the views to a familiar horizon had difference because of the new point of view. We scanned the map, took references and look up at the summit. It's way more impressive from down here.
Skirting the north ridge we entered the coire and broke into grins followed by exclamations and plans to come back with tents. It's so close to home, but it's a wild spot.
We scanned the NNE ridge on the far side of the coire for a decent access point and contoured onto the ridge where we stopped plenty to "look at the view" as it's so bloody steep and dotted with spots of easy scrambling. In short, it's a total joy.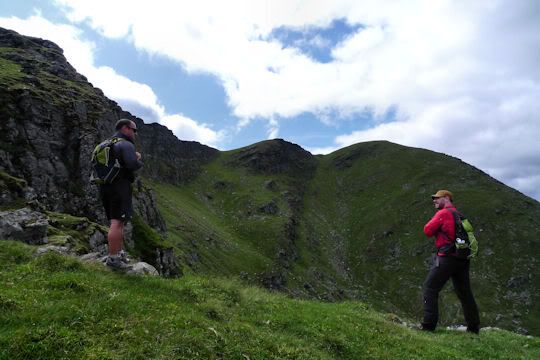 As we neared the top, we could see people, and plenty of them. We contoured the rim of the coire for as long as we could but, we were on the tourist track soon enough which is a hop, skip and jump from the summit. The busy summit. Lots of folk were out, enjoying the beautiful day, climbing their first Munro, visiting from overseas, tired, happy, thirsty and smiling, and seeing them reminds me that anyone who resents other people of the hill is just a miserable bastard and should be ashamed.

We chatted to folk and had some munchies before heading down, but the clock was very much reading the wrong set of numbers. We walked and skipped down the ridge, then skipped and jogged before we silently slipped into a full run. Arms out, legs over obsacles run, it was brilliant.
I just couldn't keep it up, stopping after a while and proclaiming "I'm 40!" as if it were a secret weapon, while reaching for my bottle of Nuun. We jogged the rest of the way. 40 minutes from the summit to the motor, I've climbed this hill many times, and that was the fastest I've come down it.
Job done it was back to work.
We had a blast, running around the hill like a couple of weans, pointing and laughing inbetween the pauses for breath. Nice to have Phil sharing the photie duties, I think the timer was used once.
Whatever you local haunt is, I'll bet there's another way. I've climbed Ben Lomond more times that I can count and I've found something new, but it's also shown me some other possibilities too, so there'll be some more newness for next time.
Alright!