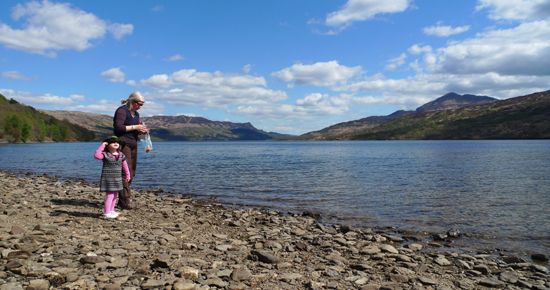 It's been busy this last couple of weeks, and today had been on my mind for all of it. Phone off, family time outside in the sun, there's nothing better.
Holly took to the the idea of a bike trailer instantly. I brought it home on Monday, set it up and tried it up and down the lane with instant screeches of delight from inside. I just had to count the days off from there.
We packed up on Friday night, but a wee niggling cough from the girl in the early hours looked like pulling the rug off the top of my head and we eased into a lazy morning with tatties scones and telly. But, she sprang back to life with a "My want a picnic and my carriage". Clothes donned, flasks filled and we were on the road.
Loch Katrine isn't too far away, and the road across the southern end of Loch Lomond and over the Duke's Pass flashes by in a blaze of colour and light. The Trossachs are bubbling with life again, trees bursting out under the bluest of skies. The three of us were smiles and sunglasses in the (£3) car park at the pier as we kitted up and wheeled off for a lochside dawdle.
Loch Katrine is rare example of Scotland doing tourism well. There's facilities, people to help and answer questions, a lack of closed signs, things to eat, things to do, and most of all it's a stunningly beautiful place. Natural woodland clings onto the islands and the hillsides, the modest heights of Ben Venue still loom over the pier and in the distance, familiar Munro's take on different shapes to recharge your enthusiasm for well worn trails.
It was great to see so many folk enjoying it, families, walkers & cyclists of all flavours and of course the folks on board the Sir Walter Scott, steaming past us on its rounds on the loch.
We stopped for a picnic after a few miles under the shade of some tall trees, high above the water. Folk passsed us regularly in both directions. The road being closed to the public is brilliant, one van from a farm passed us all day, and that was it. It really is an odd feeling, on a hill is kinda timeless, sky, rock and heather, but here riding on an empty road past farms with geese and hens wandering onto the tarmac, it felt like we were time travelling. The Highlands as they once were, no traffic, every building in the glens occupied or worked. A joyful and subtly melancholy journey in some ways.
We rode on through the changing scenery, Beinn A'an now showing it's true shape as an outcrop in the distance and Ben Lomond's north face rising darkly to the south, the ridge we climbed last year catching the sunlight on its crest. I'm going back there soon.
We stopped for another picnic on the stony shore where we threw and skimmed stones (Holly attempted to lift a rock 3 feet across, and was most perturbed that it wouldn't shift as it would have made a "big splass"), had cuppas, carrot sticks and a pastry.
It was warm and bright and the day was getting on. We cycled a little further, to where the end was in sight, Stronachlacher just over the water. But Holly had done so well, and it was a long road back, so we decided to turn tail and not push our luck.
I'd wanted to do this since Holly was was born, I don't know why the notion came and then stuck with me, but I'm glad it went well and she loves her "carriage". I think I'd have been in tatters if it had been a disaster.
As we got back in sight of the pier Holly got out to stretch her legs and I walked back with the bikes and trailer while Joycee and Holly ran ahead. Joycee was delighted to be back on the bike too and did well, often disappearing up or down something to be met a little further on waiting and wearing a big grin. I didn't have so much speed available, me and the girl had the weight of our ensemble very much in mind plus the safety factor (generally and the old guy at the front more specifically), although cattle grids became a favourite moment with much giggling and shouting.
The trailer is great though, stable, takes girl+picnic and attaches easily to my old spare-parts hardtail. We'll have more fun with this over the summer.
We had ice cream as we packed up, dad had Irn Bru ice cream too, imagine that.
The best of days with the best of people, my girls.