prologue
A few months back, when the consultation on a proposed camping ban from Drymen to Rowardennan was launched I was asked along as a contributor to some media stuff, being both local, available and having seen the inside of a tent or two within the National Park in my time.
I answered the questions, but time didn't allow the positives as clear voice as I'd hoped, and the worry was that a negative image of camping was what had been presented.
With this in mind, I suggested a wild camping project to the park folks, they liked the idea and we've stayed in comms over the past few months knocking about some ideas, and once the election hoohah had shoved us back a few weeks, we got out on the hill on Monday 17th May.
The consultation process had finished by the time we went, and the 300 filled-in forms leaned 60/40 in favour of a ban.
As it happens, the timing worked well I think. I wasn't wanting to influence opinion on either side of the argument, I wanted to say "This is wild camping". Not just to differentiate us from the stupids trashing the lochside with their festival camping rigs, but to try and show non-outdoorsy folk the possibilities out there that are well within their grasp. Wild camping is not a hardcore activity for mountain men, it's sleeping in a tent somewhere you had to make some effort to get to. And, it's for everybody.
Maybe most importantly of all, I wanted to show that wild camping in the National Park is Go!
We were team-handed, and it was a real mix of personnel. From the Park we had Geoff Miles (Head of Marketing and Relationships), who was keen to get out there and see what it was all about, Grant Moir (Head of Conservation and Visitor Experience), already a man of the mountains and interested in trying some lightweight gear, Chris Sleight from the BBC who who is an experienced climber, Craig McQueen from the Daily Record who turned up race-fit from running, Stuart McInnes from the Edinburgh TRI Center who was wearing his film-maker hat, the familiar face of Phil Robinson, and me.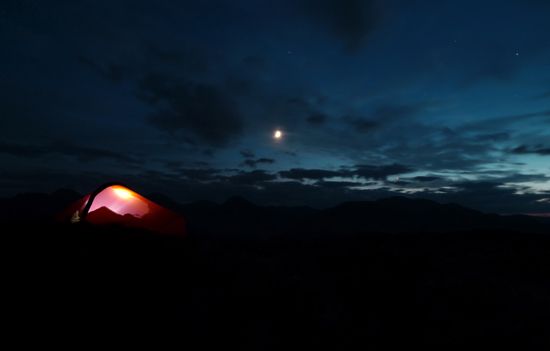 Monday
We had our meet and greet in the Inversnaid Hotel car park, the first time we'd all been in the same pl;ace at the same time. Always nice to meet new folk, and with the sun beaming down, the Arrochar Alps winking from across the Loch, the mood was indeed light.
There was some kitting-out to be done (details later) and once we were all comfy, we hit the trail, the West Highland Way in fact.
It's easy and familiar ground, and I love it. The leaves glowed bright green above us as they stretched out in the sunlight, the water sparkled and gurgled at our side, banter rippled up and down our procession as we snaked south. I was mic'ed up and gave a remarkably swearing-free commentary which I'm sure will come to haunt me in times to come.
We paused at a "traditional" fire-site, by that I mean it's been there every time I've been there and folk just re-use it because it's already there. Catch 22-ish? The pile of stones and half burnt logs with three "hidden" Pot Noodles and singed bottle of Lucozade were met with dismay, but little surprise. Phil jogged up to join us at this point too, having had to leave a bit later.
It was way too hot for that nonsense.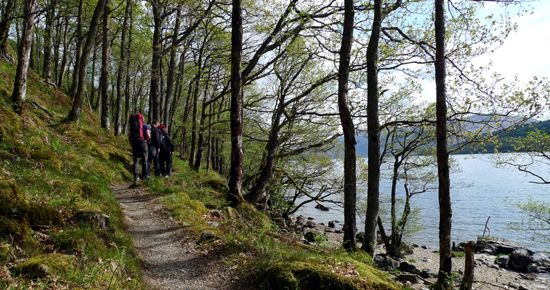 We passed a lot of Way walkers, some mountain bikers too. The WHW gets folk out there who might not tackle the countryside otherwise, and that's a wonderful thing.
We stopped by a little pebbly beach for some interview stuff and some minor snacking. Food raised its nose into the air for the first, but not last, time.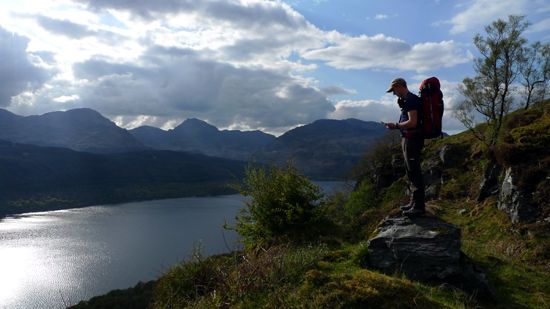 The famous goats were spotted in a blur of shaggy black wool on the hillside just as we arrived at Cailness, which itself was a blaze of blossom. It was our left turn as well, through the gate, away from the Way and onto a remarkably steep landrover track which pulled us into unbroken sunshine, rising temperatures and more frequent pauses to look at the view.
The banter kept flowing, some serious and for use later, there were mic's, still and video cameras on the go most of the time, but oddly it wasn't intrusive, we just kind of bimbled along. As we gained the top of the zigzags there was both relief and our first view and Ben Lomond. It's north side is just awesome. You should go.

The drive to Inversnaid from Aberfoyle is glorious, it's dead-end nature saving it from an A82-esque fate, and the views of the Ben from here are just amazing. Lomond means "beacon" and that's just perfect. It stands proud and alone, looking over a little of everything that makes the Highlands , rock and water, tree and heather, summit and sky, village and road, past and future.
"This way" I pulled back the front of the train from it's onward course on the landrover track with an outstretched arm pointed on the the rough and trackless terrain to the north. I could see big crags looming in a broken landscape softened just a little by a carpet of heather. Hidden somewhere in there was a lochan,  and hopefully somewhere for the tents. You know, it did look just a little wild.

There were a few feet needing some attention and some joints needing a break, so we stopped for a packs-off rest stop. There were snacks and banter, and even some warm layers thrown on as there was a little wind cooling us now as we sat above 400m. There is not a single path through here, we're surrounded by familiar peaks, we're not that far away from the car park, but there was a real feeling of being out there. This wasn't lost on us, in many ways it's the perfect place to demonstrate wild camping. In fact it's a perfect place just to go and wild camp, I didn't pick a soft-option destination for this, I just liked the look of it, it ticked all the boxes from accessibility, distance, likelihood of getting a few tents pitched, great views and just damned good fun.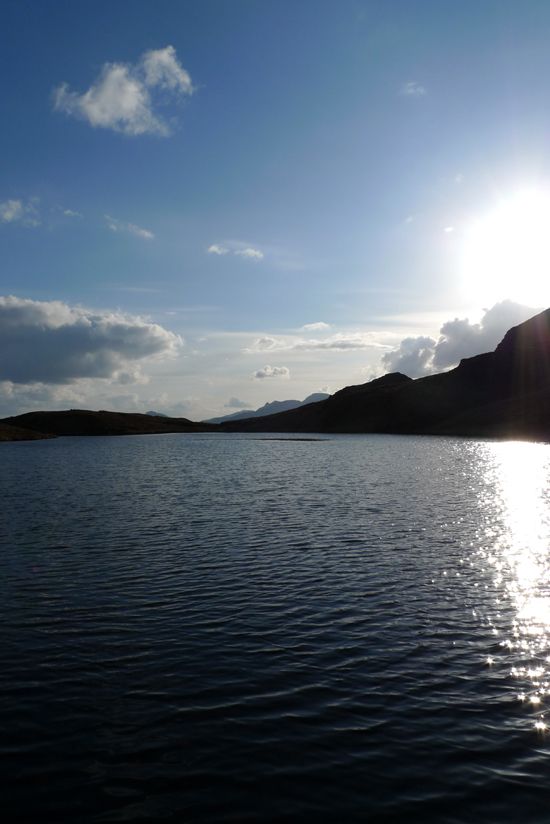 There was a little more cloud forming , and the light shot through the gaps in luminous shafts, the hills to the west grew dark as the sun passed further towards the horizon. We'd set off late (well, some things never change) and even summer has its limits. Scuffs and dents now attended-to, we regrouped and found our way through, round and over the heathery lumps to the lochan. A more lovely spot I couldn't have hoped for, and right above it, the little summit and ridge I had in mind for our camp site.
We ringed the lochan, filled water bottles and all took different routes up the far side to meet again at a wrecked deer fence and a little cairn. It was perfect, plenty space, views all around water not too far away.
Pitches were claimed, rucksacks dropped into the heather and unpacked, and a silence descended as most of the group concentrated on how to assemble the unfamiliar bag of metal pieces and fabric that was to be their home for the night.
But didn't they do well!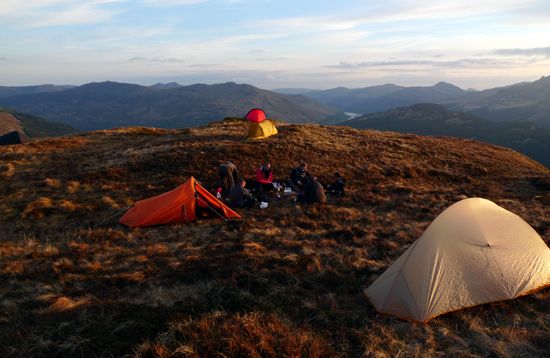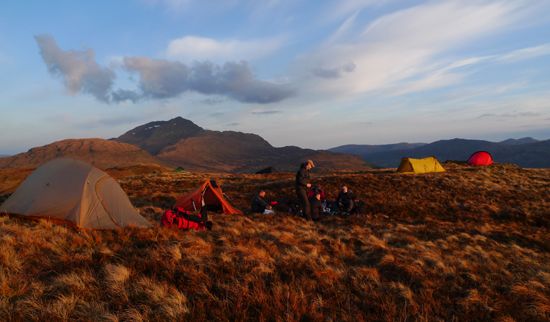 The tents went up, no one lost an eye, or a finger, or their temper. After that, we sat in a hollow and broke out the cooking kit. The food that followed varied in quality and success, Grant liked his chicken and noodles, Stuart had a nightmare with his as he was apparently supposed to fry some of it. Chris found his olive oil just too late. Bags of donuts, cookies and sweeties appeared and went down well. More  sound recording, pieces to camera and many photies came and went, just part of the evening. Somehow in the golden light and at the late hour, however unusual, it all seemed so easy.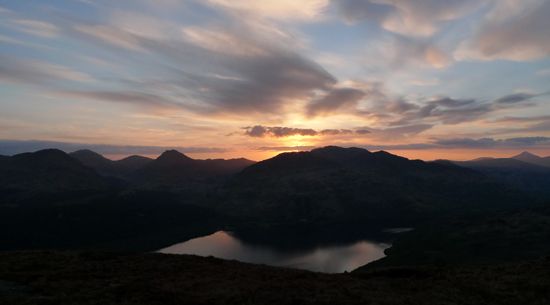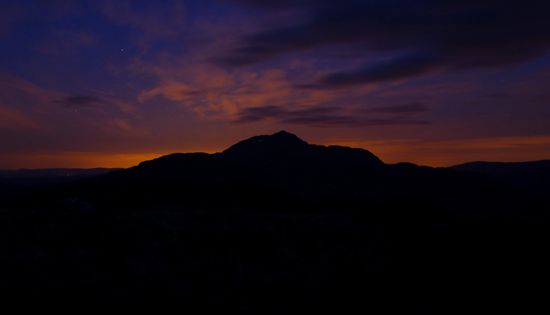 After a trip down and back up for more water, there was a second round of stove lighting. The cuppas were accompanied by the most inappropriate collection of stories, and rather than the night hike we just sat and blethered until bed time. The simplicity of it all was a topic, the mini stoves, the single pot and spork, the food-in-a-bag. It makes it all very easy, new skills to learn are few, waste is minimal, joy is maximal.
I tightened a few tents, just a wee bit, and one by one the guys drifted off to bed, leaving me wandering around with a tripod and camera, thoughts of how the guys would fare in the borrowed gear were very much to the fore. Would it be windy, would it be cold, would we have tears and snotters in the middle of the night?
Tuesday
I could hear Phil breaking camp sometime around dawn (he had to be back in Glasgow early), it was bright, but I was too cozy and I drifted away again. A couple of hours later, coughs and zips of varying types stirred me again and I stuck my head out of the tent this time. Stuart was up and dressed, so with a hot breakfast in mind, I did likewise.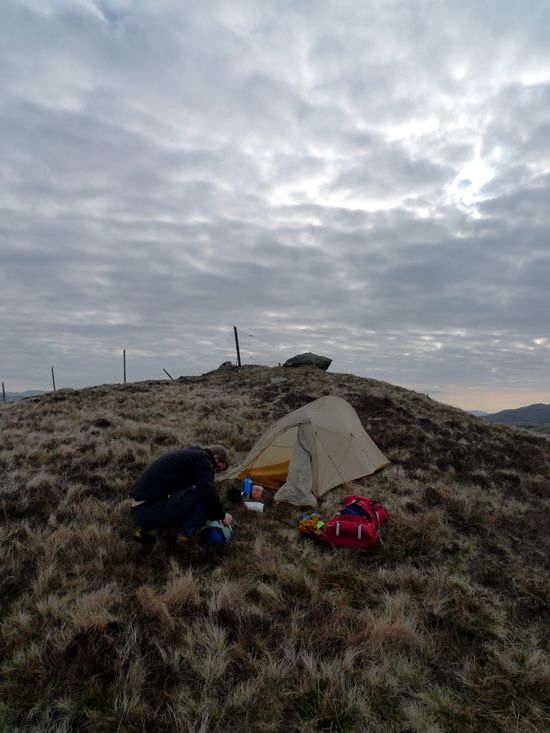 The breakfast table was a big patch of bare rock, the wind of the previous night had gone completely so stoves would have no trouble here. One by one the guys drifted over, except Chris who was last up after some extra Z's. Stoves roared, spoons rattled in cups, muesli was shaken while eyed suspiciously. The cloud cover started to break as we sat and watched. I don't know what was sweeter, my oats and raspberries, or the sight of Ben Vane dappled with patches light right across the loch from us.
This is wild camping. The walk-in, the pitching, dinner, it's all part of the same days doings, but waking up to a new day. already in the mountains, that might be the real prize for the extra effort, and the time that you give to it. It's an exchange which is weighted well in our favour. We can do how we please, the mountains will just sit there and take it quietly. Surely then, how we conduct ourselves in the company of such a vulnerable host must speak intimately of what we really are as people?
There were more recordings followed by packing. As we stood with our packs back on, and looked at where we had pitched last night, there was no sign of us. Not one scrap of litter, not even a tent shaped patch on the ground, the thick heathery grass had bounced back and there was no sign that we'd ever been there. Seven tents and their occupants stretched along a ridge, and with just a little thought and care, one night was made invisible. It's not even that it was a constant how-to session, common sense quietly prevailed and everyone kept their gear admined, even the first-time wild campers. That speaks volumes, folk either intrinsically know the right thing to do, they need a little help to see the right thing to do, or they just don't give a shit.

It was now clear blue above us as we descended steeply north to complete our little circular route. The mood was still light, no one had been cold in the sleeping bags which I was relieved about, there had just been a little flysheet rattling when the wind got up that had opened a few sleepy eyes now and again.
We dropped into the forest above Inversnaid, the sound of water tumbling over rocks, sunlight dripping through the canopy of leaves and it was approaching 10am.
It was a glorious little walk, the return to the motor is often a little melancholy, but today I really felt quite pleased with everything.
A group shot in the car park, gear sorted and it was all over. Another magic mini adventure.
Left to right, Chris, Stuart, Grant, Craig, Geoff, Me.
epilogue
After the lovely drive back out to Aberfoyle, I sat in Liz MacGregor's tearoom with Craig and Stuart with a my second breakfast. I had a wee reflection on the events, it was just a little thing really, but as I said "Iwanted to do something".
My part is over, the coverage will be whatever it is, we'll just wait and see.
But, we did see what wild camping is, we saw how accessible it is, and we showed that the National Park is the place to go to do it.
The Park is changing. In the ban area there'll be camping grounds, in the right spots for Way walkers too, Sallochy is getting some minimal facilities, environmentally sound ones too. The plantations are being felled and replaced by native woodland, and then there's the future of the A82.
I have hope for the Park, I have to. I've seen what happens when both planners and people do the wrong thing. I watched them tear up and disfigure the lochside 20-odd years ago when they put the road in from Balloch to Tarbet. And now I've seen neds saw up ancient woodland so they can fall unconscious on a beach to the crackle of burning branches.
We can't undo any that, but we can learn I'd hope.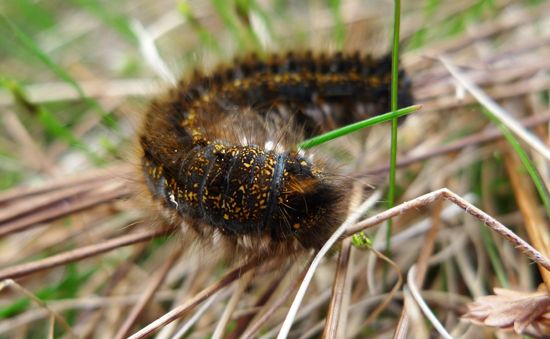 PS
No, I'm not saying where we camped, but all the info is there for you to find it. Brilliant wee hills, somewhere I'll go back to.