That shot above taken just after 8am on Monday at Loch Lubnaig should be what come to mind when you think of  a national park lochside, but as we know there's a lot more going on both on the shores and on paper.
Here's some links to BBC news pieces:
Loch Lomond National Park's Difficult Path
Lomond crackdown to be extended
BBC Radio Scotland Good Morning Scotland (it's in the last five minutes of the show)
I got a call last week about this which had be biting my lip wanting write about it, then when we arranged the radio interview over the weekend I felt better about it as I would get to speak to everyone involved and see what the score was. Rightly or wrongly I take this stuff personally, it's so close to home for me, a landscape I know intimately as a man both in a tent and as a local.
I met the guys below at Loch Lubnaig, l-r Grant Moir and Geoff Miles from The Park and Huw Williams and Chris Sleight from the BBC. We'd all met before, indeed with the exception of Huw we'd all been camping in The Park, so it was relaxed and amicable and Grant was keen to fill me in with the whole story before we got on air.
The Five Lochs Plan is a conservation and development plan covering Loch's Lubnaig, Voil, Venacher, Earn and Achry. It looks to be wide ranging and there are some positives in there, creating new campsites where the "informal" ones are now, some with French-style free hook-up points for camper vans, building composting toilets, even bins were mentioned. With this though comes the other side, control and restriction, something that they say isn't on the agenda at present. Does this mean a dangling carrot approach while keeping the big stick behind their backs? Make new facilites and see if folk use them, if that works maybe there's no need for a ban. I dunno , good folks will use facilities, neds won't give a shit so would still need to be dealt with.
The environment is suffering, in the shot below you can see Huw with one foot on a burnt Ikea catalogue while behind him is the site of a fire, where the biggest supplier of fule was the log bench. See the camper vans to the left? One occupant was pissing in the bushes while we were on air. Christ.
Anglers are really in the mix here, leaving their shite behind them, pretending to fish while they sit and drink bear and burn tree branches. Like a real wild camper, the real fisherman leaves no trace.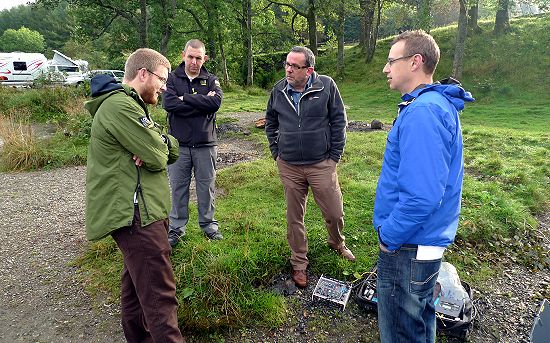 For the radio piece Grant put the case for the new plans, while my point was the single most important one I had to make, whatever plans they have for the future they have to know that the current camping ban isn't being policed properly. Often you can take any examples presented as evidence with a pinch of salt, but when you're actually talking to the example as it's happening it gives you both confidence to talk about it and a sense of outrage.
French hikers landed in Glasgow, walked from Milngavie on their first day on the West Highland Way and the first thing they know about a camping ban is when a ranger is moving them on at half seven at night.
"I told you so."
The Park staffing and funding is limited, some of the schemes are designed to bring in revenue: campsites, car parks and snack bars which in principle is fine, but with limited ability to police, enforce and manage schemes which take place over a huge area where travel between points can take a couple of hours what will happen is that good folks will be put of going because of regulations and the folk that don't care with do what they like anyway.
I know The Park have to do something, it's a mess out there and it's peoples that are causing it, if stupids weren't causing a problem then The Park would have to deal with it. How do we stop the stupids getting out there in the first place? That is the real solution, do that and we're laughing, because the thought of  a creeping ban spreading through the park worries me deeply.
But lets not make these developments into a confrontation, the outdoor community is often too reactionary. The Park isn't the enemy, they're good folks doing a difficult job, lets come up with good ideas and helpful suggestions rather than a wall of criticism.
I drove back from the meeting and a fine breakfast with the BBC guys in Callander the long way through the Trossachs and over the Duke's Pass. The fog had almost cleared and the slighly browning hills stood sharp against the blue sky. This place is so beautiful, it's something you can feel in your heart, your soul and with every one of your senses.
It's a national park, it belongs to all of us and it's up to all of us to keep it safe.
As the lovely painting below shows, Heart of the Trossachs, painted in 1868 by James Docherty, the area has long held a fascination for folks and now that we can get there so much easier and in greater numbers we are straining the very beauty we seek to embrace.
While we want to enrich ourselves in an environment we want to preserve and to enjoy, others want only a nice picturesque venue in which to be arseholes. Arseholes don't come with a tattoo on their foreheads unfortunately, so they can be disguised as walkers, mountain bikers, anglers, pensioners or fat blokes in sports wear.
So what do we do? Nothing or something are the two choices. The Park have their plans, and we have our worries. Let's keep our eyes and ears open, some things that are proposed are good, it's the ultimate sanction of more bans that worries me as it already feels like a distant inevitability.
I don't want it to be like The Lakes, an outdoors theme park where every movement is controlled and charged for. I also don't want piles of shite and stupid bastards filling every parking space where I could be picnicing with the girls.
We need facilities,we need to be open armed to visitors and give them a wonderful experience in the glorious area, but what about the stupids? What indeed.