I featured this pack a while back, but despite multiple adjustments and perseverance it always felt like someone had strapped a pallet to my back.
Step forward Metric Kate. The Fastpack fitted her much better and she's given it a proper workout. Here's her review below.

Lightwave Fastpack 40
Words by Metric Kate
Photies by Matt C
This is one of the most comfortable packs I've ever carried. It's Lightwave's Unisex 1 size, but if you look at Lightwave's rucksack size chart, you'll see Unisex 1 comes between Women's size 1 and Women's size 2. So basically I think this is a rucksack for women (or petite blokes), and that would tally with comments from two blokes who described it as… indescribably uncomfortable. So, if we regard it as a women's pack, let's start with the essentials: colour ;-) Mine's a sort of muted yellow / grey combination ('Heatwave Yellow'). It's ok, but personally I'd prefer something darker that doesn't show the dirt so much.
The pack's pretty simple with a main bag and a fairly sizable zipped pocket in the top with the ubiquitous little plastic clip to attach your car keys. The main bag is hydration system compatible, but the weathertight rubber flaps you have to squish the bite-valve through is a bit on the tight side for my Source, though I guess that makes it more weathertight.
The compression straps allow a fairly slim and neat package when the bag's not filled and though all the straps are pretty thin and buckles quite delicate looking, they're doing fine so far. Bungee cords on the hood and main bag allow the attachment of Puffin (with his thermometer) and a map. There are stretchy pockets on the either side of the bag which seem too shallow for safe carriage of a Sigg because there's no obvious way of securing it, though it was ideal for my camera in its case (attached via a strap to the main bag), and allowed easy no-fiddle access.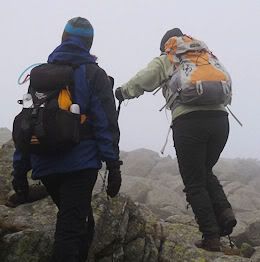 The harness and hip-belt are great – on the minimal side but no less comfortable for that. I'm used to Osprey packs, so like the way the hip-belt fastens, pulling the straps inwards rather than outwards allowing better tightening and adjustment. But because I'm used to Osprey packs I miss the zipped pockets on the hip-belt. The pack is easily adjustable at hips and shoulders, all the buckles and things being easily reached whilst wearing the thing.
I don't know much about technical stuff like materials, so will pass over that, and I haven't had a chance yet to test the 'virtually waterproof' qualities Lightwave claim for it. But I'm sure I will cos it won't be heading for storage this winter – it's just too comfy.
Thanks guys.
PTC*