In for test from UK company Lightwave are their new Fastpack 40 rucksack, and t0 Ultra tent. It's a brand I'm unfamiliar with, and it's been interesting going over the kit as it is very different in design and construction.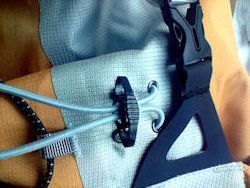 I've had a quick run around the block with the Fastpack 40 and I'm not sure if I'll be able to get some proper test mileage on it as the back system is totally rigid and it might be on the short side for me. I'll play about with it and we'll see what happens, there's a bity of adjustment there. The layout is quite traditional, at first glance it's essentially an old Karrimor Hot Earth with it's clean lines. But there's seam sealing or laminated fabric joins on most of it which make the pack pretty much waterproof. The lid pocket is the same but the double pullers don't have a garage, and where they meet there's a gap which will let some water in. There's effective side compression and neat ice axe/pole hauder-oners. There's good sized accessible mesh pockets, but bottles don't sit in them very well at all. It's set up for a hydration system though with an internal pocket and rubber tube exit point. The harness is interesting, having cut out sections and it's also all low profile which I like. There's nice touches all over and a few missed tricks, I'll cover it in detail if I can get it to work on my back size.
The t0 Ultra is different to what I'm used to being a tunnel tent. It goes up quick and easy, the poles have colour coding, and there's plenty room inside. The porch isn't huge, but there's room for cooking and all your gear fits inside with you. I like the look of it so far, there's a lot of clever and different resolutions to regular features such as door openings, ventilation and pegging out. I've only had it pitched close to base so far, but I'll get it up north shortly and report back.
One thing made me laugh out loud in the t0 Ultra. There's a label in the pocket warning of the dangers of open flames in a tent, and the last line is "KEEP EXITS CLEAR". I'll move that filing cabinet away from the door exit in the morning.