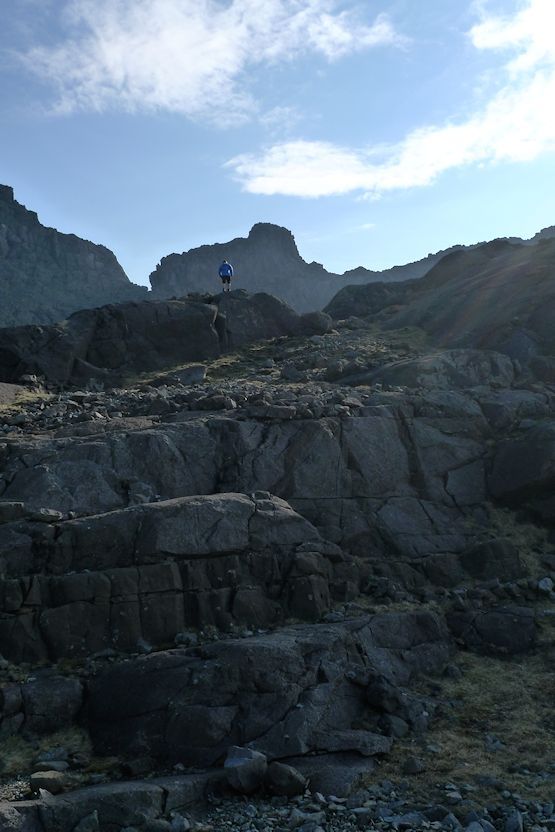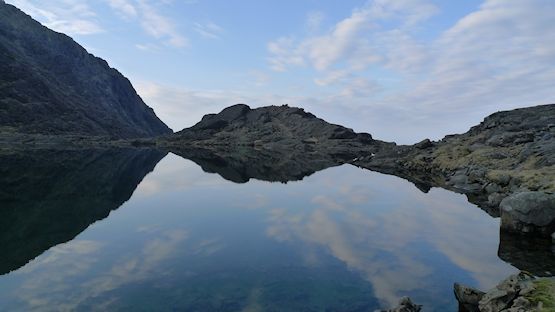 It was an incredibly peaceful night. Gus told me this was the case as my snoring had been echoing around the coire. I was warm, comfortable and lying out in the fresh air instead of in a tent. You can't beat that if you get above the midges and have a calm night.
But dawn came early and there was no hiding from it. The sunrise was somewhere beyond the circle of rock that had suddenly appeared but the new day was no less dramatic for it. Climbing up in the dark had meant that the views were all brand new and it was one of the finest mornings I've ever had in the mountains. Warm, calm, water lapping a few feet away with rock spearing towards a blue sky all around us expect for the south where the glacier-worn edge just invited some exploring to find the view beyond.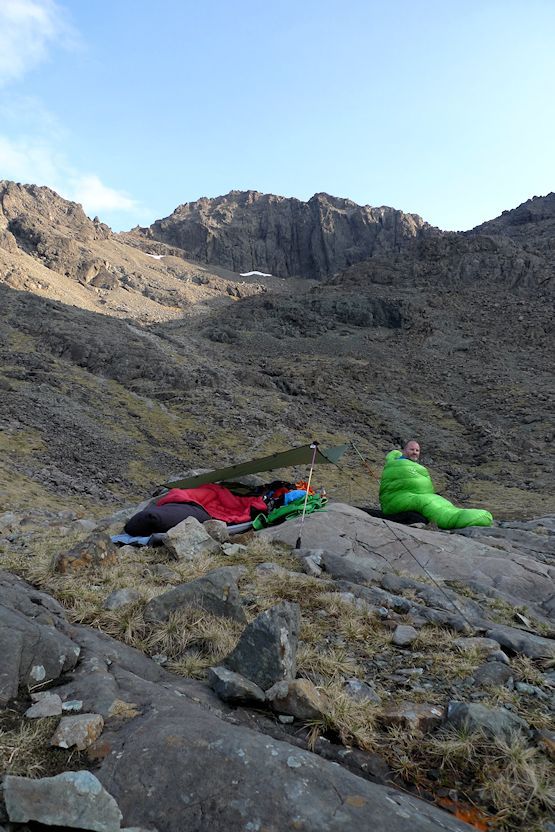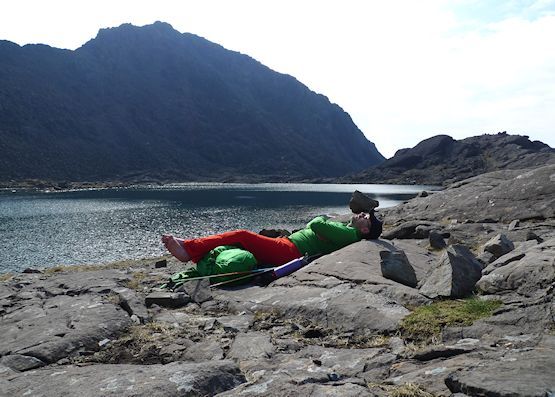 All that had to wait for breakfast of course. Porridge, cuppas and banter. The sun was getting higher and light started to hit the ridge tops and peaks then creep down towards us.
In a moment of perfect timing, positioning and luck, the sun shone straight through the rock window at the bealach above. I took that as a good omen. Ha.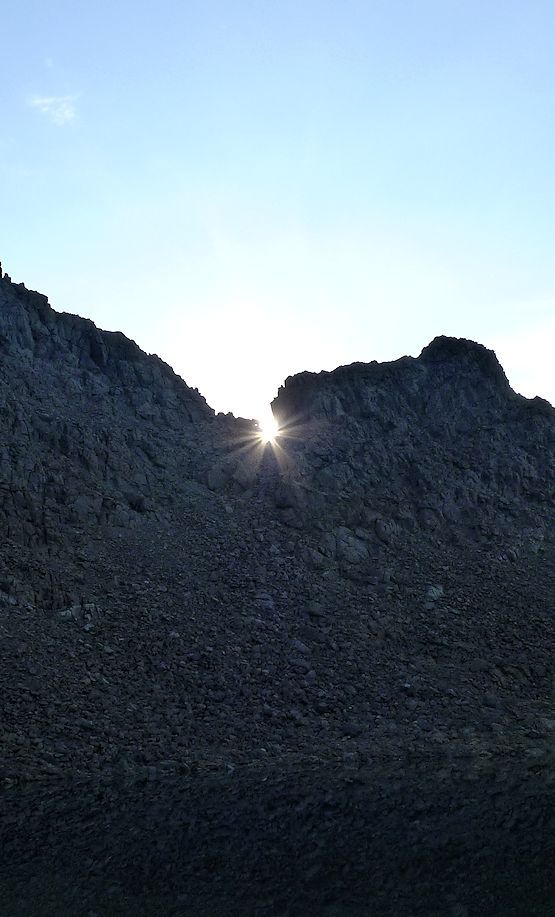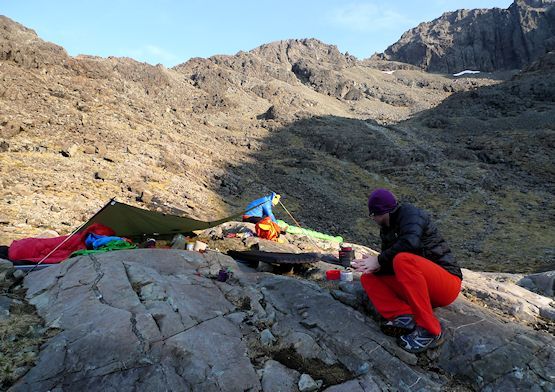 Relaxed is the only way to describe our demeanor. We wandered around as the day grew ever more confident in it's abilities, it got brighter and warmer while we gazed out to sea or down over the slabs trying to retrace our route from the night before.
We scrambled on the velcro-sticky boulders, playing like a big pair of weans. Time just slipped by.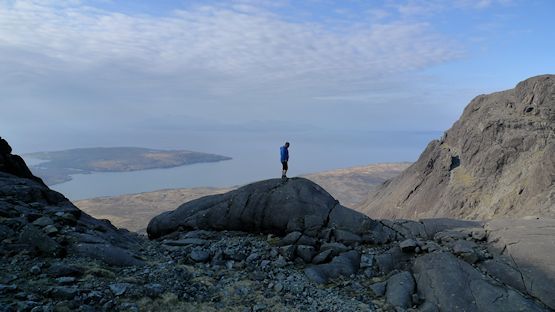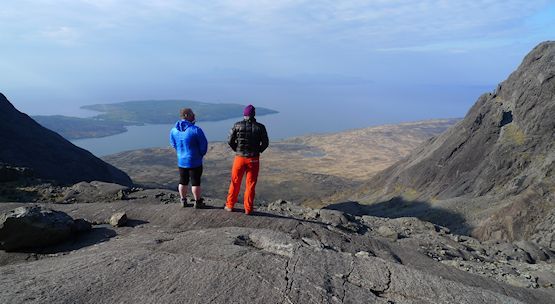 Coir a Ghrunnda is a place where the heart both rests and soars. Both benign and dramatic, it's a perfect place to camp, a perfect place to linger and it's worth every step to get there and walk back without ever climbing a top. That was something we really had to be getting on with though.
Back at camp a little breeze meant we kept an extra layer on, it also showed how lights Gus' sleeping bag was is it dipped it's big toe into the loch with its assistance.
With some reluctance we packed and left for higher ground.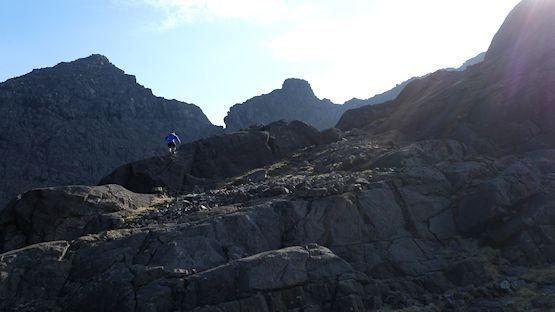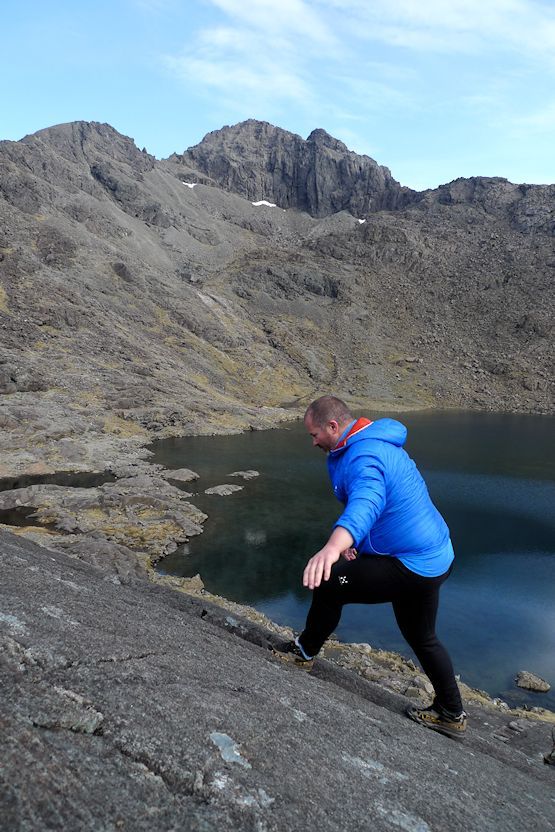 We met two folks heading to the crags on the Sgurr Alasdair then circled the idyllic loch to find ourselves in the tumble of boulders on the far side. The boulder are big, grippy for scrambling over but often precariously balanced and occasionally more mobile that you'd hope. It made for an increasingly exciting ascent as we moved as fast as we could to get onto the regular line up the gully to the bealach.
There were many cries of Woo! Haaa! and Mmfffff! until be clambered onto more solid ground for a rest and a chuckle. It was getting airy, looking back the loch seemed suddenly far away and the tops were suddenly at eye level.
Some more easy handwork took us up to and through the rock window. Beyond is just awesome, and in the way the word was originally designed, not the current meaning that means it can be applied to almost anything that is even slightly positive in nature. I blame parents. Like me.
An Garbh-choire is a riot of crag and boulders hemmed by broken ridges with Loch Coruisk and Bla Bheinn as the backdrop. It's mountainscape to delight the eye and ask questions as you begin to see the detail of movement across its jagged shapes.
We stopped and took it all in.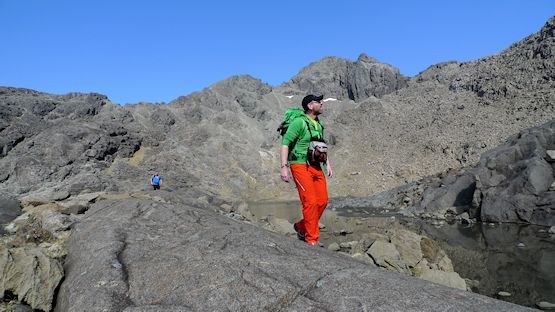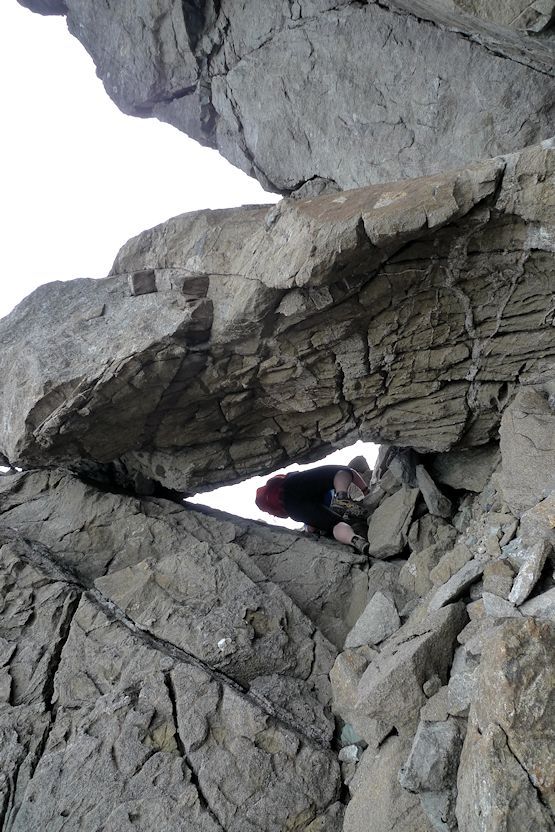 We weren't sure about what to do next. Gus was sure he's come to grief on the crags to the left, neither of us wanted to carry overnight packs up the crest so we went right. Turned out to be a good idea. It was still scrambly and the views were eyewatering. It's so full of contrasts, beautiful, deadly, accessible, forbidding – all that the mountains should be. The detail grabs you too, we spend so much time looking at the rocks like amateur geologists. Finding shapes and clues in the rock to who knows what. Not us, but we made stuff up anyway.
We stopped to cool off, get down to shorts sleeves and have a drink. That's when I spotted a disposable barbecue stuffed under some rocks. Who the hell takes one of these onto the Cuillin ridge and leaves it? What kind of arsehole feels the spiritual draw of this place and then defiles it?
Bastards.
The scrambling was fun, it was a glorious day and Sgurr nan Eag's summit ridge was warm to the touch. Progress had been slow, we kept stopping to look, savouring the day, taking the fun way rather that the straight way. This is the way mountains should be climbed of course, but the clock is unemotional and the rest of the world doesn't really know or care about this stuff. "Hmm, look at the time, we're going to have to start thinking about heading back if we're going to catch that ferry".
Indeed.
There wasn't any pressure on us, we could do it fine. Neither of us wanted to retrace our steps, the boulders had already taken most of the soles off my trainers and between us the amount of combined sleep hours we'd accumulated between us over the past two nights didn't hit double figures. So a bit tired, so a nice slope down to the sea and a brisk march back along the track to Glenbrittle.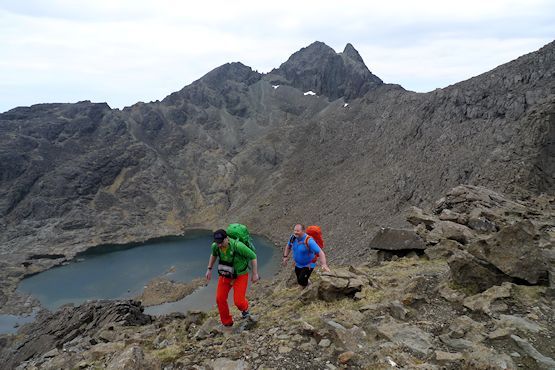 It looked a bit craggy and uncertain direct from the summit, which it isn't but it was when we were standing there, so we decided to descend to the next bealach and take it from there. It was rocky and loose and the coire was a steeper version of the last one, the same tiers of rounded-off slabs with sheer faces, just no obvious weaknesses to exploit.
But, there seemed to be a possibility. A grassy shelf, angular rakes that could be linked up, there was a way…
I headed across and started to pick my way down. It was properly hot now, I really just wanted to sit for a while but the £100 Ka was just across the water and I needed to get there.
It was getting a little more exposed, I was watching my footing, trying to fix the line ahead into my head and I heard Gus behind me "Eh…"
He was behind me, but he was right above me at the same time. We were on what suddenly felt like almost vertical terrain and we both knew we had got it wrong.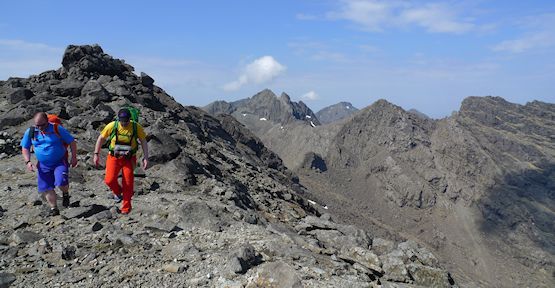 It was suddenly all calm steady voices and uphill motion to match. It really was steep and annoyingly grassy in places to make it the least grippy place we'd been since the deck of the ferry the day before.
I knew we had to keep moving, when rattled, stopping lets the simmer reach a boil, like a car radiator low on coolant. I chatted, pointed out the route, filled the gaps with shite until we pulled ourselves onto the ridge well past the bealach.
All that extra work for nothing and all the time spend on it. What was a need for a reasonably direct return to base was now a dash and a dash on shaky knees. The trouble was we now had to stay on the ridge and keep onto the end of the ridge to find ground we could safely descend.
The ridge was airy and grassy with a couple of little outcrops to negotiate. Looking back it was a fantastic place to be, but at the time much of it was overheating, thirst and suppressed panic.
When I got to the last of the many low circular shelters built on the ridge I threw my pack off and flattened myself into what shade I could get from the low stone ring. Gus followed suit and suddenly all we knew was the blue sky and our little garden wall that shut everything else out.
My head cooled down and I felt better. More sun block went round and we sat for a while. We'd gained height again but it was at least straight forward from here.
I don't know how long we sat there, I think it was quite a while. The views back over the Cuillin and out to sea were sublime, we were a dinghy being towed behind a mighty ship, bobbing away at the tail end of the action, our tow rope a narrow ridge snaking away from us to a vessel whose deck we'd abandoned full of confidence and optimism what seemed like days ago.
My watch laughed at me. The boat would sail whatever time it said and wherever we were.
We got ready to go. Gus has the focus of a man who knew where he wanted to be and wanted to be there now – the grassy bit at the bottom of 500m of scree. I was feeling better, a little spring was back in my step and a took to the scree with trainers that were already trashed and decided to make the most of it.
Ground was covered quickly, too quickly at one point. Gus was in front of me, moving at a nice even pace on the highly mobile scree. I was keeping pace when the stones under one foot just disappeared, my leg folded under me and started motoring down the slope. I hit Gus on the crest of a scree wave and he's shouting at me to stop pushing and slow down and I was just as much a passenger as he was.
We had the weight advantage and eventually ground to a halt like the worst prepared two-man bob team you ever saw. I was relieved to find that my arse wasn't now sticking through huge holes in my trousers and there was nothing to be done but carry on.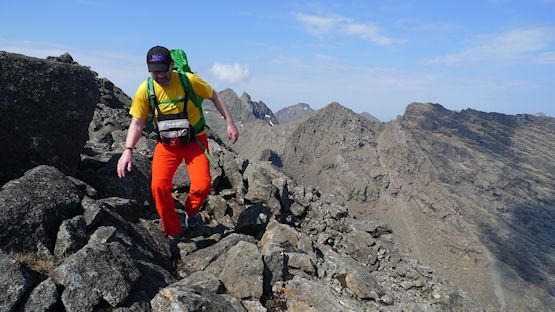 My eyes were focused on a burn with small waterfalls and I could see it get closer and closer. The easy angled grassy ground felt odd and was slow going but at the water all the pain went away.
Feet and heads were steeped, bottles refilled, heads and hears repaired and everything seemed all right. No way we were making the ferry.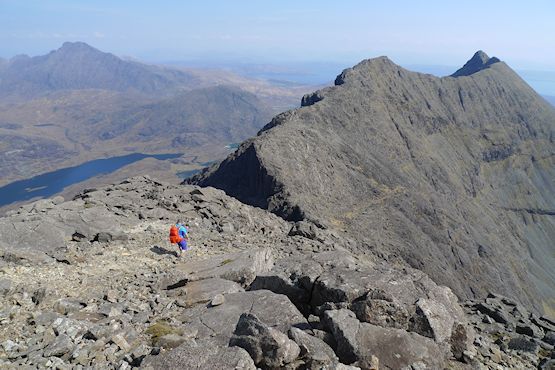 Shellshocked and dazed we wandered well off the track and picked it back up near the slopes to Coir a Ghrunnda where we marveled at the view to the venue of so much fun the night before. The light was fading now as well. Bloody hell.
Tired eyes worked with maps trying to pick up the track, it was simple nav but we were both shot. The solid surface of the path was an utter joy and we picked up the pace as well as we could. The last dregs were soon gone from our bottle and the little bay by the camp site waved to us from the platform as out train slowly pulled into the station. A blast of steam from the cylinders as slowed for the signal and were were there.
The rain came on 100m from the camp site and I found myself in a shell jacket as I tramped to the toilet block for a wee wash and change. We both freshened up as well as we could be arsed doing and sat in the car. It rained, it was dark, the ferry had gone hours ago.
Now, I had to be somewhere the next day, I can't remember where that was now, but in both our minds the fact was that I had to be back. Have a look at the map, Glenbrittle to Mallaig by road. Tears and despair would be the normal reaction, but we were too tired, dehydrated, emotional and not thinking properly at all.
We hit the road.
Thirsty, hungry, everything we nneded in our rucksacks but rain, darkness and clouds of midges meant that a roadside picnic was a no-go. Broadford was shut, Kyle of Lochalsh was in darkness, the garages were closed, the Cluanie Inn was open and some sort of Porsche owners club filled the bar and the car park trying to impress the bar maid by daring each other to try the most expensive single malts on the shelf. Cans of ginger* and packets of crisps were fine for us and we sat in the car feeling revived enough to light the low battery indicator in both of us. Better than nothing.
I love this road, I know every corner, every peak on the horizon and it was now just a blur off darkness and endless curves for the next 17 hours. How Gus managed this I have no idea.
The BP garage outside Fort bill shone brightly in the night. It was open and had sammidges, coffee, tasty things, Lucozade and more besides. We could have cried.
Maybe we did.
The layby picnic recharged us to one bar and Mallaig was less than an hour or torture for Gus away. There we threw kit from car to car, said our good byes and fell asleep in out cars.
I woke up a couple of hours later and still gripped by the need to get home I hit the road. The road was empty and barely nudged that deer at Glenfinnan. I was tempted to stop at the BP for a coffee again, but it was just because I could have, so I stayed on course. Which put me in front of the cop car which tailed me for a while.
Now the Ka's speedo doesn't always work and this is one of those times it stuck at zero. I drove at what I think is 40, then I drove what I think is 30 and then I saw the blue lights behins me. I pulled in at the next spot and rolled down my window.
"Hi, nothing to worry about, just wondering where you're going at this time of the morning"
I told him my story as his partner surveyed my £100 supercar, where of course she found no fault.
"Oh, nae luck" Was the response to the missed ferry story.
"Safe home" Off I went.
I got home in time for breakfast and I have no idea what happened for 24 hours after that. Bugger, why the hell did I have to get home?
So we compared notes later and we both agreed that it had been an epic, classic and unforgettable experience. It's taken me a while to write part two and it's like it was the other day it's still so vivid.
It's always a gamble going on a trip with a new partner but through some very trying moments, some acute pressure and all under the strain of sleeplessness and more there were no cross words, no blaming, just banter and a focus of getting there.
Gus is now tagged for my post apocalypse action team. And other hills days before that.
Less Is More? It was indeed, almost all the kit we used was from Haglöfs 2104 LIM range. I've been using it more since Skye and I'm going to have some detailed stuff on it soon.
Important Edit
The most important lesson learned from this whole experience is this : I can tell what speed I'm driving at without the speedo working in the car. Nice.
*fizzy pop