Below is Leki's Carbon Titanium Antishock. It's a hybrid in several ways, the sections are a mix of aluminium alloy for the top part and carbon for the two lower sections and it  has both twist lock and speed lock length adjustment. The handle is the very comfy aergon design with the extended foam covering on the top section for secure shaft grasping and a removable top piece for fitting the optional camera mounting widget, the easily length adjustable left and right specific hand loops are there too. There's a non-antishock version I'm happy to report, and it has two speedlock adjusters instead of the mixed format. The tip and baskets are regular Leki spec, lengths goes from 69-135cm.
It's light in the hand, has a nice swing to it and it looks nice as well. I really like the matt black with orange and white, looks classy instead of the more common strip torn off the side of a rally car aesthetic.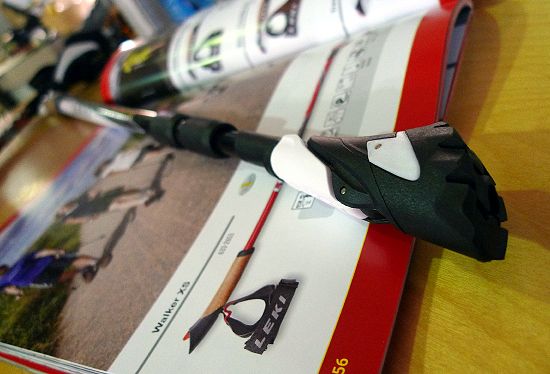 For the nordic walking fraternity comes the Smart Traveller Carbon seen above and below. Same hybrid section construction as the Carbon Titanium at the top, alloy upper and two carbon lower sections, this time with all twist lock adjustment.
Lengths are 62-130cm but it will pack to 52cm if you break it into sections. Elsewhere it's all new to me. The tip is a Smart Tip, it's a two-position affair with a big rubber foot (with a outsole that puts many trail shoes to shame…) for hardpack trekking or motoring through those tarmac sections, but inside there's a regular carbide tip which comes into play when you slide the foot upwards via a collar-type adjustment.
The handle uses Leki's Shark system which lets you slip either the hand loop, which I'm wearing below, or a matching glove off and on the grip which has a spring release mechanism so you can get the pole attached easily but can't throw it away accidentally, you have to press the botton first. There's a cork section where your fingers land which always feels nice. The finish is again quite classy in glossy black and white and they feel light enough in the hand.
I can imagine the almost hands-free action of the shark handle set-up being good for long sections where you want to dig in and get through the miles, some of the West Highland Way immediately comes to mind. We'll see about that stuff later.