Leki's got some new kit due in the shops and I had a meet-up last week to see some of it.
Above is a bit of a clue, and below is the the Foto System pole with the top of the grip removed. The handle looks like a regular type, the camera mount being hidden inside the cap, which has three locating lugs for a twist-in secure fit and a sliding lock (the wee black bit on the white cap) to keep it in place. The pole itself is standard stuff and comes in either aluminium and carbon sections.
I like this better than the externally mounted Leki camera widget I had previously, while it worked well I did end up smashing it to pieces on a trip and I did often wonder if I would slip and stick it into my face. The carbon version extends to 170cm which would be handy indeed, on a windless day of course.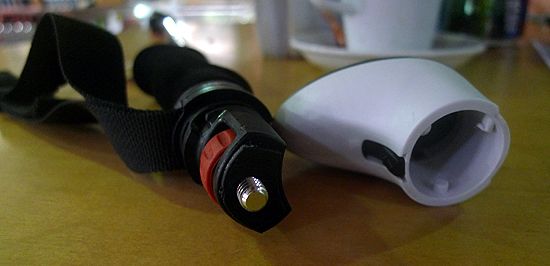 Above is the Carbon 4, basically a regular pole in four-sections, the reason for which is to get a smaller packed size. It still feels light in the hand, and you could stash this invisibly on the outside 0r indeed inside of most regular sized and shaped packs.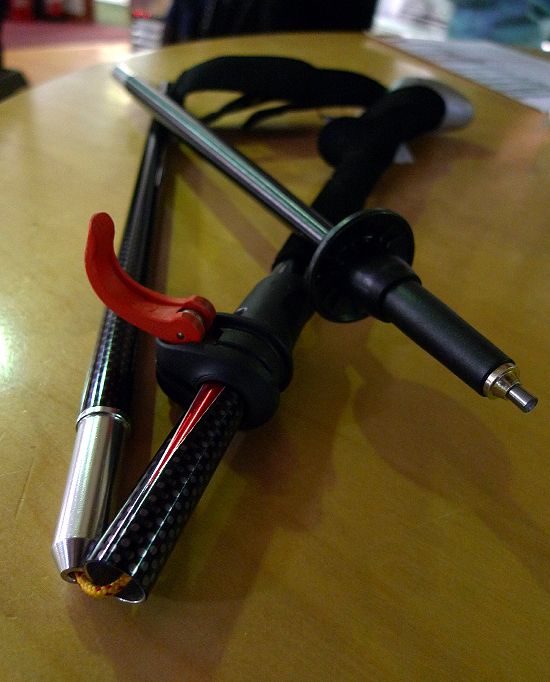 Above is the one that had me grinning right away. Folding poles have proven a success, the naysayers were wrong and there's plenty of different models out there now. Leki have come up with the Micro Stick which has the same tent-pole-esque format, but with some neat additions. The pole tension is set by the user and then locked with the big red lever there. Now, strong hands are fine, and also puny hands are fine, because if you don't pull it rigid all that'll happen is a little rattling because the section joints are strong with very long overlap areas and solid feeling spigots (is that the right word in this context?).
They're still light, they fold to 39cm and manage to feel as robust as a "proper" pole. They'll come in 110/120/130cm lengths too, so getting a good fit should be okay for most folk.
I like the look of these a lot, I'll have a set in for test soon.
Lastly, below with all the above poles is a new face on these pages. This is John who has taken over from Rob who we've seen over the past few years when Leki and other Ardblair brands come up. Rob's fine by the way, he's just off to another UK brand.
John is a fan of the lighter side of things and has a lot of experience from different aspects of the trade, we had some banter about this and that, including one of  my regular targets; store buyers. He fought for that corner well. He's a good lad, knows his stuff and we'll see him again soon.