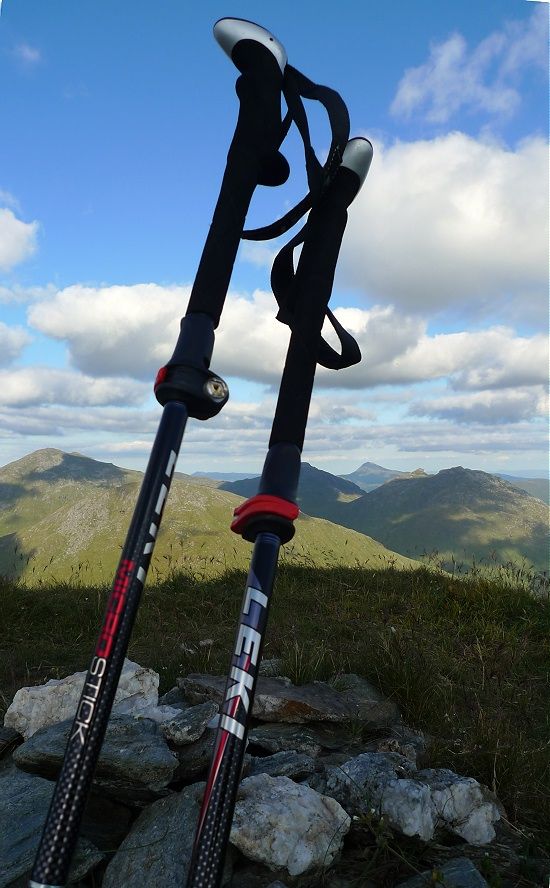 I'm a fan of folding trekking poles, a pole that fits inside a pack or even into a jacket pocket saves so much faff of the trail when you've got a wee bit of scrambling or don't want to take someone's eye out with lethal pole tops sticking out from your pack at face height.
There's a good few models out there now, all a little different in approach, design and weight. Leki's come late to the game, but it looks like they've been watching and listening and have come in with their own take on the format, the Micro Stick.

The Micro Stick's are actually a four-section pole, the handle section has another section inside it which you slide out to take up the slack of the inner dyneema cord, marry all the sections together and  it locks against the handle section with the easy-to-use Speedlock you can see below. There's lines painted on the section so you can tell easily when you're in the right place.
You need a good bit of a pull to get it in the right place, but when locked it's solid. The section joins are beefy, Leki has used a 30mm long solid metal insert with a chamferred end which slips in to the section end without rist of damage to the thin metal tube and creates a very stong join. These joints with the thick-ish (13mm) pole width create a very rigid pole for this type of design, the amount of flex feels about the same as a regular multi-section trekking pole.
There's strength in there too, I've unintentionally had my body weight on these and they're still as straight as a die. They're alloy poles by the way, the dotty pattern you see is just fancy wallpaper.

The tips are regular Leki carbide affairs and they come with mini baskets attched which you can swap around easily with those numerous Leki spare displays you see in the outdoor shops.
The handles are the new Aergon type which are dead comfy and feature the changeable top flap for the camera attchment. Wrisrt straps are adjustable and come right/left specific, which they acrtually are I found out, not half as comfy when you get it wrong. The velvety handle material covers the top section down to the Speedlock, a feature which I like as it's handy for contouring as you can lose some pole length on one side but not any grip, important for a fixed-length poles.
I don't mind the fixed length, these ones are 120cm (110/130cm also available) which is perfect for me, but no doubt some folk at the fringes of the average height bracket will feel hard done by.
They fold up to around 400mm which stows away no problem and on the trail they are a joy to use, good in a bare hand, solid-feeling when you get some force behind them, with a nice weight to the swing and bite to the tip.
That weight is the thing though, this pair comes in at 506g, which while light is double some designs of sectional poles. But these are tough, confidence inspiringly so and the pole is missing most of the moving parts from a regular pole which cause problems (tightening widgets failing etc, see an outdoor forum near you) which I reckon makes them a nice crossover model for folk who like the packability idea but are worried about durability of the design.
I'm not damning them with faint praise there, these aren't a soft option, they're are a proper quality bit of performance kit and they're the best poles I've had on test from Leki.
Just a hint of purple in that anodising don't you think…