After myrecent experience in the Cairngorms where the end of my camera tripod went missing and the day was saved by Daniel's trekking pole, when I was shown the Leki Aergon Photoadaper sample my immediate reaction was "Yes please".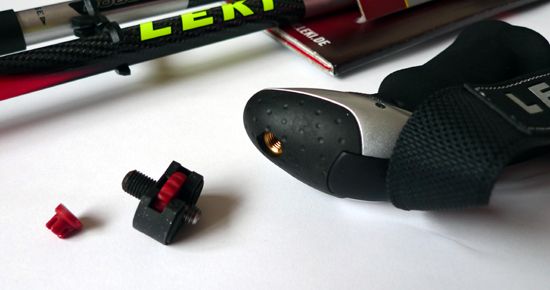 The Aergon Photoadaper fits on Leki poles with the Aergon handle such as the Ultralite Carbons here. There's a wee tool (comes with the production version, not my sample) to pop off the grip top and replace it with the threaded version you can see above. You get the threaded adaptor which lightens into the brass boss in top of the grip and the red knurled thumbscrew on it tightens the camera on independently. The little red plug goes into the boss to stop crap getting in, but seeing as I already lost it inside an A5-sized clear poly bag I don't think taking it on and off with gloves on in winter on a hill will see it reaching a grand old age.
It looks like a neat wee thing, and as the pole has more height adjustment than my Zipshot tripod I can see me using this quite a bit when the wind isn't blowing my fringe into my eyes.
The poles themselves are neat, the handles feel nicer in the hand (my last test pair of Makalu Carbons had the older version handles), and the wriststrap adjustment is easy. The length adjustment is typical Leki, a little on the sticky side, but solid once done. The Super-Lock widgets have the new stainless steel inners for longevity, reliability and to resist destruction via over-tightening by stupids who never clean their poles. The tips are the usual Carbide Flextip, and team-colours made me smile, although they did once again apologise for not having a skull-print option.
I'll fit the doodah onto one of the poles, take them out and report back after the next trip.