I was emptying the camera memory cards and charging the camera batteries to get ready for this weeks trip, something that I always twin with sticking all my photies on my external hard drive. I run everything off on an ancient Bontempi laptop which has no memory left so nothing stays around on it for long, it all gets archived.
I got distracted by the folder with all the Fisherfield stuff in it, a good 300 shots I took over those two days two weeks ago. Maybe it's the thought of this next trip being the last far away-ish one for a few weeks as my summer maintenance schedule looms large, or recounting the tales of the trip to Phil over lunch today, but I was smiling as I flicked through them so here's a few that didn't float my boat the first time around.
The giant rockfall on Beinn Airigh Charr made a big impression on my. I stood for ages looking at the hollow it had left on the mountainside. I always get distracted by stuff that not necessarily relevant. A good thing it is too.
The walk onwards was glorious. How could you not want to keep moving to reach those mountains however tired you were or late it was? Not even to climb them, just to be there in amongst it all.
I could see the camp site from that point above, I was still half fooling myself that I was climbing higher, but stick a pin anywhere in that photie and you'll hit a perfect spot, so what the hell?
The sky warmer slowly at first then the colours tumbled over each other. The deep orange reflected ever deeper in the burn that ran behind the tent, the cottontails glowing dimly in the long grass as they swayed lazily in the soft breeze.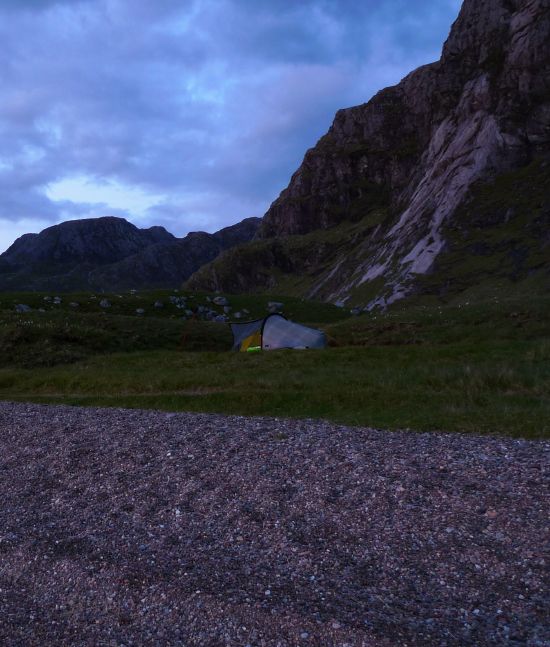 The pale blue replaced the fiery sky and never really faded. My little tent shining in the low light without a single headtorch inside it for once.
The morning was blue too, but a lively blue, the loch was quiet and cool and it was hard to leave it and start climbing as it got ever warmer.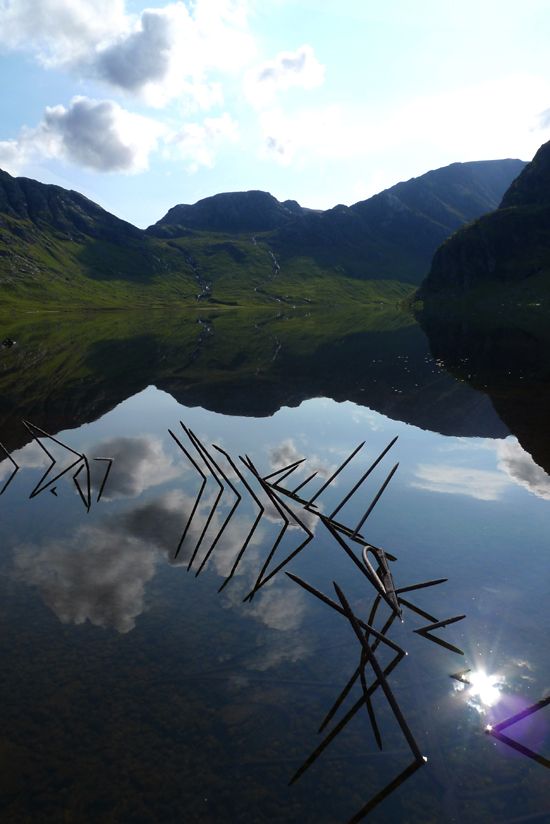 The metal spikes in the loch next to the causeway seem to be the remains of a rather angry looking gate it once had in the middle, there's a doorjam of sorts still in place. Was it keeping deer in or people out I wonder?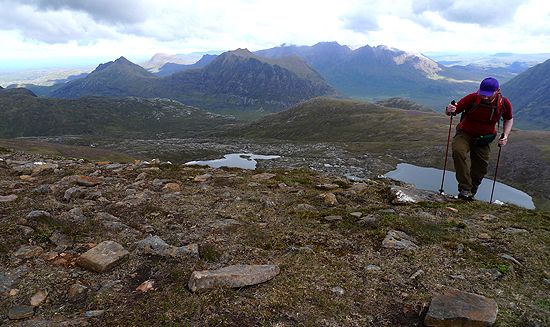 What a wonderful landscape to be in. Perthshire is going to have to work hard to impress this week. I bet in manages to do that just fine too.