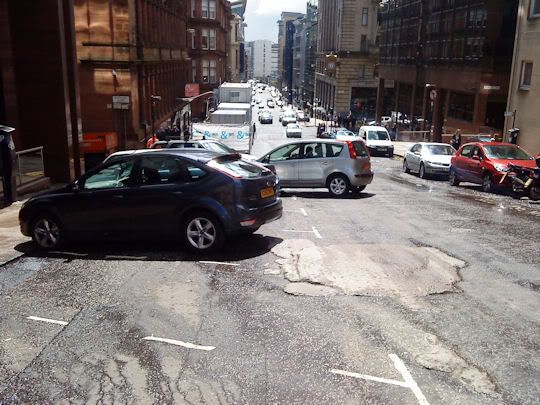 What we have above is an example of modern life's inability to enforce natural selection.
It's a street in Glasgow's city centre, and it's one-way as you'll see from the approaching cars and the cars parked at the kerb on the far side. The parking on my side is the 45°, gravity assisted, reverse-in type that saves space and packs the cars in if the street isn't a main thoroughfare.
But as you'll also see, it's open day for stupids who have turned around 300° across two lanes to park nose-in.
Getting in this way is difficult enough, but reversing out when you've been too stupid to reverse in is a mammoth task for which the fool seen above was woefully under-equipped. I had tears in my eyes as the cars swerved, honked their horns and waved their hands in terror as this muppet eased themselves backwards and forwards randomly across the lanes trying to get the car pointing the right way.
If this was the stone age, such people would be knocked unconscious by the coconut they were trying to dislodge from the tree by throwing rocks at it, and then be eaten by a passing and most likely arthritic, and consequently somewhat un-threatening sabre-toothed tiger.
I would have loved to have sat with an ice cream and watched the other wrongly parked numpties make their mark on passing innocent motorists fortunes, but time and parking charges were against me.
I carried on to my destination, past office doorways with their clouds of enthusiastic perfume and frantic cigarette smoke, chuckling away to myself as I went.