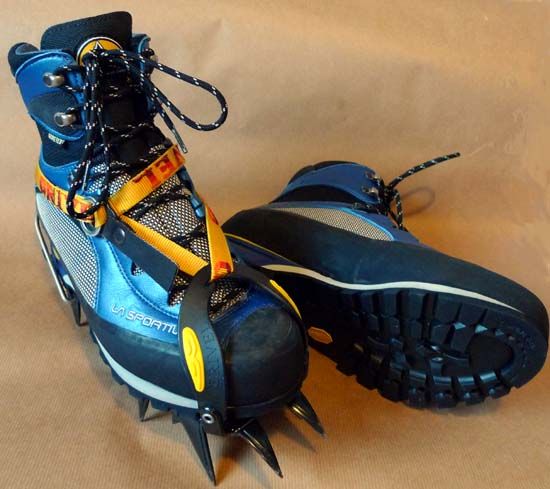 I love being proved wrong.
We all know the forum dweller who chips in every time with "I've used this fintobunto for years, it's the best there is and there's no point of looking elsewhere", and I'm sure they're very happy when they use it three times a year. But we're not learning anything from that are we?
I would be easy for me to never wear proper boots again, but going for the lightweight option doesn't have to mean that you're wearing blinkers and have stuck you fingers in your ears.
So I'll be wearing boots this winter, and joining that limited group of kit we have the Trango S EVO's rfrom LaSportiva.
They're a nice slim fit, they feel like they'll be very precise, so good for scrambling. The ankle has very good flex, so I'm hopeful of maintaining some natural movement. The sole is pretty stiff, but with a nice curve at the forefoot for a less arduous walking action. The lugs are a good shape with decent depth, and of course there's the "Climbing Zone" at the toe. We'll see how I manage with that. 
They feel light on my feet, and the fit seems okay. From LaSportiva I had Nepal's when they first came out and Lhotse's later on too, both taller ankle cuffs than the Trango's, so I know I'll be able to work with them, the only question will be comfort.
I've adjusted a few crampons to fit them, as they are a good crampons platform, taking a heel clip and having that stiffness underfoot that still feels a little unfamiliar as I wander about wearing these at home, My barely used new-style Grivel G12's at the top fit okay, although the curve of the boot is a little more than the front plate, the Grivel AirTech Race's fit very well indeed. If I get on well with these boots I might look at regular AirTech's with a heel clip. The Kahtoolas fine fine of course.
They're well made, good looking, badass and they're boots.
I've got a completely open mind here, I wore boots for years, and maybe technology, materials and design have moved on enough to give me that extra performance with out all the knee wrenching weight and clumpiness of the piles of boots in the attic.
So good or bad, time will tell. Like I say, I loved to be proved wrong, that's learning that is.