I met up with Si from LaSportiva distributors Lyon Equipment at the start of the year and he pulled these from the boot of his motor, and I went Ooh, then when I saw that the gaiter wasn't waterproof I went Ah.
Always a dilemma low-cut waterproof footwear, but that attached gaiter is a loose cannon, it wears a leather blazer with aviator shades and drives a muscle car while everyone else is in uniform with a straight face. I've been out this year in shoes and softshell gaiters, and there were no tears. So, the timing is right for an more balanced approach test of LaSportiva's new Crossovers.
The chassis is the Crosslite which we should all know. The shoe that said LaSportiva weren't pissing about with trail shoes, or Mountain Running as they call it.
The upper is the same mesh and light padding with tougher material overlayed for durability, but here we have a Gore-Tex lining inside. This lining  changes the sizing, I'm a size up from the Crosslites, so don't just mail order your regular size here.
We've got the same killer aggressive sole, flat like a fell shoe with bag badass lugs in two different compounds for great grip on anything soft and some resilience to harder surfaces.
The good news is that I don't have to cut that daft fabric sleeve away from the laces, the laces are easily accessible for precise tightening and easy slackening here, just under that gaiter.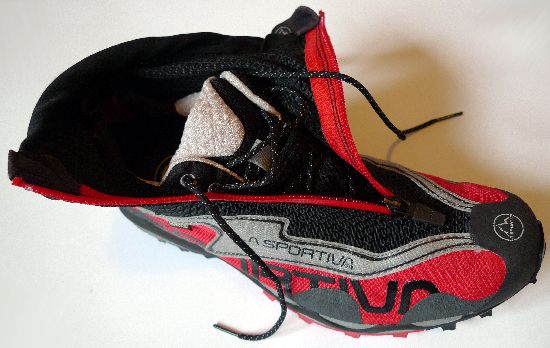 The gaiter is in a stretch, woven material with a water-resistant zipper. The shape is good and the zip isn't under any pressure, so I don't see zip failure as being an issue. The top of the gaiter has a velcro flap that secures the zip puller, again protecting it from strain and there's a bungee and cord-lock to cinch the cuff in.
The gaiters will resist quick immersion and splashing, but they will let water through at some point, how much I don't know yet, and this is what I really want to know. If they puts up a good fight, these will be a joy on the winter trails.
The heel has an interesting construction, there's a big pull-loop to help you get your foot in (it's a proper runners low-volume shoe) and on the inside a sticky pattern to help hold your heel in place, maybe anticipating a wet sock on the wearer?
It's a lovely bit of kit, great detailing and very complex construction indeed, surely there's no way LaSportiva would bother with the hassle of putting this out if they didn't think it was a viable arrangement to have that gaiter on a waterproof shoe?
I don't know, but I'm going to find out.