I've opened the last wee envelope on the laptop and there's stacks of stuff I haven't seen for ages on here.
Disturbingly I'm very young in a lot of it. It's all scans too, so more ropey than normal, but it's nice to see once again where I've been and why growing old isn't better or worse, it's just different.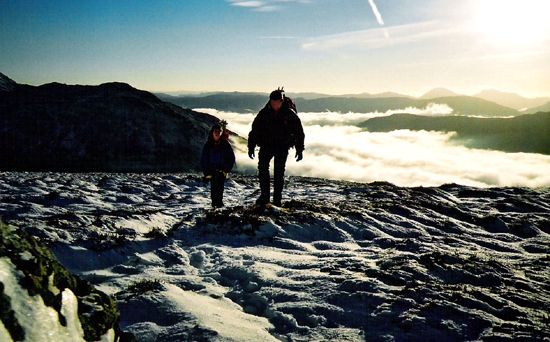 That was a cracking day Joycee and I had above with an inversion on Loch Tay behind, rolling up Glen Lochay below us. We were climbing Meall Ghaordaidh, and it looks like I'm wearing a cape for some reason.
Mind you, I'm more oddly dressed on Schiehallion below. Help ma' Boab.
That one is really going back, maybe as far as the one below.
No it's not a big bouffant hairdo I've got (I'm on the move), it's an authentically 70's centre parting affair. If you look at my right arm you'll see the strand of hair sticking to the sweat and ending in a wee clump on my forearm. At this stage in my life where all the hair is on my face or somewhat alarmingly, my shoulders, it's important to get such details correct.