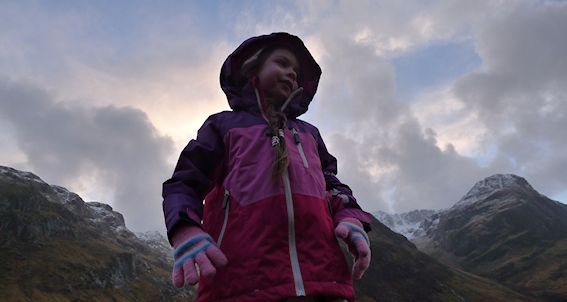 With regular outdoor kit, let's be honest, a lot of what's presented as new is tinkering, putting previously separate good ideas into one place or recycling old ideas as new ones. One thing that is new is the continuing development of kids gear into the performance equal of its adult counterpart. Holly's tested a few things over the years and I've seen tweaks and revisions in that time, these being sensible ones and not just new-season punter-grabbers. So, she and I were quite happy to take some new Kozi Kidz kit in for test.
Holly's had a Kozi Kidz layering system to try, base layers, shell jacket and trousers, insulated jacket and a wacky fleece accessory. It's been the weather for using it the past few months, and the girl's been putting the work in.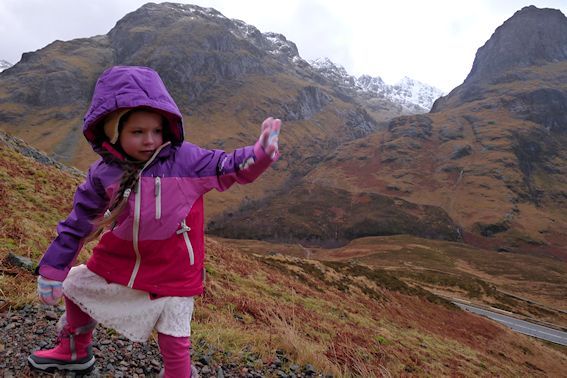 The jacket in the shots above and in detail below is the Whistler Jacket. It's an insulated ski-style jacket which makes it a great cold weather go-to adventure jacket.
The Whistler has a polyester shell and lining and a polyester insulating fill. It's a snow jacket, so not fully waterproof, but it does do a good job at keeping drizzle out. Its ski credentials extend to a removable snowskirt (below). The cuffs are velcro adjustable and have inner cuffs made of a lycra-ish fabric, these are great, they keep the heat in and the cold and wet out.
The pockets are many, one internal chest with a velcro closure and four zipped outers (one on the left sleeve), all with smooth faced reversed zips, reflective zip pulls and zipper garages. The detailing on the Whistler is surprising and impressive at the same time, why should kids get "that'll do" kit?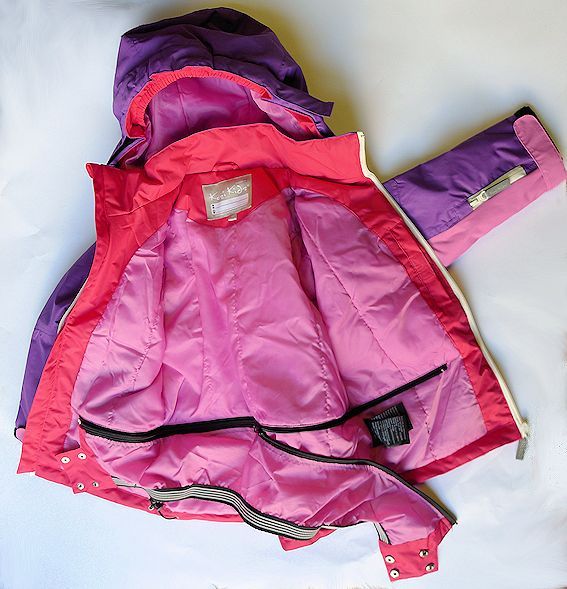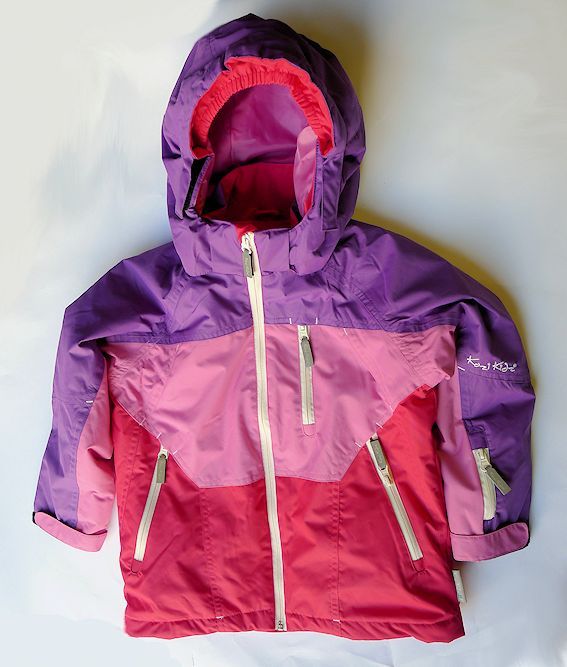 The hood is a cracker. It has velcro adjustment at either side of the face and another velcro volume adjuster at the crown. The face hole has an elastic, I dunno what to call it, flange maybe? The proper word will come back to me… Whatever, it seals your weans napper in there very well, leaving just rosy cheeks and a grin visible. Hopefully.
The hood's removable too, hidden velcro tabs and a row of sturdy poppers which leaves you with a goo collar, which also helps to seal the heat in when the hoods still attached and left down.
The cut of the Whistler is good, properly active, no bear back when rolling a round and the like, it's been designed for adventure and is a pretty good weight at 510g.
It's not too fat with insulation, so it's usable for cold weather play and walking without cooking your child.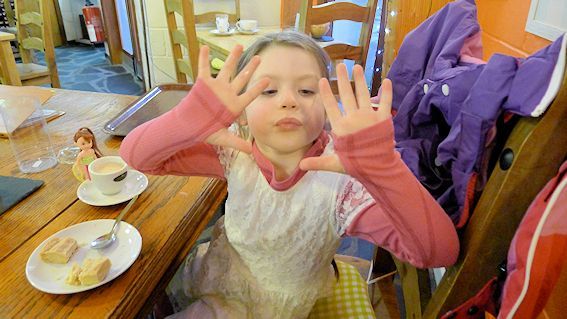 The Thermal Set as they are described is a proper technical baselayer. Longjons and a long sleeved top with thumbloop cuffs which Holly applies and doesn't take back off until you finally persuade her to take it off for washing. Kids will not endure discomfort quietly and I can't recommend anything higher than Holly wanting to wear these baselayers all the time, she runs, climbs, tumbles, watches TV and sleep in them, all with her thumb in the thumbloops. The synthetic fabric is soft, smooth and has a good stretch. Most of the seams are flatlock and those that aren't are still soft, there's been no issues with rubbing at all.
Coverage is good, long arms and legs with a long overlap at the waist between the top and bottoms, even on my fast sprouting girl. One thing I'd revise is the neckline, it's too big. I know it's been designed to get on and off easy and not feel restrictive, but it bunches at times and a little extra coverage would be better. Mind you, that's just me, Holly doesn't care at all.
Fabric performance is great, fast drying and not clammy and it's been washing well.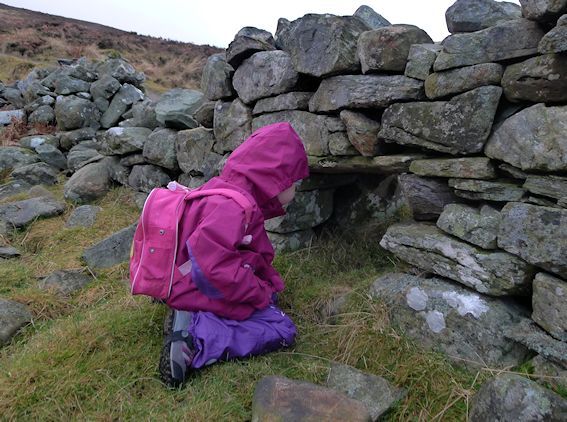 The waterproofs are the Oxford Jacket and the Oxford Trouser seen above and below, which have been treated like a suit of armour by the wee yin. The fabric is a tough waterproof PU coated nylon with a mesh lining. Its specced as breathable, which it is to an extent, I think just enough for kids. Kids aren't daft like we are, when it gets too tough, they stop, we're the ones that push on into a sweaty horrorama when common sense tells us to stop. The fabric works well for Holly, she runs around with the hood up and isn't getting steamed up. It's a hard one to be sure on, kids are good meters of anything, that Holly isn't complaining about being too hot means that it must be working, and back at home or the car the jacket's never been wet inside. I did try to pursue the matter with her, but she just wanted Gangnam Style on the car stereo and chips in Pitlochry, so that was that.
The photies of Holly going through the hole in the wall weren't set up, she made a bee line for it and I had to jump over to catch her on the other side, but it shows just how well articulated the jacket and trousers are. She can move as freely in the Oxford kit as well as I'd expect to in any kit I'd get in for test. The scrapes on the stones here and elsewhere as well as trees and everything else she bounces off of are making no impact on the fabric, it's a good balance between weight, flexibility and strength at 452g.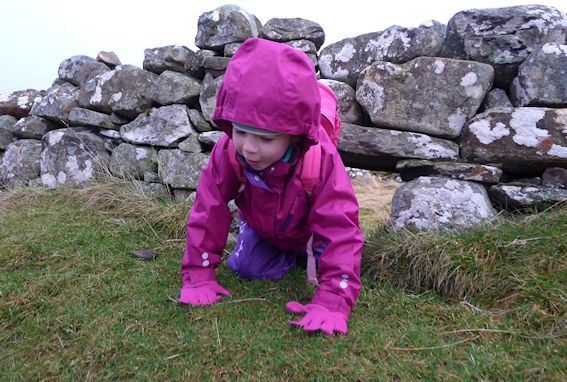 The hood on the Oxford is removable in the same way as the Whistler above but here the adjustment is limited to a velcro tab at the rear, elastic sections help to pull in the front to keep the rain out. It works okay, but in heavy rain or strong wind I'd like to be able to pull the face in a bit more for extra protection and to keep the hood securely on Holly's head, strong gusts did pull the hood back occasionally.
The Oxford has a fleece lined collar which is popular with the user and the outer has three pockets, again well executed with smooth profiles and zipper garages. No reflective zip pulls here, but both the Oxford Jacket and Trousers have big reflective spots dotted around them.
The cuffs are velcro adjustable and semi-elasticated, easy to take on and off without having to readjust.
The trousers are articulated so they don't slip down and come with removable braces to make sure. These are also good for tucking tops and jackets into the trousers  and still being able to keep them up without pulling the waist drawcord super tight. The braces are wide and soft with a huge range of adjustment in them.
The ankles are elastic and have elastic underfoot straps with lots of adjustment. This in effect gives you the same protection as you'd get from gaiters and my initial worry that the waist would pull down because of them was unfounded. 296g including the braces.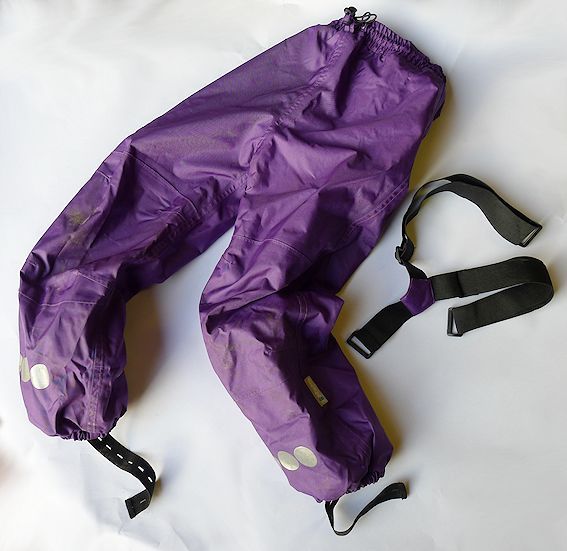 The fleecy Neck Buff has been a favourite, she just wears it like a scarf for school and general gadding about, partly because it might look vaguely princessy I suspect. It seals the heat in around the neck just as you'd expect and the fabric is nice and cozy. It's joined by a little velcro patch at the back which works well for mum or dad to fix up and importantly means that if the Neck Buff gets caught on something it'll pull off rather that strangle your child.
There's name tag labels in here and all the other kit, so it can go to school and come back again.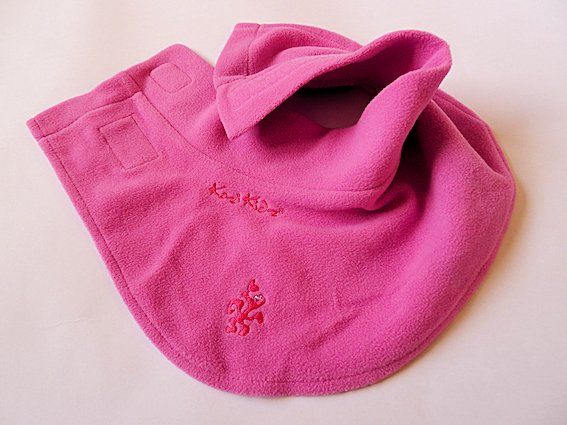 The fit, the detailing, the design, it's all there. This is a fine collection of kit that works as hard as my daughter can play, and that's the best recommendation I can find for it.
Sizing is always an issue for kids kit, but although there's growing room in the 120 size we've got here, it doesn't look or feel big on Holly, she wouldn't wear it if it did anyway. So there's a good chance that you can get the most from the kit if you invest in it, which in these uncertain times is just what we want to do.
Update:
Some prices: Oxford Jacket £47, Oxford Trousers £27, Whistler Jacket £79, Base Layer Set £27, Neck Buff £9.50.