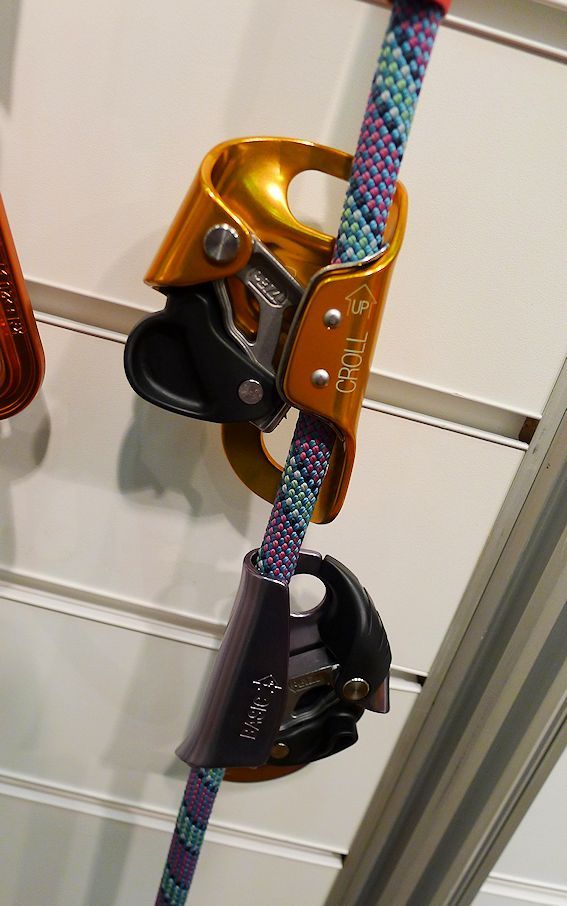 Phil and I were in Kendal a couple of weeks back to run round the gear shows. We did the ROKShow in the morning, KORS in the afternoon and had a visit to Montane in the evening.
Time being so tight a lot of it was flying visits and we missed out a lot of folks too but we did manage to catch up with some familiar faces as you'll see.
Part of my mission was to pick up some kit for a gear supplement I was writing so I won't stick any of that up just now, when it's been published I'll come back to the kit on here in a wee while. In the mean time here's some other stuff.
I did find myself enthused at various points, there's an equal amount of nothing and something happening out there. You become immune to the seasonal barrage of new and improved after a while and a nice new colour means very little without something new going on under the hood, but there is something clever and exciting for every restyle and price increase.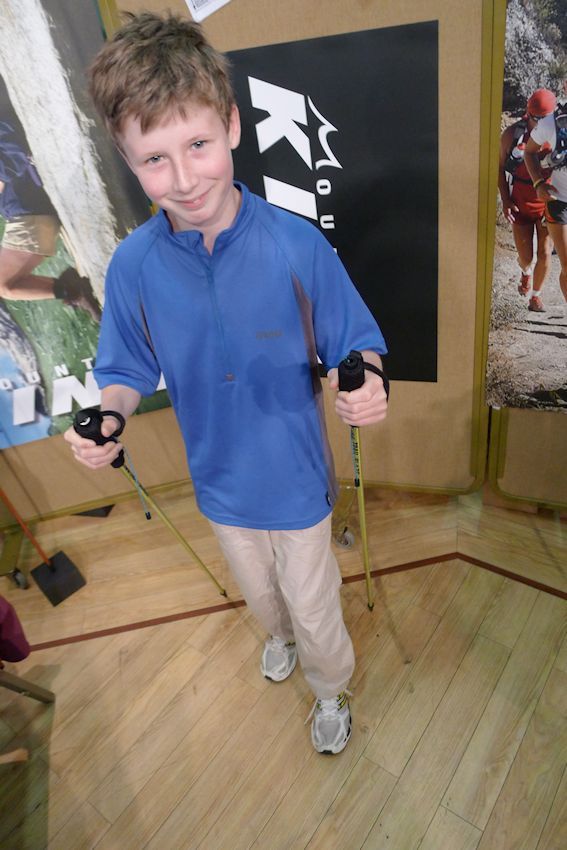 At ROK, top Mountain King pole guru Harry showed us the new colours of the now legendary and highly successful (told you so) Trail Blaze poles. He's got the racy looking yellow above and below are the special red editions made specially for an adventure racing team. Joycee has a 110cm set in a the new frosty pink on test and I'll be getting her thoughts on those later.
We also saw and squeezed the prototypes for the new Trail Blaze models, new materials, new design, same light weight. The updates are a work in progress but they are looking good, more when I'm allowed.
More kit from ROKShow later, but down the road it was in the door of the leisure centre into Lyon Equipment's stand where Si thought he'd seen a ghost, I got that a few times.
Anyway, Petzl isn't sitting on its arse, with developments all over including hardware (lightweight doodahs at the top of the page), lighting and this stripped bare meteor helmet.
As light as can be with a proper harness including a magnetic closure and reliable protection. For sport, competition or mental speedy ascents you can have a lightweight head in bright orange.
Lighting sees a nice restyle of the Tikka range below. I like the plain colours and designs, I think they'll age better both in a practical and fashion sense.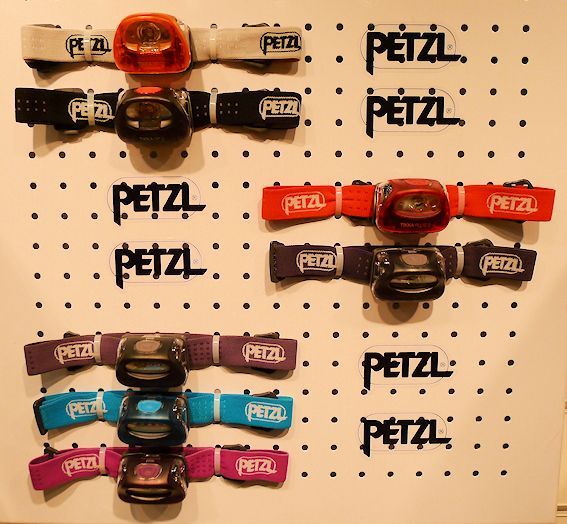 For blinding sheep on descents there's a selection of uberpower lights, the kind that if you put it on the wrong way round the beam of light would come through the back of your head.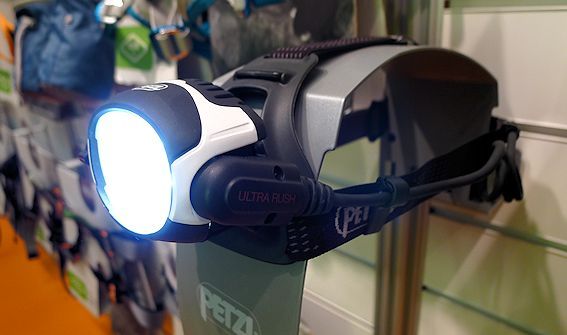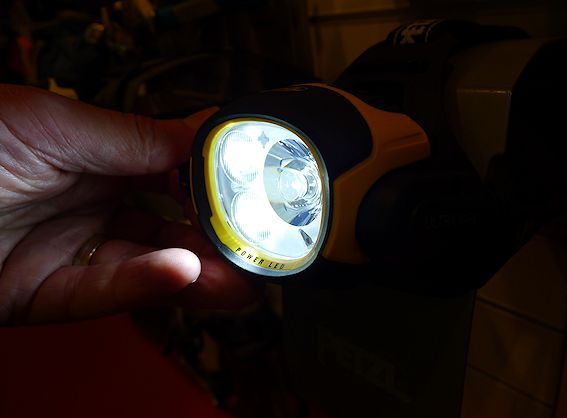 The Ultra is a great design, such a bright and penetrative pool of light, I've had an older version on test for a while for a feature I was doing and it's worth the weight if you need that amount of light.
At the other end of the scale, the e+LITE update is as I've said before, a work of genius.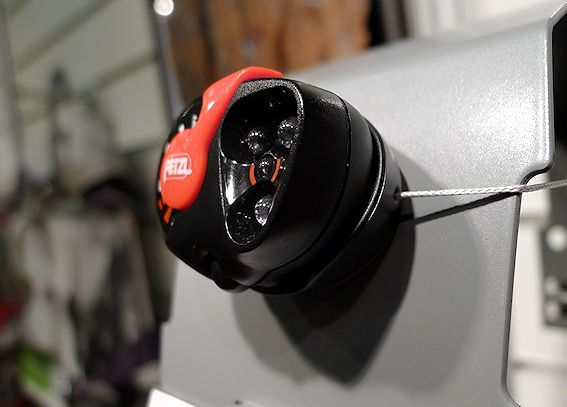 Julbo have a rake of new models, new shapes and hues of frames to fit the range of head shapes present, narrow/normal/moon (yes, that's me). The lens options flow through the range in various colours and catagories with the excellent photochromatic version too.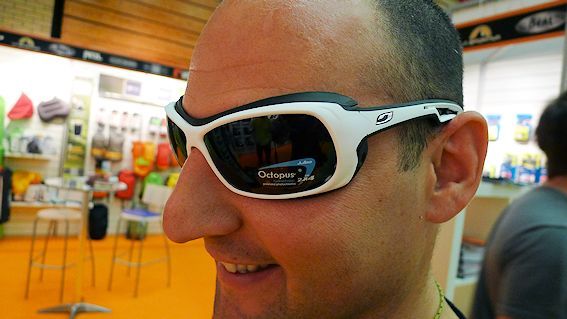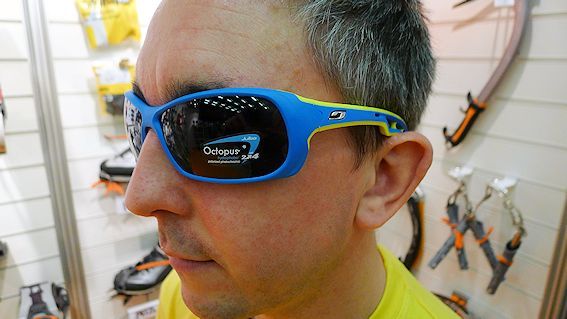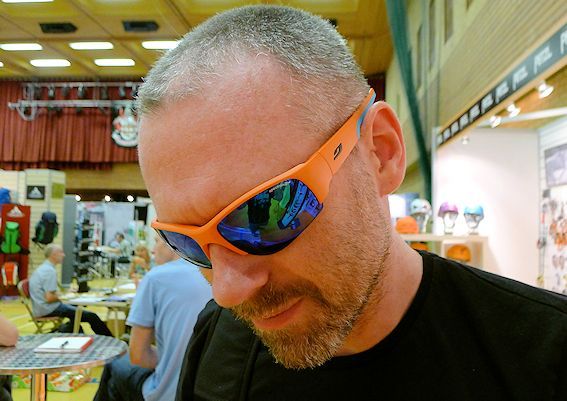 LaSportiva aren't hanging about, the Crosslite is dead, and here's its successor, the 2.0. It's neater looking on the upper, the sole area looks to have a bit more protection with the same studded design below. Interesting.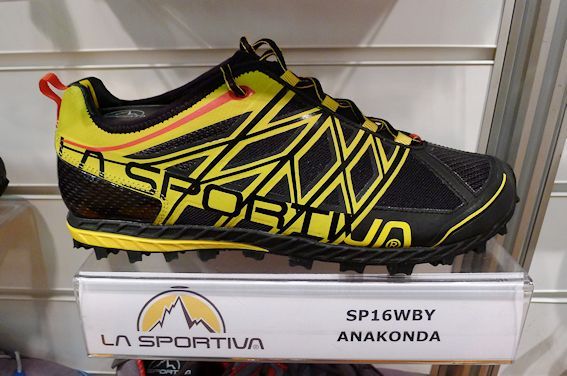 The Anakonda looks nice, lower profile midsole. Like a properly put together Salomon Speedcross maybe? Or a fitba boot.
Can't remember what these are (this will be a theme by the way, we were rushed, notes were minimal and Joycee recycled all my workbooks. Actually that's a lie, I left them behind, but it does sound plausible as an excuse, so I'll leave it in to show I was thinking), but the sample UK8 fits Phil's foot as always.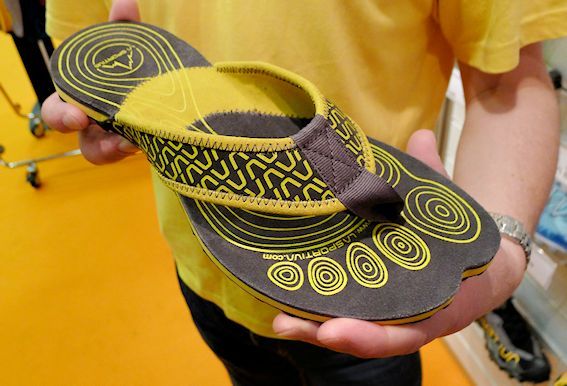 I liked these flipflops. Not been a summer for sandals round my way but I used to wear them a lot for cutting about outdoors, these are taking things to their extreme of course, lovely sticky rubber outsole to cling to the rock, but what's sticking your foot to the flipflop when you're bouldering? A muscular big toe that's what.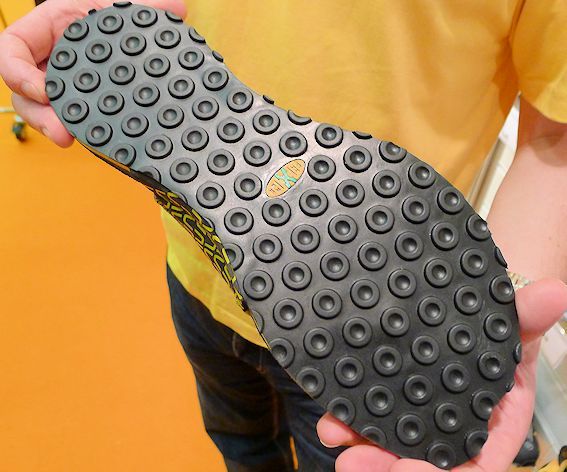 In a similar and yet entirely different area are these LaSportiva rock shoes with a wrapover toe. The rubber is replaceable and although edging will be a little harder without a regular sole the shoes should be consistent rather than fading and your toes are right on the end here, to little air gap where the board meets the upper.
I blame the lack of my progress as a climber on ese shoes not being available 20 years ago.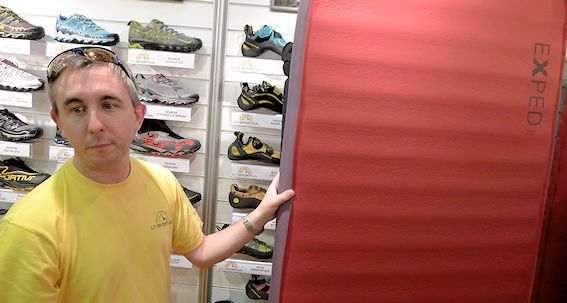 Aftre three days of KORS Si couldn't take it anymore, he pulled out the Exped MightyFatMat (I think…), threw himself on it, pulled his shades over his eyes and said help yourself. Maybe not. That big matt is a cracker though, a family or car-camping no-brainer. The whole Exped range has the new cleaner logo, the goose picture was nice but this is stronger I think, easier to pick out on a shop shelf. Or was it a swan? I'm sure it was a goose.
The mat range is better than ever, lightweight or badass options right through from air-only to down filled.
The Drybag Pro gets a great update below. I've got a couple of these and I use them all the time, the harness is better than that on many regular packs and it's got a handy capacity. The new one does away with the see-through window and gets a bigger bungee patch. Nice.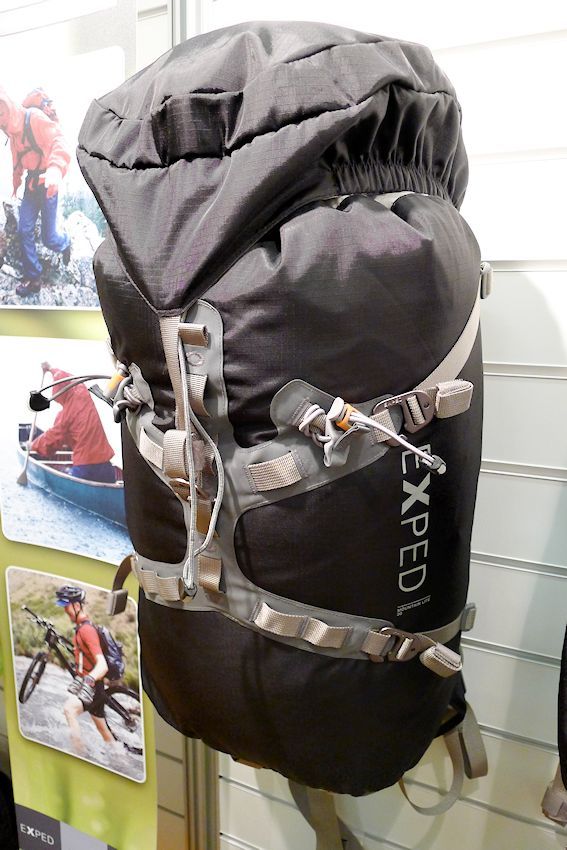 Keeping with packs, Exped have some bigger climbing and expedition packs which are still very light indeed. All looking much better than their older attempts at this I think.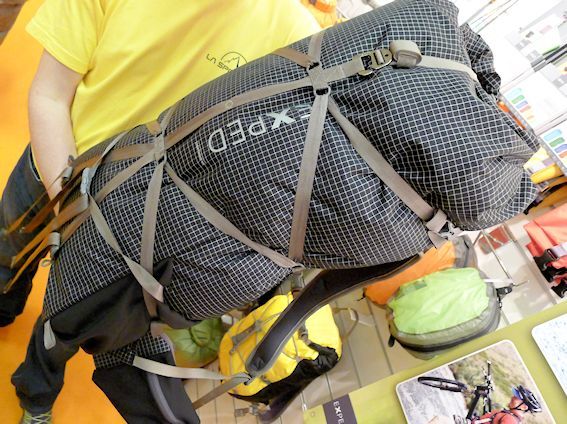 This looks like it wants to pick a fight with Golite and any number of dyneema bin bags bought over the internet from the USA. There's an aluminium strut to give the pack shape and take the load with a real harness and it's very light in the hand. Nice.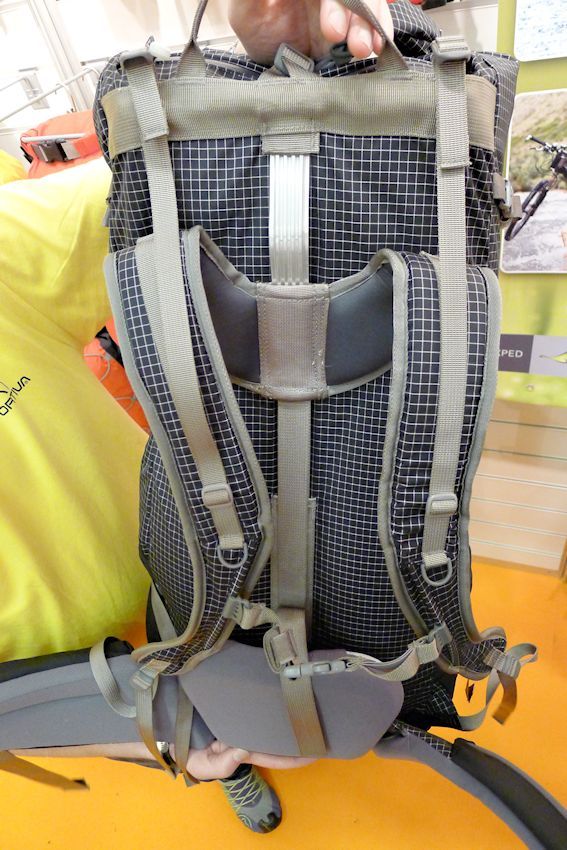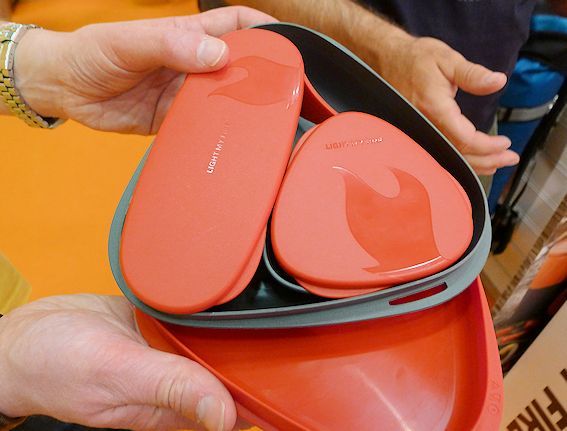 Certain things are dear to my heart and LightMyFire have address one of my worries, they now supply a sausage roll protector box with their camping food kit. Genius.
I've had one of these kits on the go for ages, one from before the heady days of sausage roll armour, I'll need to write it up, the company has an interesting story to go with it.
Below is the new bamboo firesteel. I can't work out if it's eco friendly or they've made a flammable firesteel. Feels nice in the hand whatever. I use their firesteels all the time, great kit.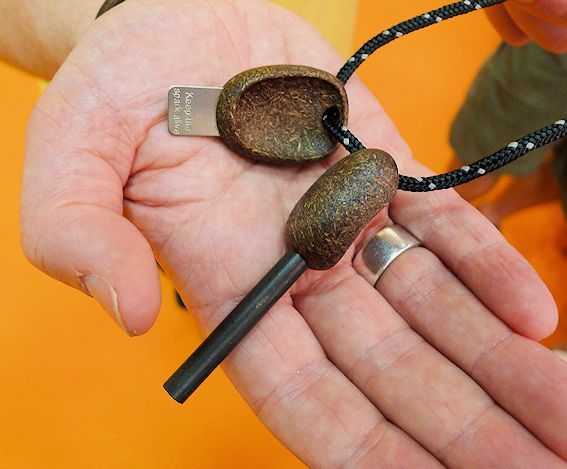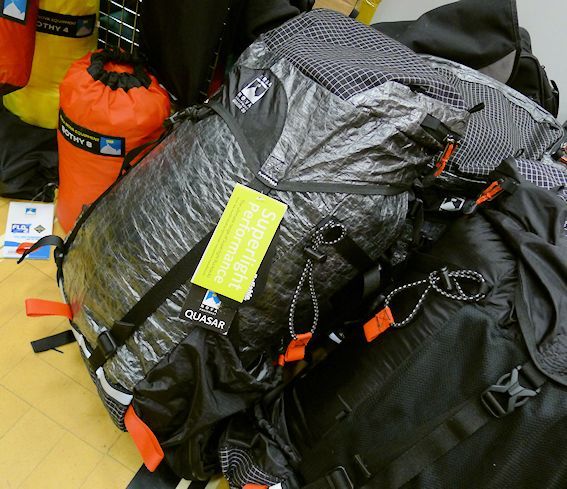 Terra Nova don't have much new going on in the tent range next year but the pack range has grown recently. I've been using a Voyager 30 for months and I've got a Quasar 55 as seen above, more on those soon.

Wild Country is to Terra Nova what Epiphone is to Gibson (some will know what I mean and some will have to google) and here is where the action is with new models as they they park themselves in the middle of the technical tents on a budget arena. As I wrote arena there the first thing that came to mind was Kirk versus the Gorn. I remember watching that in the early 70's with white knuckles willing Kirk to put it all together and blow the evil lizard away. It was awfy one sided though, the Gorn sounded like he had asthma. Mind you, Kirk ran like a girl so neither was on top form for the battle.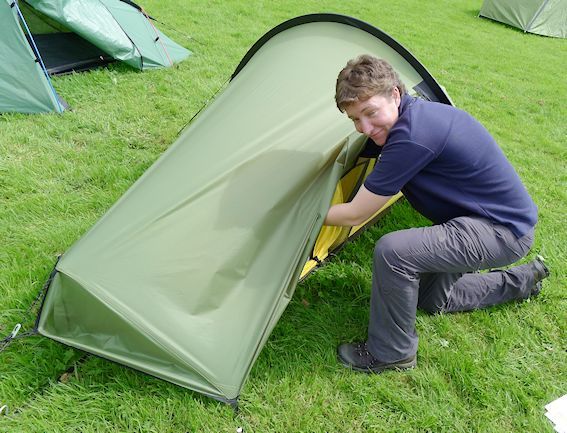 The Zephyros 1 Lite doesn't seem like cheap Lasercomp to me, it might follow the template but its taking a direction all of its own. It's got great detailing like the zip cover flap and the guyline attachment points. It's around 1200g packed which is something around what the original Terra Nova Laserlite was, it's a real option I think, not a second choice at all.
The Coshee 2 below is a whisper under 2kg for two people and has fantastic porch space at either side, yes two doors, and although head height isn't brilliant with its low-profile shape, there's great space for two to be comfy at camp and not have to crawl over each other to get stuff.
I like the look of it and there's a 3-person version too.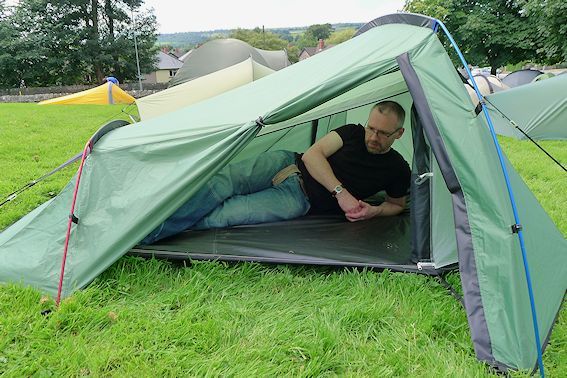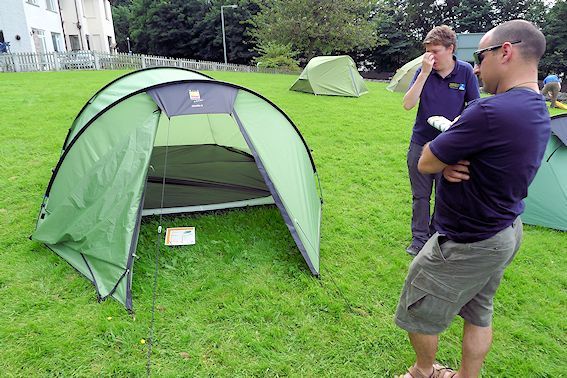 Simple and spacious, the tunnel design Hooolie range impressed. There's 2/3/4 person versions 2300g/3100g/3600g packed weight. Big doors, big porch, plenty space inside with the slightly beefier Wild Country fabric could make this a winner for anything from D0fE groups to you and I in the mountains.
The Trisar is another new range with the 3-person version below. Free-standing, semi geodesic for stability and 3300g packed. Break it down to half that weight each for spacious two-person trips?
Good to see so much happening at the other end of the price scale.
I like Hoka shoes. The fit and comfort is good and they're different. For next year they're diversifying a little, the big fat sole units stay, but there's some lower profile models coming out as well, still built on the same principals.
I've had a quick try and I like the feel of them, the shoe gently persuades you onto the ball of your foot where you want to be running but for walking with a big pack that fat heel is still keeping you cushioned. Can't wait to try a set over the long term when samples are available later on.
The sole below matches the shoe above and there's some other new models below, hims, hers and others.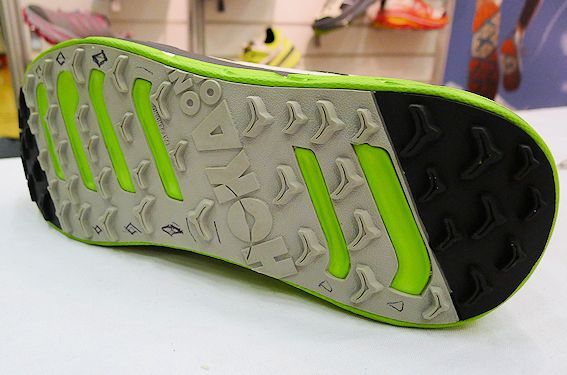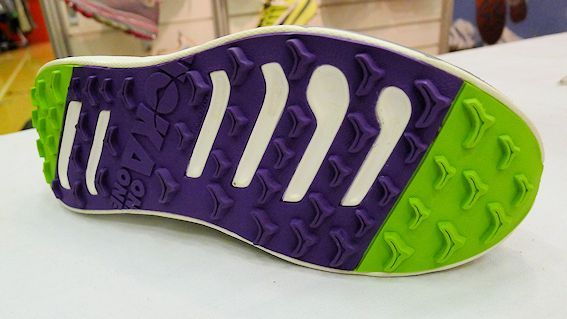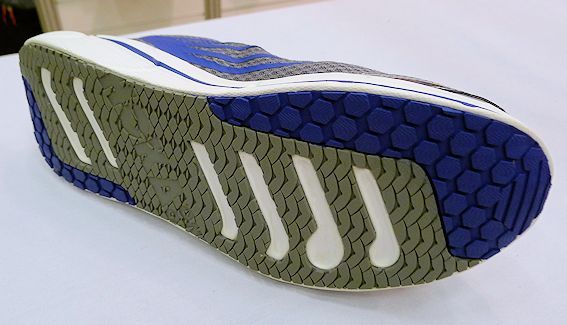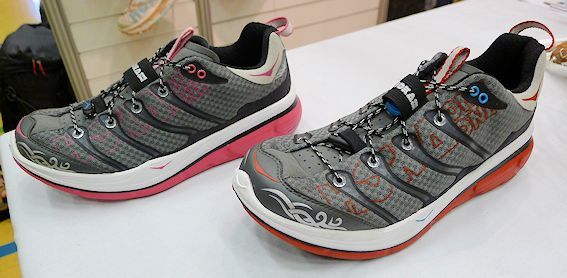 Just next to the Hoka's were the Falke socks, nice kit which I'll come back to in a bit, but I love this chart it's a mix high tech manufacturing and tweed samples from a Victorian crofter.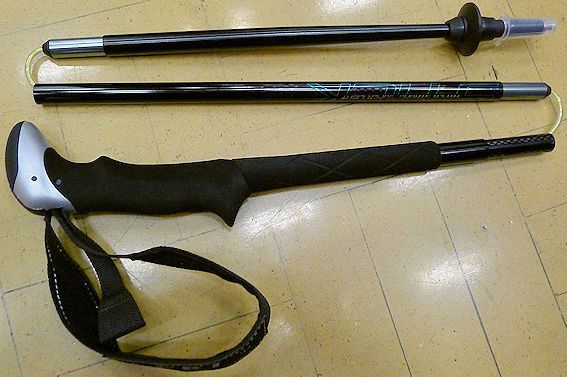 Leki's taken the Microstick to Snog Marry Avoid (BBC3, it's brilliant) and given it a make-under. The new models look sleeker and have spring-pin thing to lock the sections in place. There's alloy above and carbon below.
The spring-pin thing is above and the flip lever lock thing below, can't remember the right name for it. It works well anyway.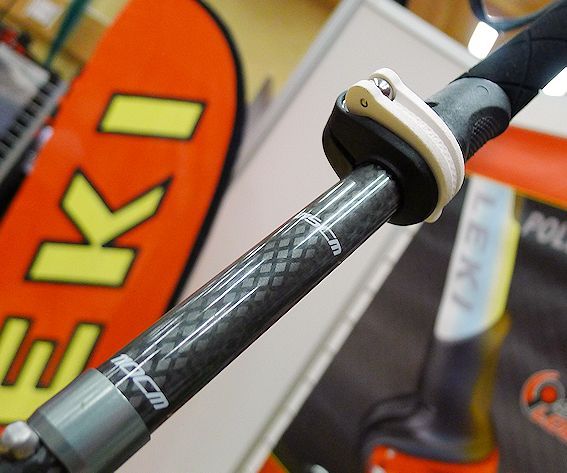 We saw a bunch of new Montura kit. There are stores stocking it this winter which is great, but I have no idea what any of this is below, I shall attempt some commentary however.
Lighweight shelll with an elastic cinched waist. Won't get that on a dog walker's jacket.
Hooded windshells, size medium dammit. The pants are neat too, not a lot of choice for wind pants out there, but stick these over powerstretch and you'll be surprisingly dry and happy in crappy conditions.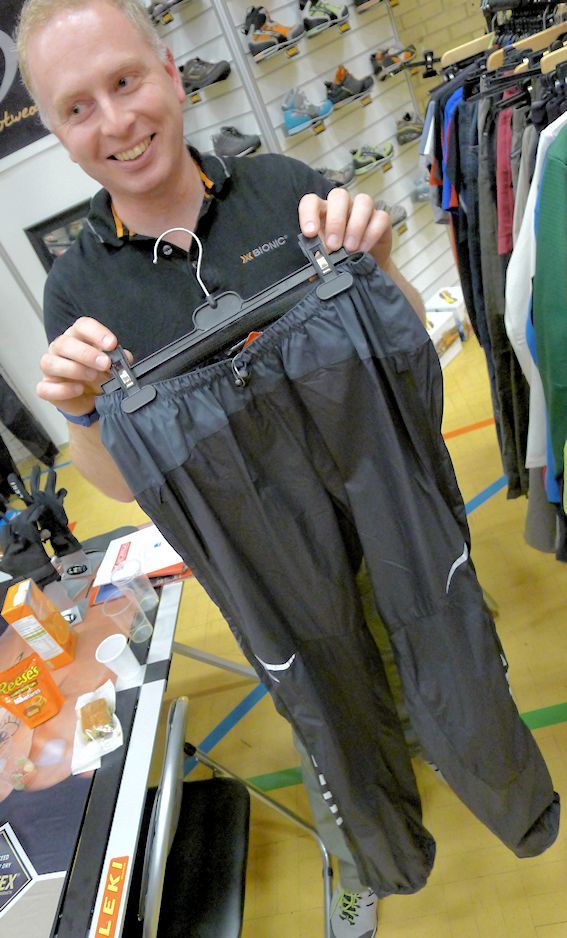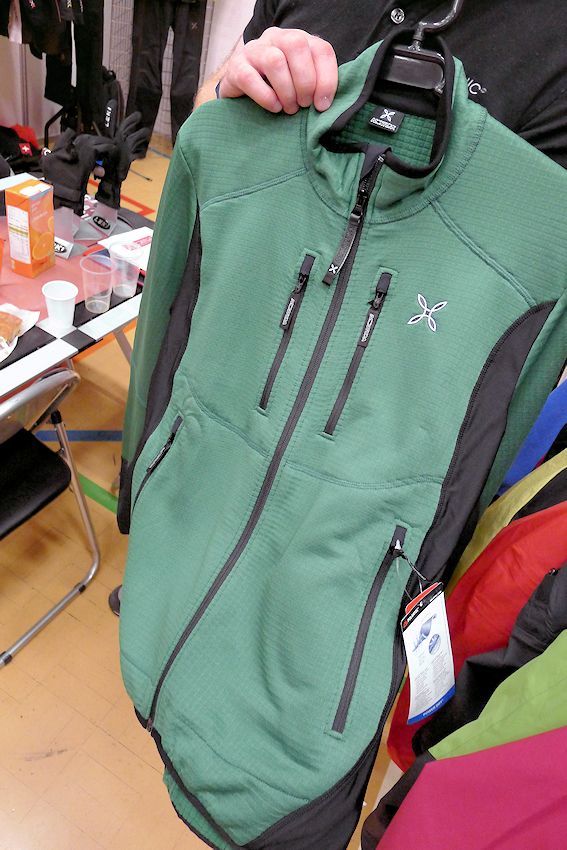 There's some surprisingly regular looking kit in there as well. Lightweight insulation with stretch panels and good pockets.
The pants looked good. A lot of the Montura kit is in a racy stripped down style but here we've got some more mountainous features. Those curved-entry thigh pockets are great, I've had pockets like that in the past they're the only leg pockets you can access sitting cross-legged in a tent.
At the other end of the scale we have stretch denims for bouldering. Or, if you get the XXXL you have leisure pants in which you can watch TV while you eat potater chips and drink a soda.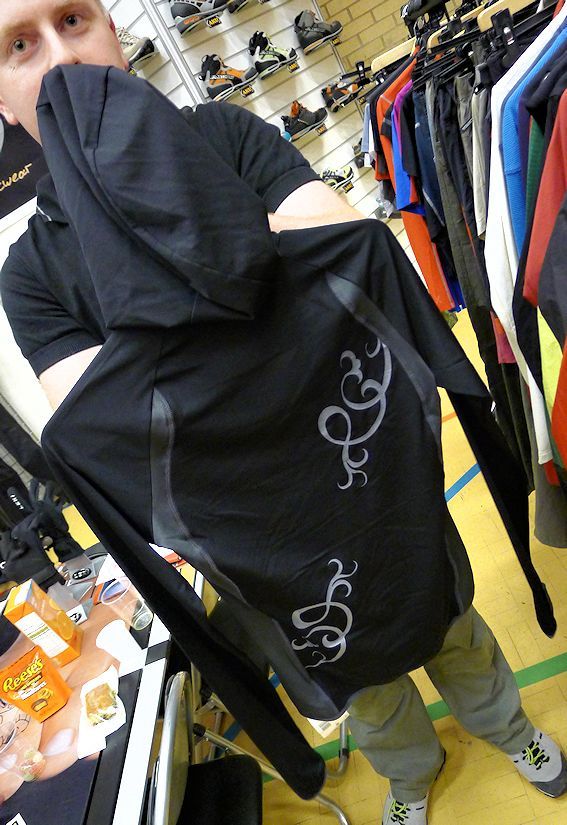 If they can put tribal prints on hoodies why can't I have skulls? I had lunch will Phil today and guess what? He wished he'd had the vest he was trying on below in the race last week, it's easy to dismiss something as impractical or niche until you're stuck in that niche and in need of something practical.
There was some X Bionic madness too. The halloween skeleton suit isn't really for scaring the weans, it's a recovery suit for post race/activity power lounging.
Scarier looking is the bike suit below. Look at the complexity of that, and I'll bet it just feels "nice" when you pull it on. It's odd stuff X Bionic, feels lovely on and works very well, looks like the insides of a robot or the outsides of a Mad Max 2 extra.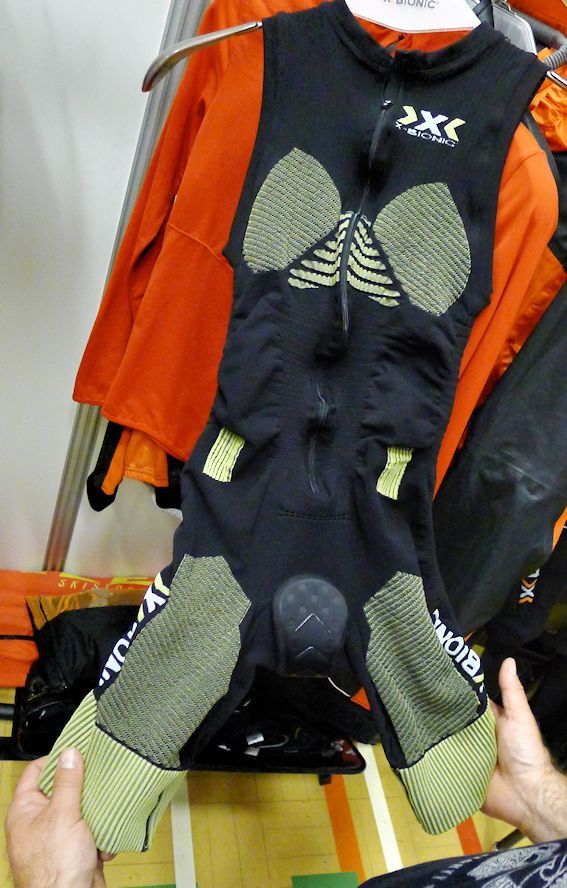 Aku's getting lighter and ever more current with their styling. Some new models below, I'll have more on that in a bit.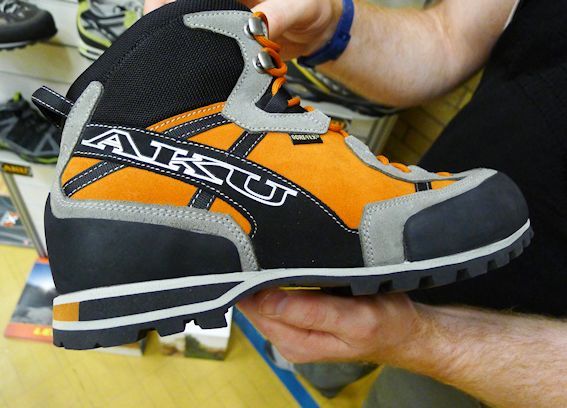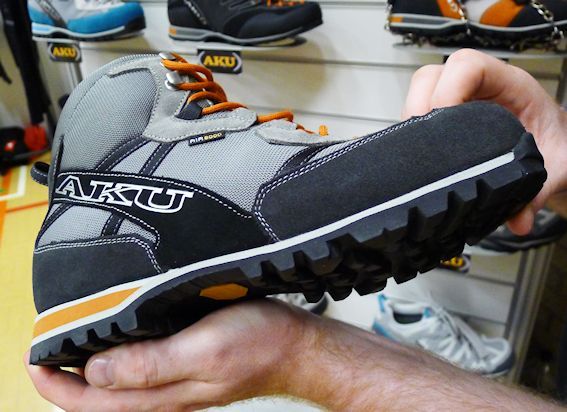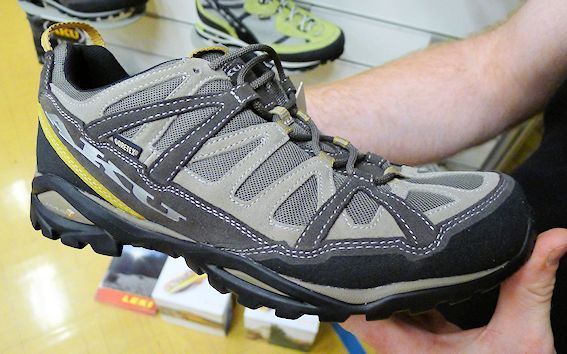 We were running out of time but managed to catch Brasher where I had to pick up some kit and have a quick shufty at the new models. I say new, but one of them is an all-new Hillmaster.
I had a pair of these maybe 20 years ago and they were light and a good all-rounder. They still follow a similar look with that big soft and flexible cuff which means flexibility but dry and grit free feet hopefully. Inside it's all new though as the boot's been rebuilt from the sole up, literally as the construction is completely different as well as the components. They could have gone for an all-new boot, but I like heritage and if you mix it with new thinking you could have a winner.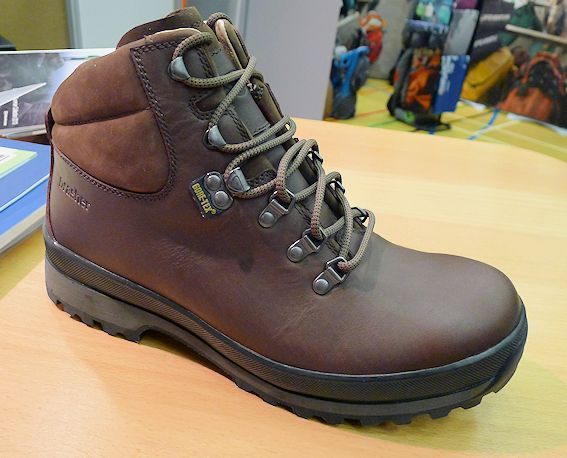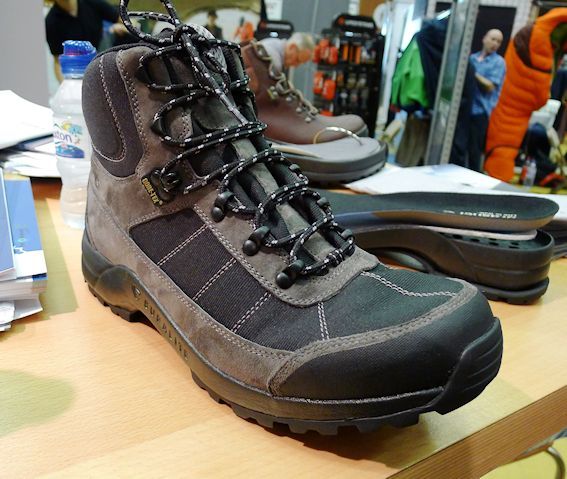 A above is Brasher's new Supalite Active GTX. This is light and flexible, it really is just like a beefy trail shoe with an ankle cuff. Nice and simple, but not too staid looking with a decent looking outsole and a Gore-Tex liner. I loved the Kiso GTX's, still do, I hope these turn out to be as good as Brasher are definitely going in a nice direction here.
There's a bunch of socks on their way too which I'll come back to, the lovely Sue thinks they're good enough to eat as they enthusiastically dismantle the stand around us. More and other Brasher coming up.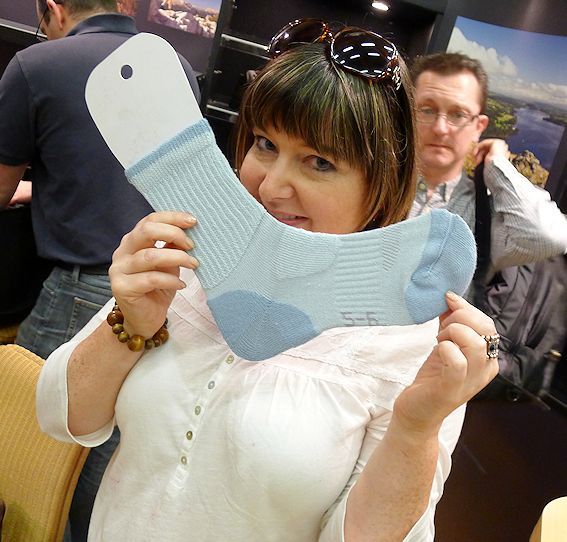 By the time we got to see Simon there was almost no stand left, but he still had time to taunt me with some fine cutlery.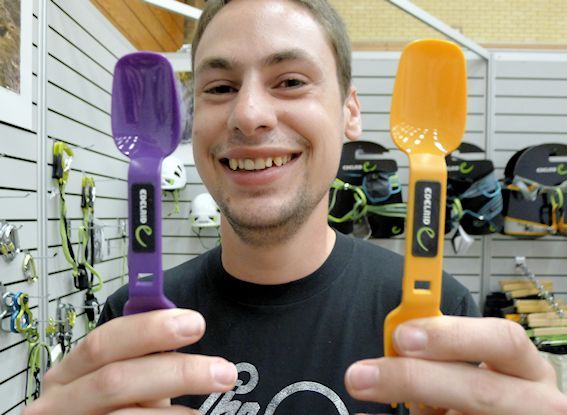 He did want us to see a new Edelrid pack before it disappeared into a cardboard box and it has some very interesting stuff on it. It's a clean profile climbingesque pack with a very neat harness.
The straps are are low profile and strethened by cords running down them, it's unusual but you can see and feel the extra stability a shape-retention this gives the strap but at no cost to the flexibility.
The cords run  into the adjustments top and bottom which is neat with loops for one way and tabs for the other. Once you figure it out it's simple enough and it'll be come intuitive quite quickly I think.
With a little bit of work I got the pack dialled for my back just in time for the lights in tyhe hall to be switched off as security showed us the door. Ah well.
More Edelrid in a wee while.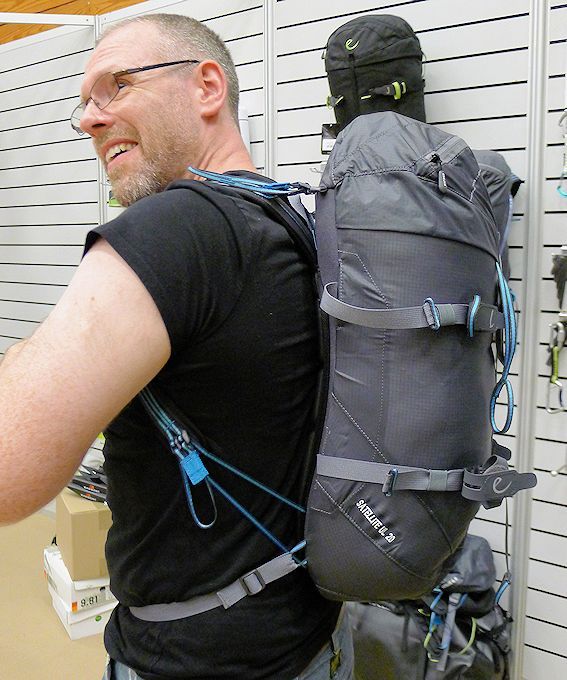 There was a lot of other stuff that we skirted past, gave a glance to or raised an eyebrow at, but there was just no time for more especially as most of our time was spent bantering to folk we knew.
I'll tell you something though, putting together the supplement and visiting Kendal has really sparked my enthusiasm for gear again. I've got new stuff coming in as well as enjoying catching up on the backlog and dealing with recent new arrivals. It's all good.
Also good is what's coming up next, an evening with Montane.