We were down at the Kendal Outdoor Retailers Show, luckily missing the press day which is today. Get a few cans of Irn Bru down me and I'll tell you who the exhibitors were and weren't looking forward to meeting today…
All the kit has or will been covered elsewhere, the mags and proper websites will show folk the kit in detail. We were there mainly for the banter.

A couple of things had my spider-sense tingling though, Terra Nova who never stand still and should make the fact known more, have three tarps coming out at the start of '09. The one seen here is the simple Tarp Shelter (178g), there's a very livable looking Bivy Tarp with inner mesh (710g) and a Multi Tarp (560g) to make a porch for many of there other  tents, Voyager, Quasar etc.
They also got some other stuff including the Laser Space 2, which is mental looking and a new range of frighteningly light rucksacks (creeping in at the right of the photie).
I should get some hands-on with some of the kit in a wee bit.
I felt for Inov8. We had their shoes on, off, bent double, praised and criticised at lightning pace and with the requisite amount of swearing.
Their new packs are showing necessary evolution and we liked their wee stretchy gaiters and new colouring on some of the existing shoes. There's an all new shoe called the X-talon 212 (the yellow blur in the photie) which we liked the look of. Targetting the LaSportiva Crosslite we think?
Lyon Equipment organise the show and we spent a bit of time going over the kit from their brands with Simon. Si is a good lad, and well used the er, informal approach we have to the kit and meetings. Exped (as you'll see behind him) have a lot of great kit, most us are familiar with their drybags at least and I've been using their sleepmats for the past year. But next year Lyon are bringing in much more of the range, lightweight down bags, genius looking trekking poles and more.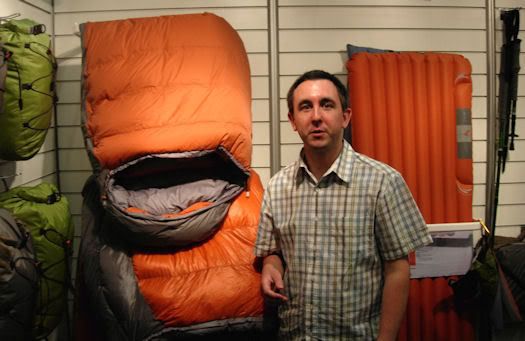 He's one of the blokes you never see, but still catches some of the blame from disgruntled shoppers.
You walk into Cotswolds and see racks of obviously coloured and branded stuff with a price tag, you finger some kit, mooch around and leave again. Why are we not psyched, why are we not tripping over each other to get to the till with garment "X". The store buyers that's why.
"We're not bringing it in, there was no interest". That's a statement I hear from the reps of all the brands I speak to, and they're always refering to the best, the lightest, the sexiest item in the range.
The reps are trying to get this stuff into the shops, (yes to make money, I'm no' daft) and the stupids are thwarting their efforts.
How many times have you read on a forum "I can't get a Prattokrat in this country, I'll get one from the States". The UK distributor may well have a sample Prattokrat and have taken it the length of the country and got the reply "You can't walk your dog in that".
I'm over simplifying, I know that, sales of top end technical kit are good. But chain store buying policy and bastard cheapskate internet overseas buying (I include myself as one of the bastard cheapskates here) can create a situation that's near impossible to escape from.
Again, support your independents, they're trying to push the envelope and get stuff into the country so we can use the esoteric and enjoy a UK warranty at the same time.
And again, why do people tell me things and them tell me not to tell anybody. Do you know that Rontopus are making their first graftoo out of chonto? Pimobo are having Trewsti make branded yurtew's for UK conditions. We'll see them late in '09.
Christ.