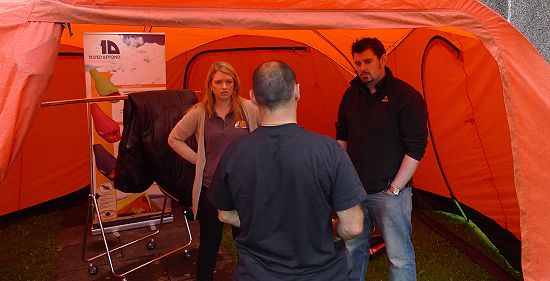 The first thing we saw when we arrived at KORS was the big orange tent above, it was raining but the folks from Vango/F10 were safe enough inside and that was our first vist of the day. Modelling and photies duties were split between the two of us through the day.
It's gloves off, F10 and Terra Nova are squaring up to each other. F10 are pushing their top-end tents further up the way and Terra Nova are having a look at Vango's budget models. Should be fun.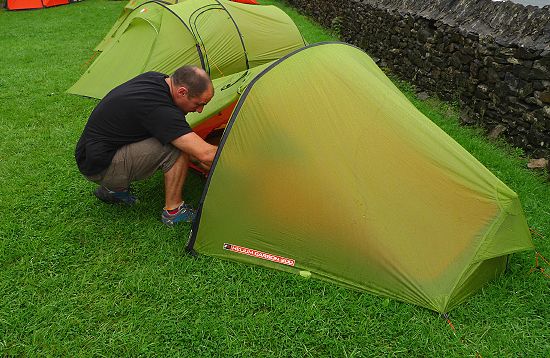 The Helium models have always been nearly there, finally they're got it together and the Helium is a real contender as the Helium Carbon above shows. Why? Look at the end nearest us, it's now got a pole in it, both ends have internal space and I could lie inside it without face or toes touching the fabric inner.
Inner space in general is good as is the weight, the one-person is 800g and the tandem is 950g. The TBS internal guy system will keep it planted in wind and the detailing is good, carbon poles, as-one pitching, dyneema guys and end vents.
The F10 sleeping bags are looking interesting. The Endurance 800 is 1550g with a mix of down and synthetic patches at the head, foot and chest. The foot and head is a good call as these spots get wet from daft wee one-person tents, the chest patch is there to retain warmth at a vital area if the bag gets wet they say.
The bag has a lot of detailing, pretty much what you'd expect from a top-end bag, I'll wait til I see one in a stuffsack before I make my mind up though.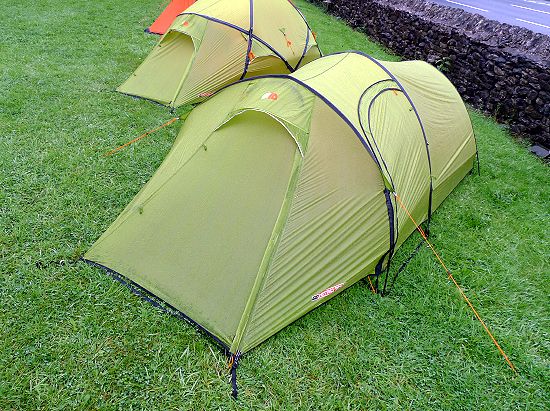 The tent makeover continues with the F10 Nitro Lite. That's the 200+ above, 1800g with pleny room for two, plus gear, a dog, a bike and a two- ring gas stove. Maybe. It does look good, I've got one person tents with half the space at a similar weight. There's a regular 200 without that porch extension with the side door and it comes in at 1400g.
That's the badass and heavy Vortex 200 below, ready for alpine and arctic adventuers at 4.5kg, How cool would this look pitched on a high snowy ridge with clear blue sky above it?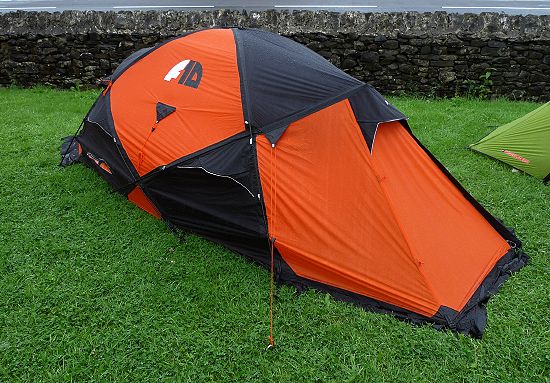 Terra nova have picked up the distribution for Ultimate Direction for next year. This is good news as the kit is quirky, individual and rather neat. I've used their packs, bottles and bladders and there's features on all of them that you don't get elsewhere, a wee er, teat on the botles that you pull out with your teeth and it'll spring back down with a nudge, packs with mesh patches on your chest with pockets and bladders with internal baffles that stop them expanding too much when filled. It'll be good to see the kit getting out there.
Terra Nova themselves are coming up with some great new gear, the Ultra Cuben fabric is speading to other tents and we'll see bonding used in the construction as well, a 880g Voyager anyone?
Tha pack range is expanding and there's some excellent looking new larger capacity packs on the way, that's the Voyager below in early sample form. It'll available in 30L/565g, 45L/680g and 55L/990g. Features look good, the 55 comes with a little extra back support with an alloy strut in it's removable foam back, there's plent pockets, bottle and hipbelt and some dyneema on the high wear areas, specifically where I'll be putting my crampons.
The Quasar packs are similar but even lighter, a little more stripped-down too. They come in the following flavours: 30L/510g. 44L/595g: 55L/850g.
They won't be white though which is a bummer, they'll be grey. Ach. Still, these are worth watching.
The Field&Trek only Zephyr0s (above) goes on general sale now and it's been very well received, don't know what Phils making of it right enough.
My mind is on family outdoor kit quite a bit justy now so the Wild Country Etesian below caught my eye. Can't remember that last time I was in a tent I could stand up in that I wasn't dragging Holly out of in GoOutdoors.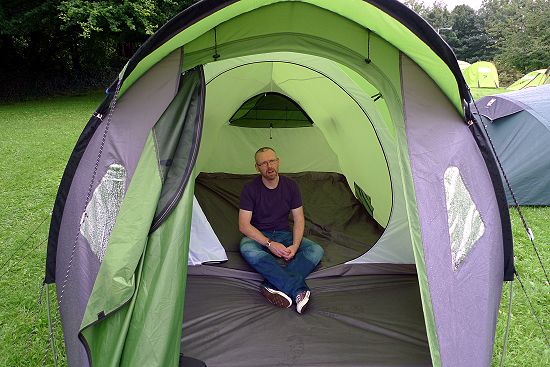 70g tarp in Ultra fabric? Yes please.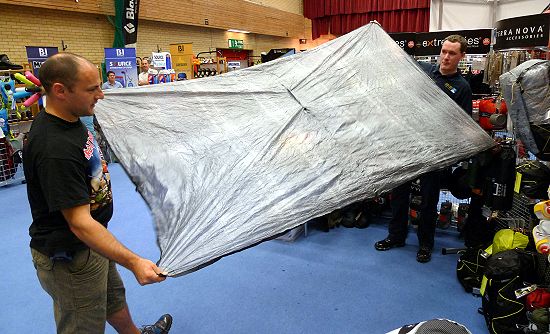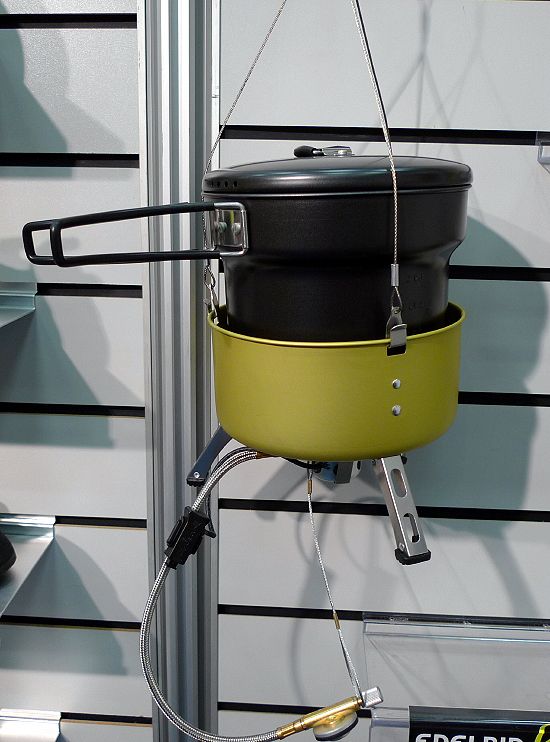 The Markill legacy is in good hands with Edelrid. The Stormy EVO with the suspension attachment and 1.8L aluminium pot above is dead cool, it looks like it would be an oasis of simmering calm in the middle of a life and death situation.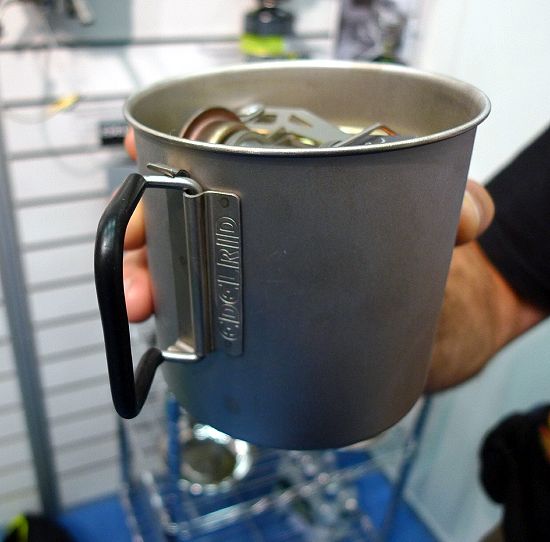 The Clip Mug loses a handle is no worse for it, the single handle is thick and clips in to place securely, 70g.
We all know that most of the cookwear and the like is an exercise in branding rather than design, but it's the little differences that make all the difference and Edelrid are specifying some neat finishing on the kit, highly polishing up the bits that go in your mouth for example. Aye, gritty titanium on my teeth, done it, no thanks.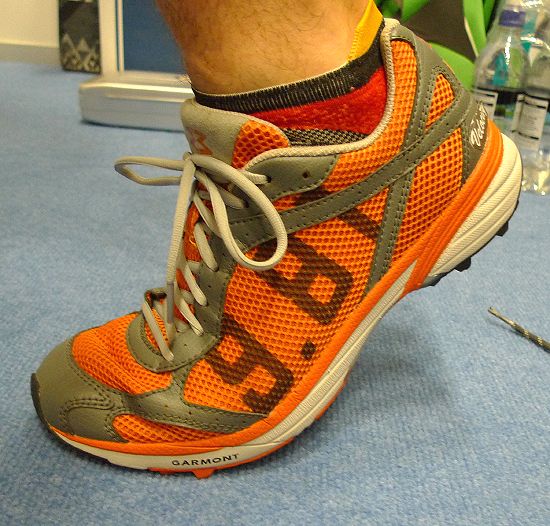 Phil and I loved this, the 224g 9.81 Velocity from Garmont. Super flexible, light, grippy sole unit, low profile mid sole, great heel cup, but will we see it in the shops? Ask your local short-sighted unimaginative store buyer.
This is the Dragontail Lite GTX, a neat wee approach/mountain shoe and as you can see below it has a proper sole unit on there so can use it on whatever terrain you fancy.
I like this trend of putting real outsoles on this kind of shoe that we're seeing all over, they should have done it years age, more folk would have switched to shoes I think.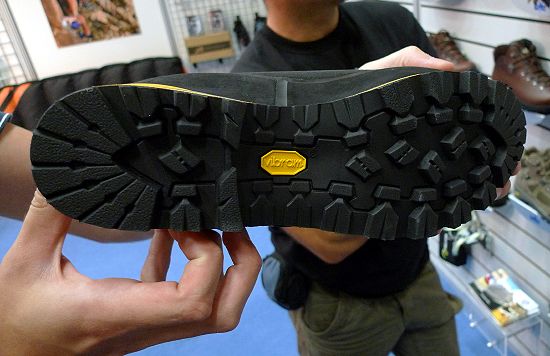 Above are the rock shoe derived and wonderfully named Sticky Beast, walk to the crag, fall off it, drink Irn Bru, one shoe for all of that. That might just be me, you'll probably stay on the rock right enough.
The Vetta MNT Plus GTX is below, half way between a trekking mid and an alpine boot which makes it a winter lightweight contender at 595g.
I like Garmont, nicely individual, the UK shops shoe line up is way to obvious and limited. The amount of folk on forums asking for advice because their boots hurt their feet would indicate that we need better choice. Yes/No?
Lomer are an Italian brand with some nice looking footwear. The Maipos above are a light and flexible shoe with a nicely grippy outsole, the boot below doesn't really match anything in the workbook but it might be a Vertical or a Magara. It caught our eye anyway.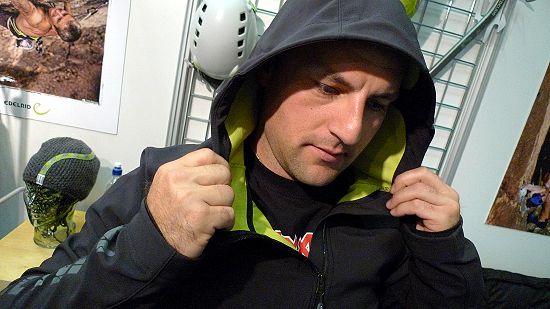 Back to Edelrid for a minute, they're doing some nice cragging clothing but also some technical kit. The McLane softshell above and below is a nice hooded, two chest pocket affair, nice slim cut with an internal cuff and soft elastic thumbloop which should fit under winter gloves better than the regular hole-in-sleeve types.
These are the matching Commander Pants. Velcro waistband, (bright green, yay!) internal gaiters and plenty pockets. The own brand fabric used on both pieces feels nice, not heavy, soft, if it's breathable and has good weather resistance this would be a good combo.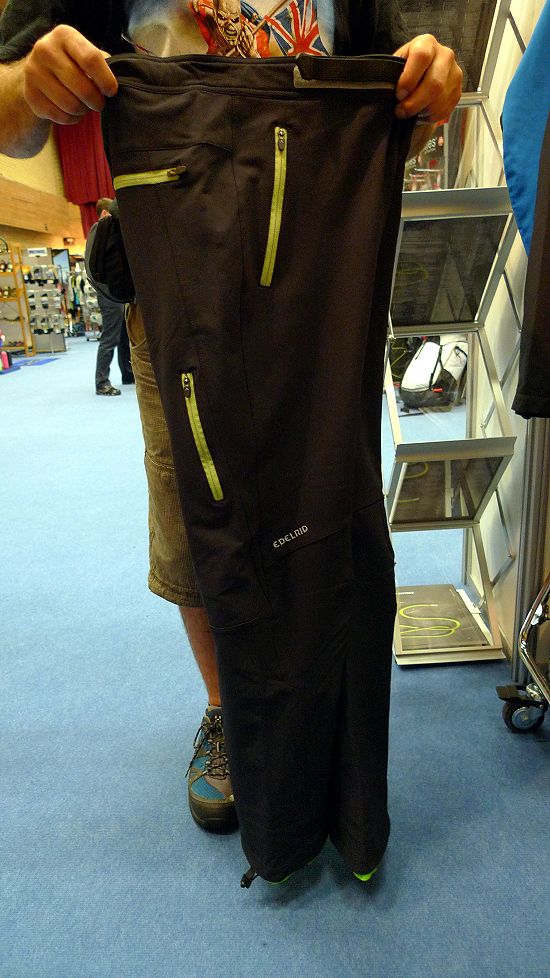 Hoka footwear bucks the current trend for low profile shoes and barefoot running which makes it cool. Having used it I can only say that it's very comfy, the sole unit is grippy and makes me well over six feet tall.
I'd happily wear the Mauna Kea Mids above just for cutting about with jeans on and below there's a nice contrast to the Converse I turned up in.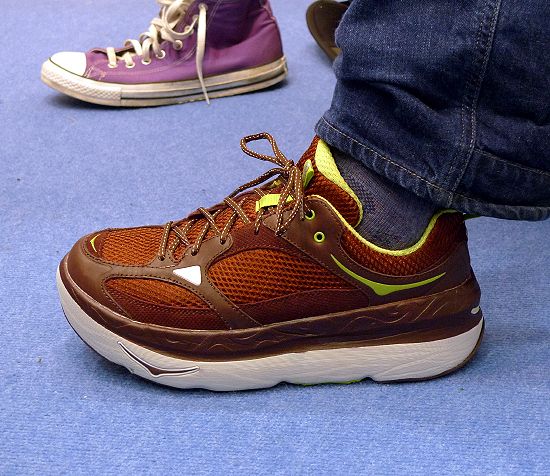 We were quite taken by the Falke kit, both socks and base layers. Above and below are the men's Mika in black and the women's Naima in green, they come under the running banner as a second layer top, which for Falke means over a vest or sports bra (nicely detialed one of those below). They feel like a midweight base layer, good for winter or fast moving on cool days. The fabric is nicely zoned in a mix of synthetic fibres, nylon, polyprop and elastane has a good stretch on an already good cut for comfort and mobility and has nice touches like big cuffs and a proper chinguard in the collar.
Below are another move into the microspike field with the Veriga which will be in the UK next winter. Lots of choice in this area now, and more brands on the way too.
I like the success of these things for many reasons, not least that it pisses off a lot of folk who think they know better than we folk that actually use them.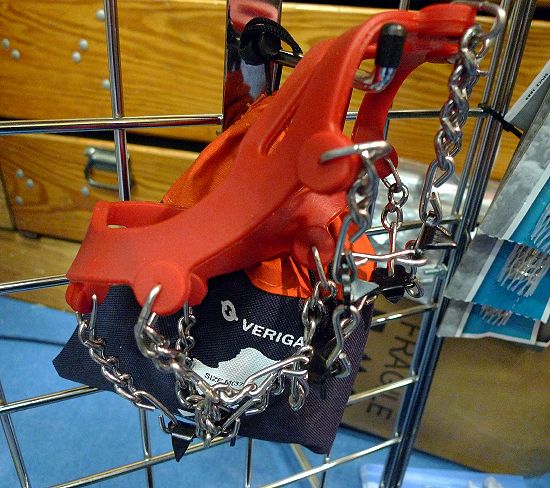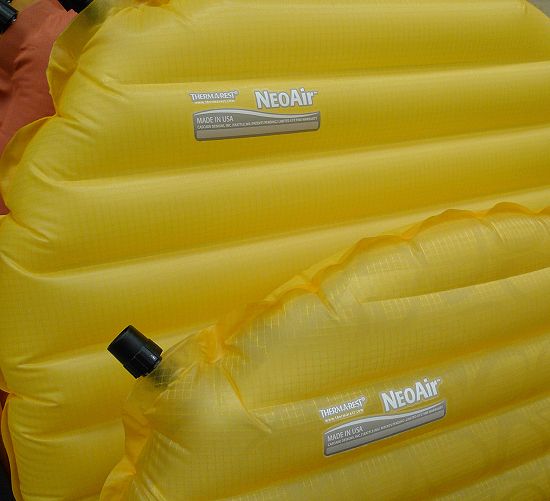 Thermarest have gone Neoair nuts. They're trimming down the original so it's tapered which I think is daft, the square bottom end keeps my feet off the floor of the tent which is more important to me than saving a few grams.
The one below, the model name escapes me I'm afraid, is warmer and has extra silveryness, but it's not the all season one coming out now, it's something else. I lay on it and I did indeed feel the heat coming at me like a hot tin of treacle poured slowly onto my back by a young Rachel Welch. Or something.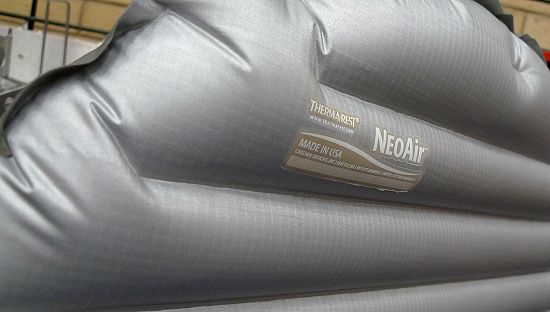 We'll also be able to buy a vintage reissue version of the self inflators next year. I love that logo, there's so little humour and fun in the outdoor trade that this just makes me smile.
Black Diamond are making a neat slider-locking karabiner which was being guarded like the crown jewels. Light, easy to operate and has purple on it, just like the girly version of their Ultra Distance Trekking Poles below.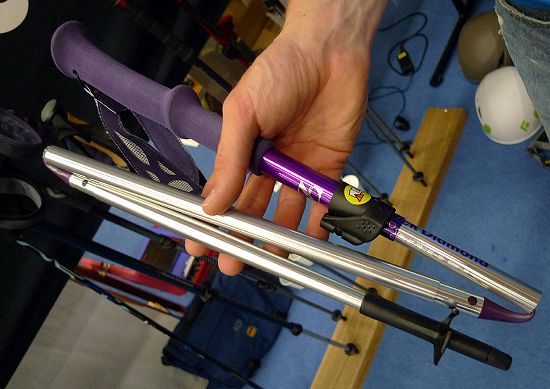 Mind you, just so you know they're not patronsising womenwith the colour choice for geneder specific models they've fitted a special super tough all terrain wrist strap on the womens models. Oh wait, it's purple fur. Ha.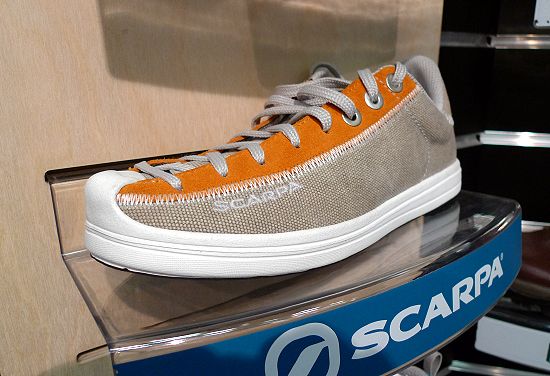 Scarpa make great footwear, but it's everywhere and none of it seems to be the interesting models like the ones here (the purple one is the Mojito, no idea what the others are).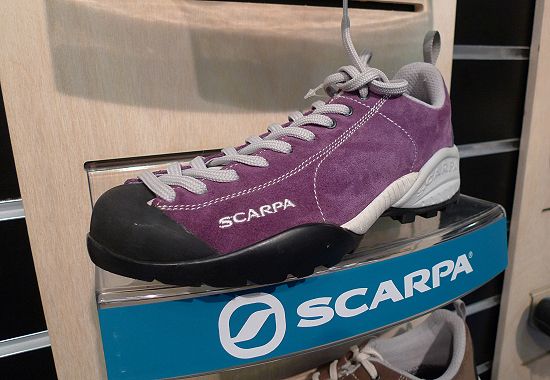 Their range is huge and all you ever get to see are Manta's, SL's and ZG;s. Demand Scarpa variety from your local outlet I say.
That's the lovely Sue from Brasher above with the Kuga GTX's. They look like a chunky shoe but are pretty light with good sole unit and I've been getting well with them, write up in a wee while.
Some crossover outdoorsy/lifestyle on the way, the woman's Roam GTX above has some fancy embroidery all over it which brought a grin and the blokes get the Tour GTX below. The sole unit is hardpack compatible, but the uppers are light, soft and breathable, I'd love to see these uppers on a trail outsole. Hint…
Jon from Outdoorsmagic was clearly emotional at the return of the Fellmaster name. That's the new Fellmaster GTX he's holding and it's good to see the name back attached to a nice looking lightweight and flexible boot.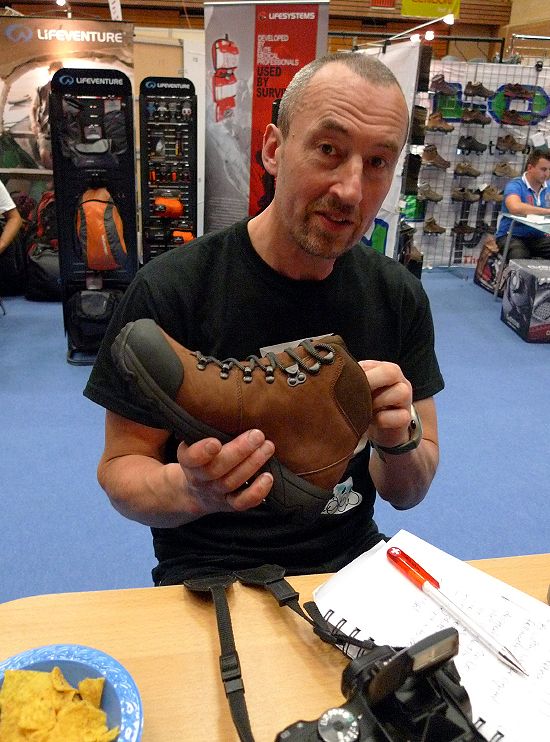 Socks too, and as you can see the insloes aren't flat cardboard with a logo, there's some comfort built in to the pressure points.
The socks are hims and hers Travel Lite's, on the thinner side which is always good with elasticity to help them stay put and keep their shape.
Rab was dismantling their stand around us but we still grabbed a quick look at a couple of things. The Volt Jacket above comes in at 360g for the large and is cut from Pertex Shield stretch fabric. The fit , hood and features are excellent, not sure about the fabric choice, hopefully the waterproof Pertex is getting better as time goes on.
The PodSacs Lux range does look nice, the fit was spot on for me as well, Nice big side pockets, hipbelt pockets, lid and capacities from 10 to 45 litres which covers pretty much everything
That's it, some real highlights above and a lot of not much happening out there too. Some of the brands are shrinking their lines, models are being dropped all over the place due to lack of orders, colour options are being shelved and there's a nervy atmosphere in many places. The high street is in trouble and the trade folk seem to be either rising to the challenge or sitting back and waiting for the end.
Anyway, we spent so much time on a handful of stands or gabbing to folk over cuppas that we never got round everything and we did miss some good stuff. I'll hopefully catch up with some of that at OTS in Stoneleigh in a couple of weeks. That'll be the southest I've been in a while.