Phil and I were at KORS a few weeks back, it was day two of gearapalooza after the fine day at PHD's factory.
We had an early start this year after a night in Keswick and a mighty help-yourself breakfast, but still never managed to talk to everyone.
Therein lies a tale of its own. There were some lovely folk down there with knowledge, enthusiasm and banter, you'll see some of them below, both familiar and new faces. Some though had the enthusiasm and interest of a condemned man choosing the colour of his blindfold before meeting the firing squad. Those attitudes do carry through in some way to how the brand is represented and percieved in the UK.
So, what did we see? Lots of interesting kit, but real stunners were few and far between, a lot of evolution, quite a bit of adapting someone elses ideas which made me smile. So what follows is an overview with some gems scattered through it. There will be test kit coming through as well.
Having happily used softshells the past couple of winters I liked the look of Rab's Exodus above and the new Sawtooth below.
690g and 475g respectively, they come in unbranded fabrics, I like the clean designs, nice fit and proper long arms.
Si from Lyon Equipment below is so fed up of me catching at interesting moments with the camera, everytime I pointed it at him he faked a phone call, but he had some cracking stuff to show us.
Phil's holding the new lighter version of the Exped Drypack Pro above, along with the matching regular drybag I've got on test it's upping the ante for such items, and Exped quality is always good, so I'm expecting no mishaps just because the weight's gone down.
below is a new lighter Exped AirMat, I'm holding in my handss what's stading next to me in the same colour. Smaller packing than a NeoAir for a full length fat mat?
Viewranger, nav and related geektastisms for your cyber-devices has been abih hit and with Lyon handling the distribution there'll be availability and assured backup now. As a late arrival to this stuff I'm playing catchup, but oh how handy electronic navigation has been already…
It's the soul/sole of madness that is. LaSportivapicked up the trail shoe stick and have really beat some of the established names about the head with it, good to see them still pushing and the range for next year below (hims and hers) is quite big, but diverse as well. The sole above is from the Quantum in purple/lime in the middle below.
That's the Crossover below, a mini-gaitered waterproof Crosslite. It'll let the water in, but keep the crap out. Heather-free socks at camp? Badass aggressive sole as you'd expect on a waterproof shoe. Are you listening Salomon?
Russian Doll Jetboil?
I love my Jetboil Flash, the faff-free handyness of its use and carriage brings me great joy, so it's with interest we viewed some developments for next year.
There's tweaking and weight loss, but the oversized pot for more than solo use is a good call, and the stripped down version below is aimed and those in denial that something more than 12g and easy to use means they're not a proper backpacker.
The Petzl Meteor above is now rated for multisport, next year you can do your whole race in it, rock/bike/kayak whatever. It's always been a comfy lid, and it's weight weanie too.
Using aluminium toothpicks as ice axes the past few winters has opened up lots of possibilities, and the prospect of the 400-ish gram Petzl Snowaker is quite appealing these days now that I don't believe the scaremongering. 
The Petzl TikkaXP2 has been my first choice lamp since it came in earlier this year, and now we're getting an update in the form of a programmable battery. It slots into the gap between the light and the base on the headband, you can set the useage and brightness on your computer as seen above. You can still use your regular batteries too, it's not a permanent fitting.
Ortlieb are moving more into packs, Phile messing with a multisport bumbag there and there's some nice looking small and medium capacity packs in the range. Waterproof too.
The Terra Nova Laser Ultra 1 is a huge talking point, and rightly so, it takes the lightest and lightens it. It feels very like the Photon Elite, just a little more transparent.
The big test will be on how much room it takes up my pack and how it copes with being pitched on a Scottish summit in winter. We'll see.
The same Ultra fabric is being used on the weightless bivi/sleeping bag cover below. I have it on good authority that one UK outdoor writer who was standing a few feet away asked if he could have a pair of overtrousers made from it…
The pack range is evolving, capacities from small to overnighter and also a claim of the worlds lightest pack, certainly the lightest fully featured and actually usable pack.
That Ultra fabric creeps up again in a set of runners gloves, weighless and they'll keep the chill off.
Ali reminded me that Extremites do less technical stuff too and we agreed that the hats kick ass.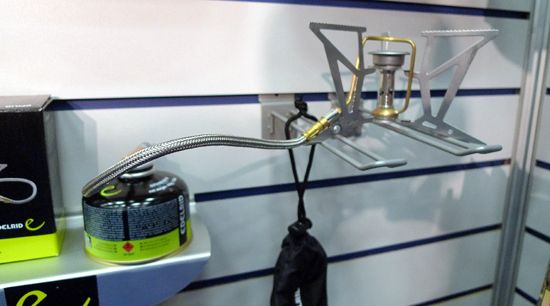 Edelrid have some stoves that have caught the eye. They've taken what Markill started and developed it, so don't think that they're jumping in here just full of good intentions, there's a design heritage here. The Opilio above is a proper remote canister stove, wide base, pre-heat and it's light at 170g.
The Kiro Ti is a 72 wee cracker, the folding/swivelling legs feel familiar and I have high hopes for it. Should have one of these in for test for the Assynt trip in 10 days or so.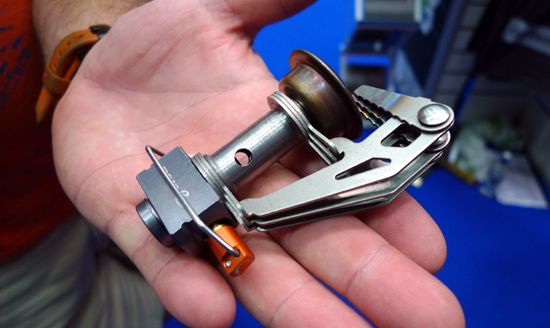 Garmont have had a low profile in the UK for a while, but make good kit. I've got a new set of mids here and I hope to see more stuff soon. The ADD concept where the laces slant across the top of your foot is genius. Lots of interesting models from trail to alpine, competition is what we need out there.
Noddy above has moved to First Ascent and he showed us some new kit. There's a new more robust NeoAir from Thermarest next spring, and you'll all be pleased to hear that there's a winter version for next winter. Alright!
Above are the Z poles, I'm holding the Ultra-Distance version, the lightest at 270g a pair. It's that tent=pole/ Mountain King Trail Blaze thing, you break it down into sections and fold it away. These are carbon and are three section, the others in the range are aluminium and the Distance FL version has some length adjustment too.
Black Diamond lighting looks nice, that's the 75 Lumen Spot above, 3 AAA's and they say 50hrs burn on max?
We looked at a few models in the pack range, very alpine of course, but lots of nice detailing and fabrics. The should do some crossover multisport/backpacking models.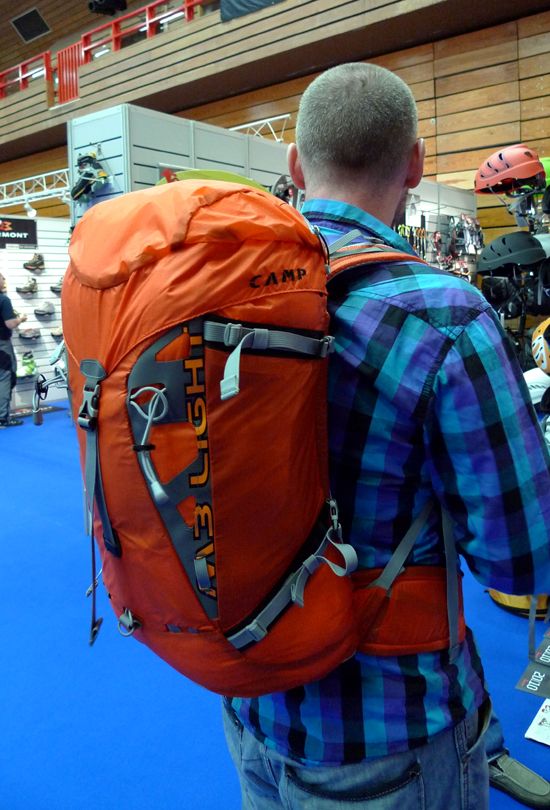 Allcord have taken on Karrimor (below) and have hopes for resurrecting it, there's new designer in place and hopefully the niggles on the current range will get ironed out.
The CAMP M3 Light pack above is a cracker, light and well-fitting, its alpine roots make it a stable carry and a good bet for any lightweight shenanigans.
Holly now has what she call her "Mountain Jacket" , so the Meindl's above attracted my interest. Genuinely good outdoor footwear for younger kids is a rarity. These were very good indeed.
Meindl have an image problem I think, but there are models to help with that, the trail selection above did raise an eyebrow, and there is some nice lightweight mids. But they have to address the dullness.
Bramwell International are doing Gregory packs in the UK now, it was nice to see the range after a wee gap. I like the packs, another brand we don't see enough of in the shops.
Phil liked the Silkbody t-shirt, and the range does have some nice kit in it. It;s good to have alternatives, and it's also that they're making the silk into lighter fabrics for more energetic uses.
Look at the Lowa boots above, don't you just love Europeans? Bet we see the brown one in the UK.
The kids stuff again was a highlight, the Littlelife packs are great, I just couldn't chose between the spider and the butterfly.
We had a spin through the Western Mountaineering kit, it looks nice, a mix of technical gear and lifestyle-looking clothing.  I was due in some test kit a while back, so hopefully I'll have something more useful to say at some point.
Stubai were my first brand of winter kit, purple 10-point crampons. The tour above is a lightweight option, and the Ibex below is just the purple option.
The whole range is nicely different, hopefully we'll see some of it on here this winter.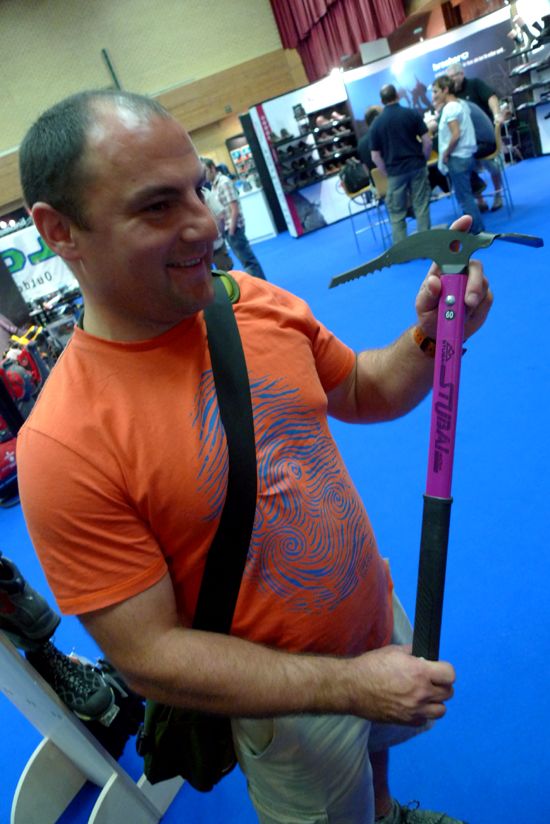 Not much new at Smartwool, but they are taking on Injinji with their own version of the technical toe sock.
And hey, the orange sock was too nice to walk by.
Outdoor Research make some badass head,  hand and anklewear. The clothing is a bit under represented over here, for once I think it's down to fit (old-school USA wide body-short arms) rather than the buyers, but there is a mighty range of it, it'll fit somebody so we should have it in more shops.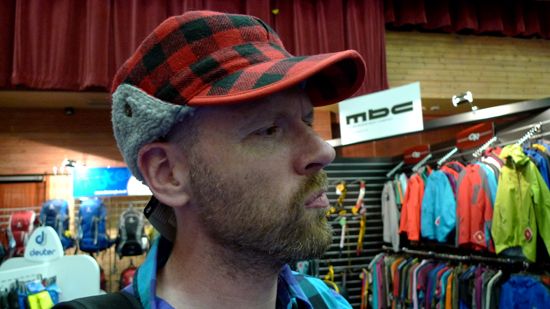 Mountain Boot Co do Dueter packs and Phil tried a few for size. I liked the look of the smaller multisport packs.
Also new to these guys are Lorpen socks (I've got some on test), and below we have Polartec socks. You'll be in plastics and awfy high up a mountain these things I hope.
Scarpa was well represented on the stand and me and GT chose our respective favoured options. They do a lot of lighter and softer models but they seem to slip by a little and it's the big stuff that makes the headlines. Shame.
The guys at HiTec were pleased with the moves in the range, they're updating the shoes, their look and the company persona. HiTec are huge, and yet the perception is of a budget brand, hopefully over the next few seasons that's going to change a little as their trail shoes are often damned by faint praise, another logo on some models and folk would be purring over them.
Not so relevant to what I do maybe, but I loved the huge and varied range on the stand. The sandals below have a nice leather top strap, and looked kinda dressy but the sole was a soft grippy one. Nice.
Chris from Vaude was both pleased to see us and to be roped in to work the camera. By this point Phil and I were fed up looking at each other through that greasy, scratched 3″ LCD screen.
The Vaude pack range is big, and it's diverse as well. We bothy rioed on a lot of different models and the fit was good.
That's the Splock 28 below, nice harness, a very good fit. The zipped entry will be a point of debate as always, but you can't fault if for quickness.
That's the Astra Light 50 above, a lovely harness again and it has all the good stuff like hipfin pockets and external mesh pockets.
The sleepmats were interesting too, from expanding foam models up to Primaloft filled Norrsken's at 550g and 600g. Something different for winter in there maybe?

Jon from Outdoorsmagic said I should have worn the hat back to front and fled the Vaude stand claiming a "meeting at Brasher".
This is what I need in my life, stuff with patterns like this, snakeskin models from Vipole. Will we see these in the shops next year?
GSI kit has always had me wondering, it does have some nice design touches both on the cookwear above and their bottle below is easy gripped with cold or gloves hands, the lid has a big "nose" sticking towards the camera as well.
I will leave it with the small purple box below.
A quick spin through the Keswick Sports Centre Hall then. There's a few crackers, and a good bit of wheel spinning too. A good day, but a long one.
I see a lot of repetition, new brands coming into a small and already full market, this will go one of two ways. The brand disappearing fast after a season or two of low sales of you get the occasional show-stealer that the others have to react to. That's the ones we need, but is that what we're getting?
Only the buyers and then we visting the shops can decide.