Lyon Equipment
Si says that the photie I posted of him last year was rubbish, so I'm sure he'll approve of this one…
Lyon bring in a stack of good brands and Phil and I went through the lot.
Above Si's wrestling with some Exped Synmats, a great cold weather mat indeed. The one they sent me for test nearly two years ago is still going strong, and in fact will be getting dusted off soon if the weather continues this downward spiral. There's a few wee tweaks for next year like the valves, but the models themselves will stay familiar.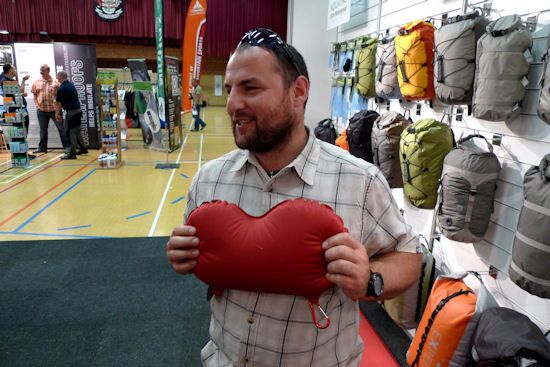 Phils grappling the inflata-pillow above, it pumps up the Exped mats and then you stick it under your napper for the night. I like that, makes sense that way. I've rather stand outside with my hood up on top of a mountain all night that carry a pump just to inflate something to sleep on and then sit there looking useless.
I'm always saying that going lightweight is all about balance, not compromise. That was until I lay on the big fat Exped mat below. I want to sleep on one of these always. Everything is going to feel like a compromise after this.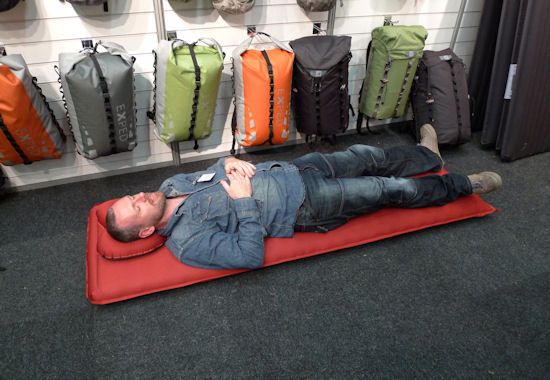 Exped make a great range of kit, and the most familiar must be the drybags. In the shots above you can see some of the huge variety they make. I've had some on test since winter 2007 and I've never written them up. Why? They're always packed and full of gear, they're just vital kit, especially the bright colour range with the white inner surface that lets you find stuff in the dark or in moments of "high pressure".
The model below has compression and an air valve, but it was still super-light feeling. For long trips, multisport use that takes you onto the water, these will be great.
It also looks like it's a robot's torso with a belly button. That can only be a good thing.
Jetboil just got sexy. These below are the new models for Spring next year, and rather than say "Well, we did it first" to Primus and MSR, Jetboil have raised the bar here with this lighter, multicoloured version, which also features a reactive set of stripes:they change colour when the contents are on the boil.
This is enough for me to finally give in and take one on a trip I think!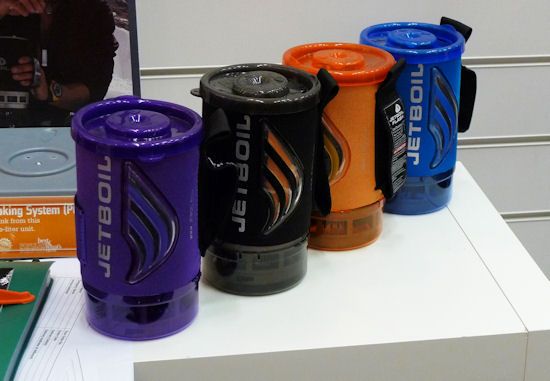 Julbo eyewear was there in force, and the winter goggles were pretty damned sexy. It's an oft overlooked item, and as I carry goggles in winter I enjoy the opportunity to look like a smartarse when everyone else is blinking into the blizzard.
The designs are getting all funky with skulls (alright!) and all-sorts, and some come with a matching Buff as seen below.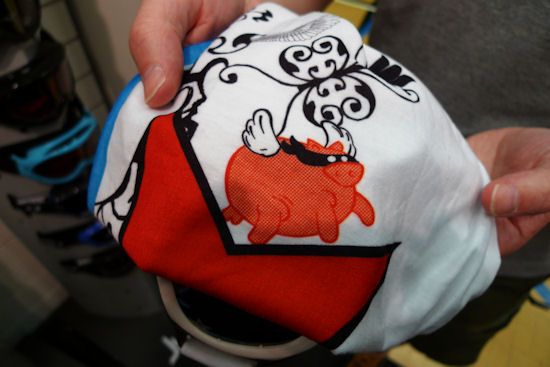 The Petzl helmet above is a kids helmet, its nice and light and yes, those stickers are fully authorised. They've made it kid-customisable to encourage the wee yins to wear them, good job.
Have a look at Phil's blog for the why and wherefore of the rescue kit below, I just thought it was really cool.
I liked this mountaineering axe from Petzl. It had a rubber coating all the way up the shaft which is very unusual. We talked about this for quite a while, and although no definite reason was forthcoming for Pezl doing it, we did come up with times where it would be useful. It probably doesn't add much weight either, interesting.
There were a bunch of updates to the headtorches as well, Petzl have definitely got their arse in gear.
A wall of LaSportiva there behind Phil, and a growing number of trails shoes in there. The Gandalf shoe takes centre stage, and the mid version below really caught our attention. The Gandalf is hand-made and compromise-free. It'll be hideously expensive and hopefully marvellous. The sole is rock oriented, but there's plenty grip there for drier mountain days and scrambling anytime.
Rab & PODsacs
PODsacs have been revitalised since joining Equip, Rab and Outdoor Designs parent company. On display were familiar designs such as the Black Ice, but there were a stack of all-new models. They're mostly alpine/climbing styles but there are a few more multisport models in there.
Most interesting for me was the use of roll-top closures here and elsewhere. It is the simplest and fastest closure out there, and if you've got your external storage and pockets sorted you don't miss a lid.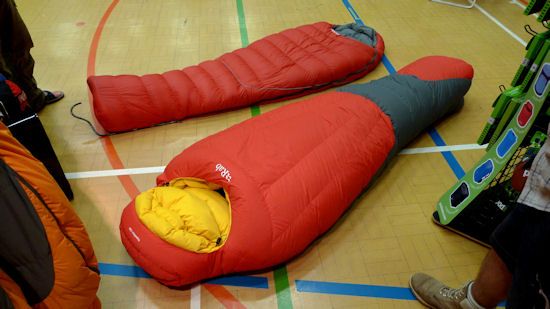 Rab have revamped their whole sleeping bag range, new names, new looks and new models too.
The Expedition bag above shows the their use of vertical chest baffles, and the Neutrino above it shows how sculpted the general shapes have become. There's a lot of technology in there apparently, but you and I can only pause and comment that they both loft like a bastard, and that says warm to me.
Phil's holding a Neutrino 200 below which uses Pertex Quantum and is rated down to +6°C. There's six regular Neutrino's (including two wummins), a topbag with a proper hood, and another new, more basic topbag as well. There's an Alpine series as well that looks light even with a Pertex Endurance outer.
The colourways are interesting, the ranges go from yellow as the lightest and coolest to red as the warmest and heaviest. I like the simplicity of that. The bag range generally looks good in fact, much fresher than we've seen from Rab in quite a while.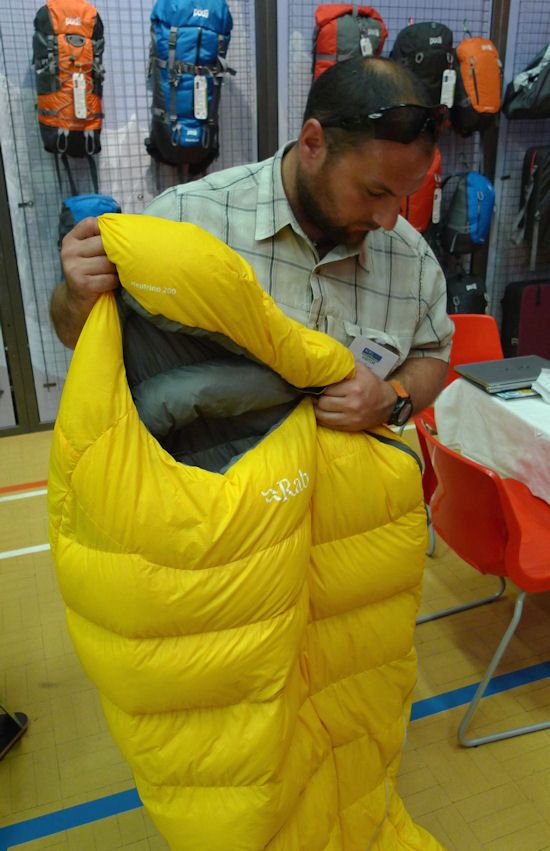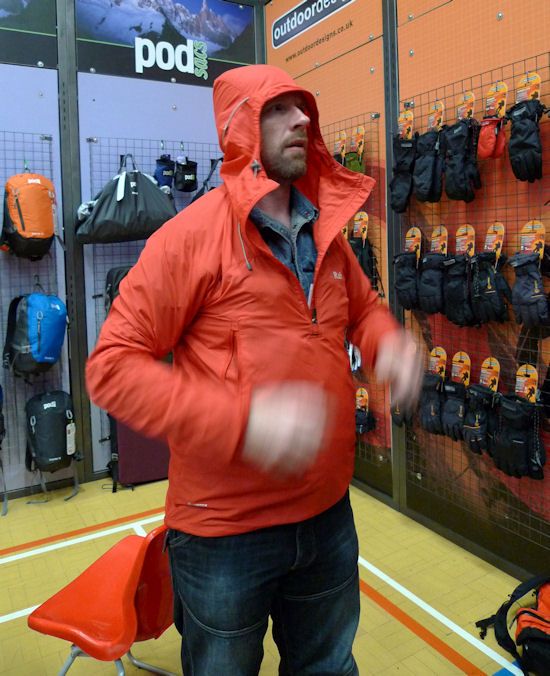 Rab used to make some great wind-shirts from Pertex Quantum and Microlite, but they got canned a few years back, and since then Montane has ran riot with world to itself. Next year though sees Rab step up with a couple of crackers.
Above is the Alpine Pull-on, 260g of Pertex Equalibrium with a fixed hood, chest pockets and long neck zip. This is proper softshell kit, with features and fabric that will take a bit of weather before you have to go to Plan B, but at the same time it won't cook you. It's light for what it is, indeed as you can see I was trying to take off so unweighted was I… (actually it was an unexpectedly long exposure, we were running so late that by the time we were looking at Ran they were turning off the lights and dismantling the stands. So, night-time photography…).
Below is the Cirrus Pull-on. It's in Pertex Quantum, it's listed at a frightening 75g, has a nice slim cut with long arms and body.
Looks like Rab and Montane will be meeting outside the school gates at 4 o'clock for a fight then?
Declan is holding the wummins Wisp Windtop above in glorious purple. There's plenty female variations through the range, lets hope the stores get it in.
Below is the Demand Pull-on in eVent. It's a 300g waterproof smock, and it's something we really need as Paclite has had its own way for too long. The cut is good, there's no compromises on arm length or mobility to get the weight down, the hood peak in this early form isn't the best, but they say the production version will have a better peak. The shape and adjustment of the rest of it are spot on though.
I'd wear this through winter quite happily, the fabric isn't the thinnest, so it'll take a bit of abuse from kit and weather, but it's still a lightweight smock. It's kinda hitting a wee niche all of its own .
Wummins Drillium above and mens below. I had one of these when they first came out, but this update is better, the hood storage, although initially alarming as I wasn't expecting a zip (the original was velcro), works well, the fabric is no longer shiny and the cut is very good indeed. For a stow-away hood it's very protective with that high collar, there's also a full zip and two chest pockets for only 375g. New models don't mean the old one's are duff, this is definitely a contender.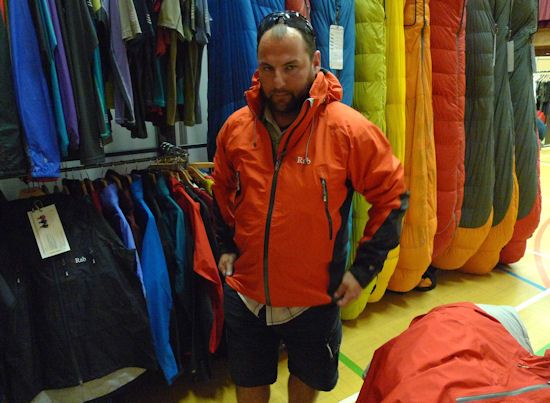 Below I'm grinning out of the updated Super Dru, another jacket that once was mine. It's another nice update to an already good jacket, and 440g for something that'll take winter abuse no problem isn't bad at all.
That was some of KORS '09. I missed out a load of stuff, and I missed out a bunch of folk on the day which is a pity, although I did some catching up the week after to sort out some bits and pieces for test.
I've got a rake of gear coming in and I brought some kit back with me which I'll get up as i use it.
I'm left with a generally positive feeling, the kit is good, the manufacturers are trying hard to improve and innovate despite the economic climate. There's a huge amount of lightweight bandwagon jumping, but you can spot the fakers a mile off.
But that's 2010, and winter in the store is happening right now. Alright!