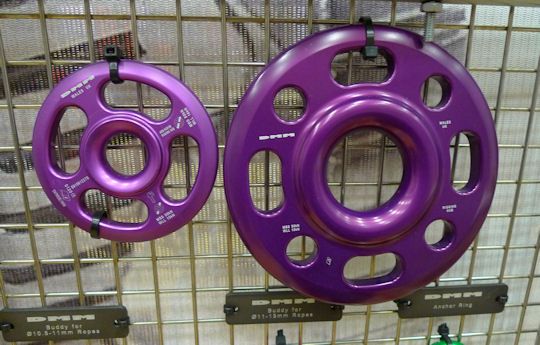 I was at KORS in Kendal a couple of weeks ago with Phil, and I'll tell you it was along day. Even so we still didn't get round everybody and missed out half of it. There were nice new Scarpa trail shoes for next year and I just had time for a quick squeeze in the passing, I missed HiTec, Primus and more. But it was great to see the stuff I was looking forward to as well as some nice surprises. Good to catch up with pals and put names and faces together as well.
The leisure centre grounds were filled with tents, in fact I haven't seen so many tents pitched on lawns since my last look around the blogosphere…
Anyway, Part 1. Me and Phil shared photies duties, and the joy and the pain too. Head over to Phil's for some kit that I didn't get a shot of.
Terra Nova
Terra Nova had a fair few tents pitched from themselves and their Wild Country range, and there were a several that caught the eye.
The Bivi Tarp above has been a success and is still in the range for next year, and below is the Solar Elite which new. In the hall the inner was on display in its free-standing hubbed-pole way, and looked very American. Good to see Terra Nova taking on that style of construction and immediately coming in with impressive sub-kilo weights. The porch is small, but not tiny, so it's very usable.
The bigger Laser tents are often overlooked, but the Laser Space 2 is ideal for bike touring with a huge porch and space for two to sleep.
The Laser Space 5 below is huge, Ali and Phil could ran about in the middle and not bump into each other. This is the kind of thing families, scouts and DofE folk should have, not the 17kg canvas horrors they currently endure.
Below we have the Laser Photon Elite, the worlds lightest "proper" tent. Light it is, and a wee bit smaller that a 'comp in all dimensions. But, it's lighter than most featured bivy bags, so what the hell would you want to suffer when you can sit in the mountains in this for the same weight?
We'll find out in a couple of weeks.
By the way, the fast-fly footprint is made of the lightest fabric I've ever seen. It's one step up from a spider web, a dyneema spider web mind.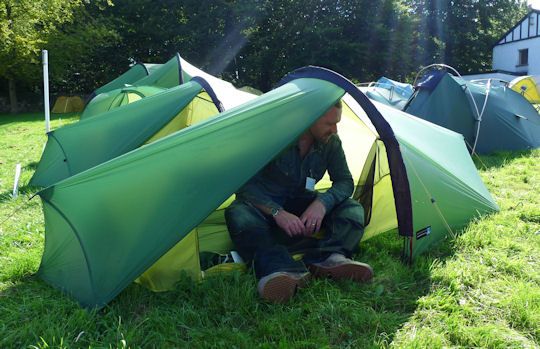 Below Ali has the Laser 20 Elite pack, which at 210g has the be the lightest actually usable-with-features technical pack out there. The whole pack range has been tweaked, things like the daft bottle pockets have been addressed.
Looking good.
 Crux, Lightwave, DMM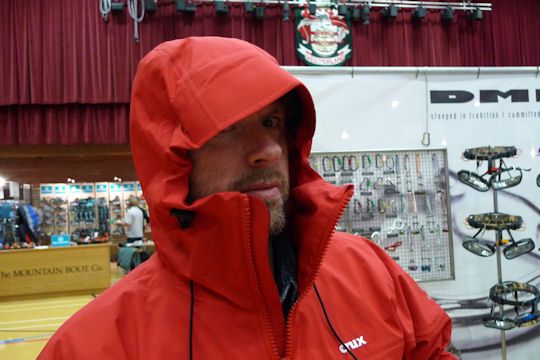 DMM are looking after Crux and Lightwave these days as well as their own climbing gear. Crux's Torq eVent shell above impressed me with its slim fit, light weight and different features like the waterproof RiRi zips that feel great to use. It comes in Smock flavour as well. In general alpine gear is great lightweight gear as it.s straight to the point and functional. The Crux shell and insulation looks good, and the Torq models come in a woman's fit.
Noddy below is a good lad, and a few years ago in his previous job he was the man who first showed me a pair of Montrail Namches which was one of the items that started a whole chain of events that brings me to er, here.
He's holding the Crux RK 30, a super-tough climbing rolltop pack which Phil and I tried on and wanted to take home, it really is totally badass. Behind is the Crux eVent sleeping bags, a small but focused range of kit all round.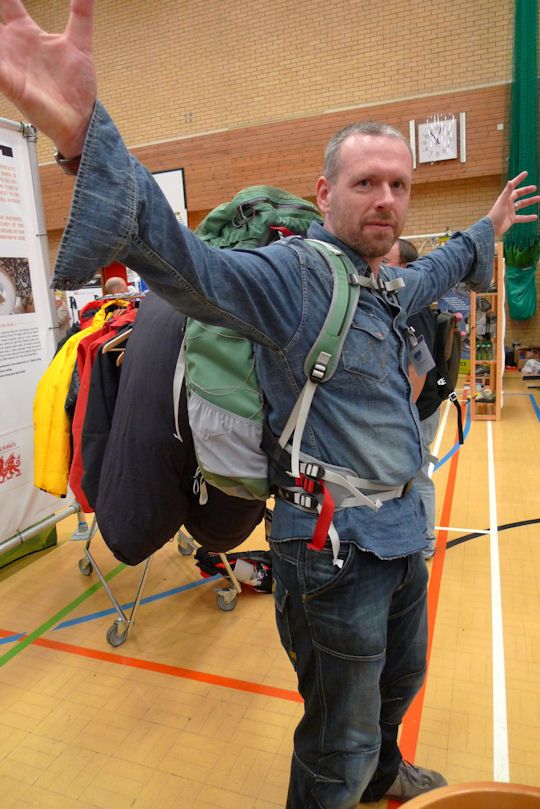 I had better luck with the Lightwave packs this time around, I think it may have been a back length issue with the Fastpack I tested last year. This time I had full mobility and it felt good on the back. We say it all the time but don't necessarily listen to it "Fit is everything".
Phil is clearly excited by the "Special Forces" range of climbing gear from DMM, and who can blame him.
Hollywood here we come.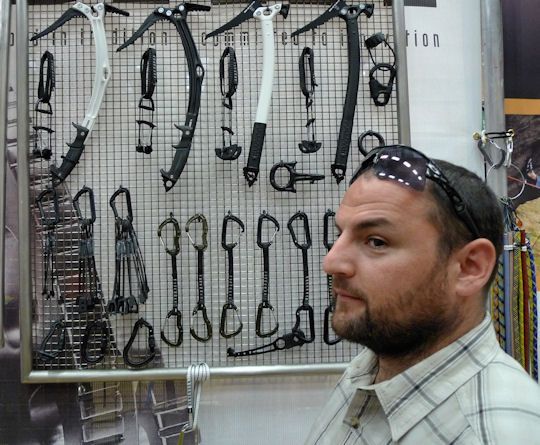 Thermarest, MSR, Black Diamond
Above is the down quilt-come-topbag from Thermarest, the Haven. In essence it's a Tyvek overshoe that slips over your outdoor footwear so you can walk into a factory cleanroom/a customers cream carpet. The sleepmat is your foot, and the overshoes is the down bag, but upside down and with a hole for your head. Look, I know I'm struggling with the description, but it's nothing to what struggling with this bag will be in a tent.
MSR are looking good with their tents, the Hubba HP in the centre is a favourite, and now in lime green. The oddball in the background is a Skinny One, a quirky single skin tunnel tent. I've just tested one for Trail and lets say it didn't take me long to make up my mind about it…
Below is an update of the Black Diamond Raven Ultra ice axe that I absolutely adored using last winter. This year's it's a little lighter with a slightly smaller head and an anodised rather than painted shaft.
Arc'teryx
From the Big Stone stand Phil's got the coverage of the 5.10 footwear, and Smartwool I looked at a couple of weeks ago, but Arc'teryx I don't get to see much.  They've got some nice lightweight packs for next year, backpacking below, and some neat looking adventure/multisport packs.
There was clothing but we were running horrendously late and had to keep moving. Ach!
Vaude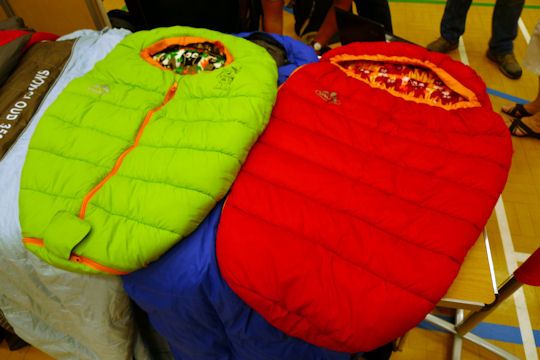 We gatecrashed the Vaude stand after I saw these little kids sleeping bags above. They have slots in them that you can open and it fits into a child carrier as a warmer as well, genius. I look at a lot of this stuff, some companies made a big effort like here, and others make a token gesture. I definitely think it's an all-or-nothing range, do it right or not at all.
Below is the Vaude Lasercomp Scutum UL. Actually, it's resemblance to a 'comp or an Akto for that matter is only superficial, this is a very roomy, lightweight tent. It's going to be fine for two folks and it's light enough to carry as supreme luxury for one. The Vaude quality and attention to detail is there and I think this is going to made a big impact when it comes out.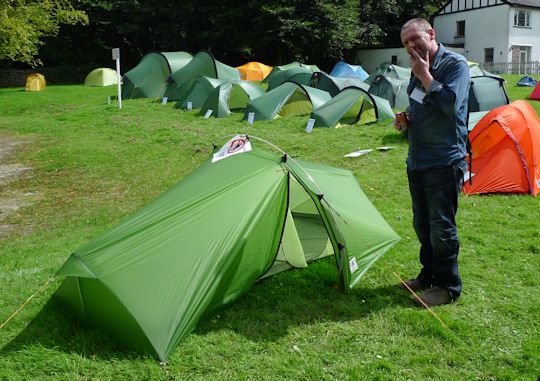 CAMP, Fizan
Below that swoopy, spiky wonder is the new CAMP X-Lite. It's listed at 285g and it's a step up in functionality to the Corsa variants I've been using the past two winters. The forged head feels great in the hand and is much easier to hold than the Corsa's. The shaft is plain save for the little machined grooves as found on the Corsa and it has a proper spike for plunging into the snow without wearing away the end of the shaft.
Just into the UK are Fizan trekking poles. They're an Italian independent with a huge range of poles, some of them both refreshingly different and incredibly light.
Phil's holding the baskets that they come with, summer, snow basket, and swivel for snowshoeing. We liked the look of these, choice is always good in the marketplace and quality kit keeps everyone of their toes.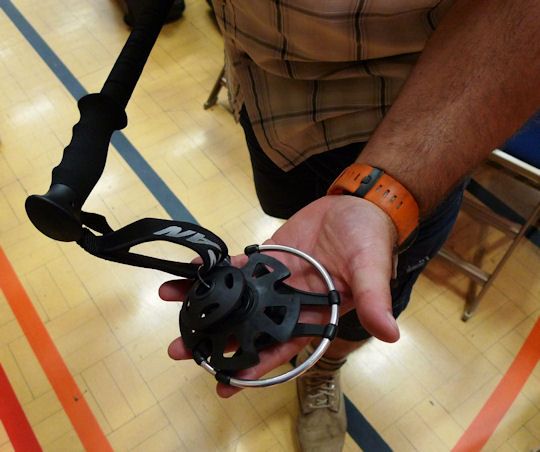 Ian who showed us round the gear (including the Kayland footwear behind) is hoping that last years winter is a sign of things to come and asked if we wanted to test this saw for making an igloo this winter. I'm hoping it might well come to that.
But if not, we'll make good use of the CAMP XLS, a handle-less snow shovel in the vein of a Snowclaw, but lighter.
This is just a drop in the ocean, and I'll have part two coming up soon. The wealth of great gear on show is frightening, and whether or not it makes the shops is unknown. Orders were coming in for some stuff, others were looking iffy.
As I've said, it's all in the hands of store buyers. We're doomed.