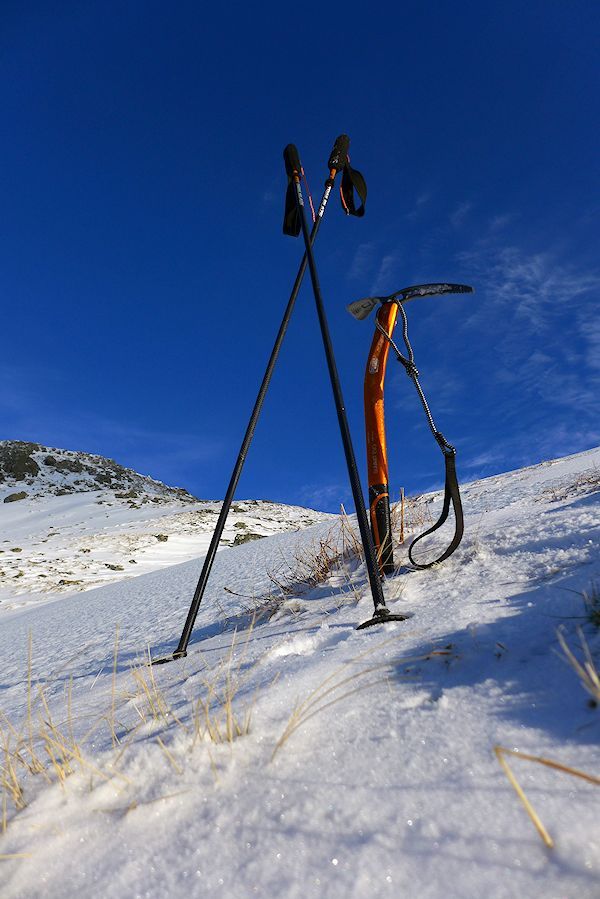 Some gear doesn't fit the Walkhighlands schedule which I've tightened up as time's gone on and I still get a lot of one-offs sent through so I'm going to have a look at some of this from time to time, maybe do proper reviews on here if I can be arsed.
A couple of things from Monday are worth a mention, up first are the Trail Blaze Carbon poles from Mountain King. Been using these for a couple of months, they have the same layout as the regular Trail Blaze with four sections, an internal cord securing system and a mesh covered slightly squashy handle with a wrist loop.
I've done countless miles with various versions of these poles, the format is ideal for me, giving propulsion and stability, they weigh too little to worry about and they fold away to nothing. The new carbons are stiffer though, still featherweight but they feel more direct, the shaft still flexes but less so than the alloy's and it makes a difference. More energy going into forward motion that used flexing the pole every time you push off? It'll be minimal amounts I'd imagine, but I'm liking the feel very much. I've been treating the carbons rough, I had a fall where one had a big flex under my full weight with no damage to report and they've been scraped over the scenery every time they've been out. The glossy finish is getting scraped, but no chunks or gouges yet so it's looking good so far.
Second is a pack that got buried in the to-do pile and just popped back up last week, the Millet Torong 42 MBS. I didn't like the look of it at first which is why it slipped my mind, but when I saw it at the weekend and had a second look at the features I knew it was worth a try, plus the fit was instantly right, something you don't argue with too much.
It says fast hiking on the label, but it feels like a winter sports pack with the clean exterior and fancy ice tool storage loops, which I really like. But the hipbelt is fixed with a big metal swively thing so no one is winter climbing with this I'd imagine. Nice external mesh pocket, sneaky zipped access to one side if you don't want to open the lid, underneath straps for a tent or mat and two mesh bottle pockets. There's tensioning straps running through/across these bottle pockets which as a design choice always annoys me but I can get my bottle in and out okay so I'll withhold judgement here in the meantime.
The lid is the wrong way round , it clips shut at your neck which works great and makes for a very neat and weatherproof seal but the buckles are too small to work with big gloves on and I was shouting at them when I needed to get to my donuts within.
Excellent harness, instantly comfy on my frame and that swively hipbelt thing works fine, it's subtle though, not overly mobile, feels like a flex rather than a swivel if that makes sense.
I think it's got the makings of a nice overnighter pack, it feels lighter than the website says it is (I haven't checked yet) and has a good capacity for light nights out. Kinda glad I took it out on Monday.
I used the CAMP XLC Nanotech crampons which have heel clip and probably shouldn't be used on the old Haglofs Gryms I had them on but, it's an excellent and secure combo so safety man can sue me. The point shape and layout on the alloy XLC's does take a little adjustment of approach but last winter a different pair I was using had a point layout that you could slide downhill with like you were wearing skis if you placed your feet the right way so nothing is er, perfect.
The MSR Windboiler is still keeping in my affections, the Petzl Summit Evo ice axe is a joy and my winter secret weapon is a now well worn EDZ All Climate One Piece Base Layer, basically a mountain onesie. The synthetic fabric works well, it keeps me dry although it isn't the best at keeping odour away but it's the layering aspect that makes it a winner, you can't pull the top up and get you a cold back, your bottoms can't slip down and bunch at the crotch. Under softshell trousers it's a just a joy.
The two way zip makes peeing straightforward, anything that needs a squat though, you're getting naked in the mountains so not the best for longer trips.
More soon?