I wasn't really looking to test anything on last weeks trip, it was mostly familiar or recently arrived but trusted kit. And I was really thinking about the weight, so I went for the lightest option in most cases.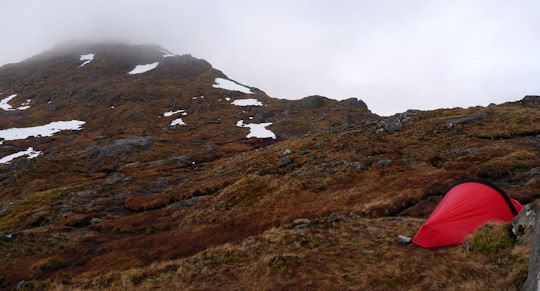 I took the Lasercomp which has been transformed by the new guys and pegs, it now pitches better than ever and it's rock solid. It was a very damp night with fluctuating temperatures and the flysheet was coated with condensation inside and out as you'd expect, but the inner stayed dry.
I used the recent PHD specials, the Minim 300 bag with the short zip and the Minimus jacket.
The jacket was on and off regularly over the trip and strolling about in it early in the AM, hands in pockets willing the clouds to bugger off was happy times indeed. The short zip on the Minim bag is very handy for camp living for a cross-legged sitter such as myself. Comfort wise I don't know yet, I took the Big Agnes Clearview which has the insulative qualities of a handful of ¾" Whitworth bolts so my hip and shoulder were cooled when they pointed down and warmed when they pointed up.
The Clearview itself? Bless it, I put a hole in it. It made it easier to pack, but I think it's done it's time on the front line now. For what it is and what it's made of, it's done well. I've taken my Thermarest Prolite 3 out of stasis, I think it's time I updated my "only fat mats are good" maxim.
The Montrail Hardrock Mids from last year now appear to be letting the water in. I had wet feet both days, fine if you're expecting it, but not so good if you've taken steps to avoid it. Clean socks meant no great upset, but it's annoying. I'll test them in the sink at some point and see what the score is.
I swapped between the Montane Featherlite windshirt and Haglöfs Oz waterproof and both were magic. The Featherlite was usable across a wide range of conditions and the Oz continues to defy convention regarding the accepted horrors of Paclite. I'll be packing both of these until they come apart.
Double merino, that's the stuff right there. Baselayer and midlayer, stink free comfort and insulation that feels very different to a merino/synthetic mix or an all synthetic combo. I'm still collating on this one, but I'm becoming reluctant tp pack a midlayer other than the Chocolate Fish TeMata at the moment. Higher weight is the penalty, but it's looking more durable that I thought. Time will tell.
Bachellors Cup-a-Soups, they'll be standard issue from now on. I picked up a box up in Morrisons in Ft Bill on a whim and they saved my sanity, it's so easy to forget the simple things when all you see is "technical" brands in front of you all the time. 
And speaking of food, eating was acheived via a little emergency aluminium origami. I forgot a spork and had to make one out of two strips of stove windshield.  It worked fine, no cut lips, no food poisoning, no chance I'll forget my spork next time.