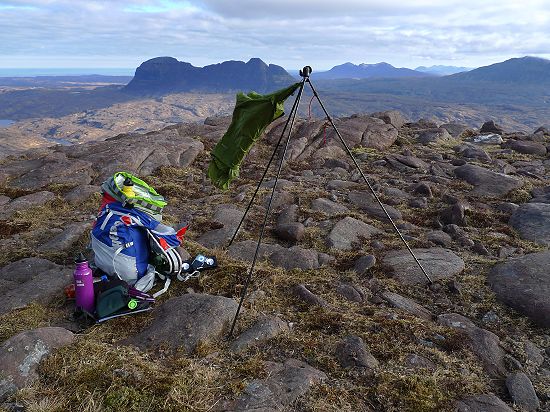 For such a short trip in distance covered, on Cul Mor there was a shit load of gear in play. The Wild Stripes base layers and Berghaus Octans 40 have been done in posts below, the Terra Nova Ultra 1 will have it's full review shortly, but there's more.
The Soto OD-1R continues to impress.  I'm now convinced that the regulator makes a huge difference, when the can's nearly empty the flame does shrink a little, then it just goes out and the can is completely empty. Many of the canister-tops I've used over the years will have "death throes" of sorts as the gas goes, "putting" flames, flames dancing around the rings of gas ports in a race or just a pishy soft flame that does nothing. The Soto just works and then stops, but I'm pretty sure I'll have broken it before the end of the year. Or sooner. It does feel fragile.
My Zipshot tripod was a joy as ever, and above it was the perfect drying line for my Rab Cirrus. It's a cracking windshirt, it's lasted incredibly well given the light fabric and regular use it's had. The Pertex really does soak up and spread the sweat out, and from being dark and damp all over, the Cirrus was bone dry after a couple of minutes in the breeze. It's back in the go-to pile for summer.
New in town for test is the Pacific Outdoor Peak Elite AC sleep mat. I nearly gave myself a hernia blowing it up, but once it agreed to accept the air, it was a fine mat of fatness indeed. It's a good shape, feels warm in low single-figure temperatures and packs down to nearly nothing. It's black which is fine, I've got a bunch of black kit in, I'm not monochromist whatever they say. Anyway, it looks like it's replacing the Neoair for summer after that first try, so more later.
Also sleepy related in the sleeping bag I took. Due to a logistics snafu, all my light summer bags were at my folks house "airing" (oot o' my road is the translation), so I had a rake in the cupboard and pulled out my first-issue Mountain Equipment Xero 250.
I haven't used it in years, so it might as well have been something new. It's okay, a little short for me maybe, but once inside and settled I was happy enough. It's been stored dry and uncompressed, so it lofted well enough, I was warm enough until my early morning incident (see day two of the trip) but I think I was just left unmoved by the experience. Things have moved on.
The stretch seams have always been a point of debate too. Down fill weight in a baffle is optimised to get the right loft, surely then stretch seams can compress the down or thin it out making the best performance a hit-or-miss area in the middle? The Mont Bell bag I tested way back had stretch seams too and I remember liking that, so I dunno.
I was going to do a total kit list for this trip, but I've left it too long to write it up and it's all packed away again, whatever it was. I'll try for that the next time though, I don't think I've done that since my WHW trip three years ago. It'll be fun to see just what kind of shite's rolling around in my pack. There'll be Wayfarer meals I'll tell you that.