At the weekend I took an old pal, the red Lasercomp that's been seen on this blog so much. I just couldn't face something else new and it made a real difference to my happiness.
I swear to you it's huge after the F10 Helium and the Photon I've been using. I can sit up, move, dress easily, store my gear, cook and get in and out without an issue. It's reinforced my view that the 'comp is at the sweetspot of lightweight tent design.
I used both sets of Hillsound crampons on my Keen Oregons and the news is good. There was just enough good snow about for me to get a feel for them and the Trail Crampons are secure, grippy and easy to put on. The Pro's binding was a delight of simplicity to fit and remove, they're stiffer than a steel Kahtoola, but the front points are more horizontal, so do think they're more G10 anyway. Everyone was impressed by both sets from a spec and a weight point of view.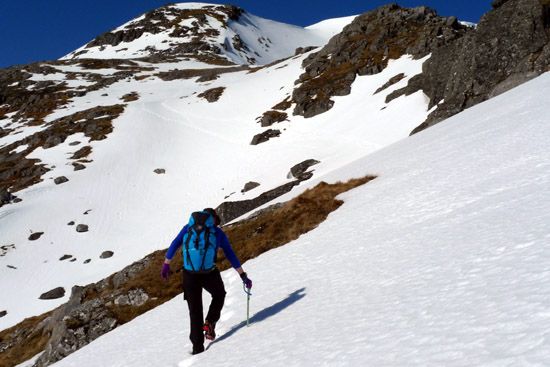 The pack above is the Karrimor X-Lite 45+10 which proved to delight as much as it confounded. I like the zipped bottom compartment as I discovered on the last overnighter with the Haglöfs Matrix, the harness started to soften to my shape and I like it's low profile, fit and stability. The pack is a good size and shape for mountain use although the lid is a little closer to the back of my head than I expected.
What does annoy is the complete lack of external storage, no hipbelt or wand pockets, no crampon webbing on the lid, no mesh stuff-pockets, not even a bungee to strap a wet tent onto.
X-Lite says to me weight conscious, on-the-move-accessibility, performance and adaptability. The X-Lite 45+10 comes so close but falls short because it's really more of a traditional backpacking sack made from lighter materials.
There's so many genius touches on it too, the back-length adjustment, the snow-lock closure which is bias-shaped to pull away from the front of the pack when it's tightened to minimise the chance of weather getting in and the harness attachment which is old-school but gives free movement without sacrificing stability when on steep or rough ground.
I'm going to attach a pocket or two and some bungees and take it out again. The basics are good and I hope with a couple of tweaks I can make it more usable, I did similar to the Gregory Z35r and was quite happy.
I'm grinning out of a Golite Adrenaline 3 down bag which got it's first real test on Saturday night.
Now, this is a slim bag, the slimmest I've got I think. I can't comfortably get in it with anything more than baselayers on, but once in there with my shoulders inside there's no feeling of constriction at all. The central zip works well for camp living and ventilation, and the bag is warm. It was below zero in the night and I slept warm and sound.
I don't like sleeping in clothes anymore, not when there's sleeping bags light enough and warm enough for me not to have to, so I think me and the Adrenaline 3 will be good pals.
I had the Jetboil, wore discontinued Haglöfs Iguana pants (bring them back) and Chocolate Fish Taranaki base layers, I used the CAMP Corsa for the first time this winter and even got to grips with the Garmin Oregon 450 after some help from Phil.
The NeoAir continues its faultless run and most other stuff was standard issue. The Czech camo boonie hat made a welcome return though, that made me very happy indeed.