The Haglöfs LIM 45 was back in action. The hipbelt is a marvel, but the shoulder straps were out of adjustment because a pal had been using it. Velcro is very hard to put back where it was before, but I'm just about there now. My version 3.0 OMM chest pouch (more of that later) doesn't match it so well with its revamped attachments, so a couple of D-rings might have to fired on there next time. The LIM carries so well and looks so untidy… Still, it feels like an old friend.
My Big Agnes Three Wire Bivy saw action for the first time this year, and again it felt like an old friend. No condensation, no hassle, and I can still get all my gear in there with me. I ditched the pegs and took some Vargo nails and I even remembered how to put the pole assembly in right. Crivvens. The Three Wire is a great bit of kit.
What has become clear though is that the Big Agnes designer is five foot one. All the shelter entrances are low, now that I've tested a few and had a look at others it all makes sense. Ach, maybe five foot eight. Or nine. Still, it's no deal breaker.
I took the Markill Peak Ignition stove which works fine and it's nicely small-packing, but after using the Optimus Crux almost exclusively for a year I was surprised at how fuel-thirsty the Peak was and also that it took a little longer to boil my standard 600ml. It's not exactly a disaster, but it's good to have an update from the trip so I know what amount of fuel I'll have to carry next time. It's a very stable stove, the pot just sticks to it and the valve works smoothly which made me happy after my recent jet engine shenanigans.
I slept in the buff (not a buff) in my PHD Minim Ultra 900. It's 345g and it was warm. At one point the wind was strong enough the flatten the bivy and consequently the bag flat against my "flanges" when I was on my side and I could feel that a bit, but in a tent I'd have been fine, if not finer.
Underneath me was the still trouble-free Neoair. Long may this continue.
New on this trip were the Powerstretch gloves and jumper just in from Marmot. The gloves are a great fit and did the job when I was cooking ouside the bivy in the early hours when it was a bit chilly. They've got some small finger-tip and thumb grips so they're dextrous, but don't bind and twist around your hand on trekking poles as they would with an all-over gripping surface.
The Half-Zip Pullover got pulled-over my head when I was sitting up to make my morning cuppa and it stayed there until I was back on the track below for my midmorning cuppa some hours later. The fit is great for me, slim and long with a nice high collar which can be zipped right up without impairing brain function or breathing. The cuffs have reversed fabric. That is, the furry side is outside so you can wipe your nose on it, and I did. The Powerstretch they're using is a very soft version, but still takes the sting out of the wind and I found myself wearing just the pullover without a windshirt and was completely comfy reaching the summit at exactly 0700 in blowy conditions. Out of the wind I can feel its warmth too, Powerstretch is great stuff.
I kinda like the looks of the pullover, the black stitching gives it a sci-fi quality, and the bizarre shade of red make it a bit 70's. So my maxim of "dressing up to go out and play" applies here in spades as it's hitting so many personal markers.
More to come on the Marmot kit, but I like when stuff just fits-in like that
I took the Haglöfs Jura shirt on it's first proper hill trip, and you know something, a front that opens up completely, a collar that stays up, wide cuffs and a fabric that isn't really warm but keeps some wind out are just exactly what I needed on the day. It was a joy to wear and I only stuck a windshirt over it when I was at 900m at 2200hrs. I'm glad I didn't have to sleep in it though, I'm sure buttons and sleep would have had consequences of some sort.
The windshirt was an old Rab Quantum, just for a change. Great ftting, nice long arms and completely unnoticed when worn. Good stuff.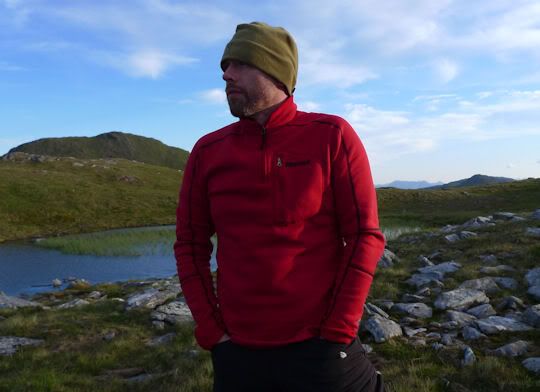 Quick Kit List
Pack, Haglöfs LIM 45
Shelter, Big Agnes Three Wire Bivy
Sleeping Bag, PHD Minim Ultra 900
Sleep Mat, Thermarest Neoair Standard
Stove, Markill Peak Ignition
Fuel, Rekri8 125g canister
Pot, Optimus Terra Solo
Shell, Haglöfs Oz Pullover, OMM Kamleika Pants
Insulation, Haglöfs LIM Barrier, Marmot Powerstretch Half-Zip
Worn, Chocolate Fish merino boxers, Haglöfs Rugged Mountain pants, Haglöfs Jurs L/S shirt, Montrail Streak's, Wigwan socks out and Smartwool socks back, H&M denim hat, Rab Quantum windshirt.
Other, Alpkit Gamma headtorch, Petzl e+Lite, compass &map, plastic spoon, sunblock, shades, Camelbak 750ml Better Bottle, Nalgene Oasis Canteen, AMK DIY-ed medical kit, iPod, Snow Peak titanium mug, camera and tripod, Marmot Powerstretch Gloves, Summer Buff, Haglöfs beanie, Coghlans trowel and toiler paper.
Food, main meal & breakfast freeze-dried bags, 2 porridge bars, 1 beef jerky, 2 Cup-a-Soups, Lyon's coffee bags, Cadbury's hot chocolate, tube of Nuun (lemon and lime), a yumyum, Honey Stinger chews*, some chocolate and trail-mix stuff.
I think that's it?
*Honey Stinger seems to have disappeared from the stores round my way, but the UK distributor's got an online store now.