A lot of the kit on the Grey Corries overnighter was the same as the recent Beinn Narnain trip, but there was old, new, and purple too.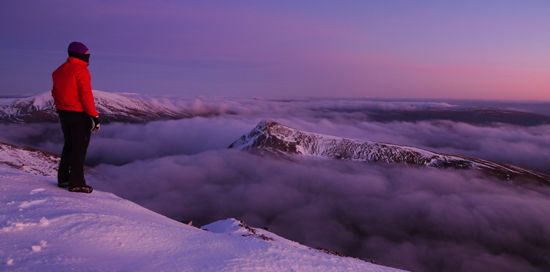 Seen above is the Montane Lite-Speed jacket, a fine wind divertor indeed. The unexpected advantage with this was the huge chest pocket, it swallowed my padded gloves (Haglöfs Helix: outstanding) until I needed them. I think the slightly heavier Pertex Microlite does make a difference to the chill factor compared to wearing Pertex Quantum, although I was wearing a few light layers underneath, so as ever it's a pudding of variables.
Those layers were the Chocolate Fish Taranaki vest, the Smartwool NTS long-sleeve zip neck and a 15+ year old Karrimor pullover. It was a great combo and kept me comfy at all times. The old Karrimor top is made of an early version of Powerstretch and it has a cut, articulation and detailing to shame many modern efforts. I wish I had a new one. It's purple too, did I mention that?
Doon below were Smartwool lightweight ¾ length leggings which I've used for years and they're great. Socks were my old Bridgedale Summits (are they still called that?), which were nice for a change and were comfy and warm. Dry on Sunday morning too.
The Laser Photon Elite again wondered what all the fuss was about and got on with the job of being a tent. I pitched it better this time on a properly flattened spot and had an easier time of it all in all. The smaller porch is now dealt with, some storage has been moved inside, and I'm feeling more at home. The blue Y-pegs are all I'm using now, they're perfect for winter.
I used an MSR Windpro stove. Remote canister stoves are great in winter, apart from this one. It drank gas and burned it with a piss poor flame. I'll check it out again before and during its next trip before I make up my mind and hang it in public.
I used a bigger pot, the Optimus Weekend and that worked well, dinner and cuppa at once, and I could melt big wedges of snow into it.
Sleeping gear was again the PHD kit and NeoAir, but after some prompting by Kev, I packed a single OMM Duomat for under my torso and it seemed to make a difference. Going back to a bulky mat is going to really upset me so I'll be trying to use the Neoair as long as I can.
Saving my ass in potentially cold situations of course, is the other PHD down kit, all if which was pressed into service. When I went looking for my water bottle it was in baselayers, down pants and down jacket. I was cooked.
It shows you how cold the big mountains are when climbers are still moving while wearing 12″ of down on every surface of their bodies.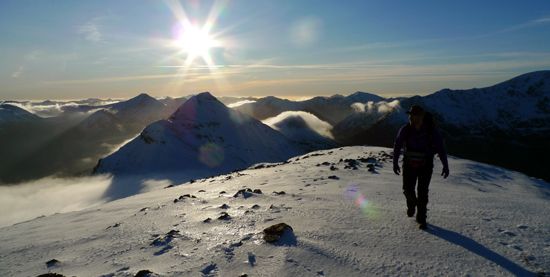 I talked a bit about the Kahtoola "moment" in the trip write-up, and it's good that this happened. I now know when not to pack them, and to be honest I probably would have felt the same had I been wearing my Grivel AirTechs. I really needed to have those big long G12 spikes at that moment after many years of relying on them without failure.
I was relying heavily on my Black Diamond Raven Ultra axe, at one point it was buried in the snow up to it's head and was taking my whole weight as my feet were scrabbling for grip. It's outstandingly usable for a lightweight axe.
The Petzl Tikka XP² continues to delight, now fitted with lithium batteries too. It was perfect on the night-time ridge walk and that red LED is brilliant. I was taking photies of the tent and was runing about with my e+lite on as the XP lit up the tent and I was reminded why it's better to have proper light on your napper up there. Seeing further than you can sneeze is a good thing.
On my hands were a wonderful wee discovery. You know those cheapo liners you get in all the outdoor shops? All the colours of the world and they go a bit bobbly and always look as if they need washed, well if you stick lots of little rubber dots on the palms and fingers they turn into "Horseriding gloves".
Okay, I bought them because they come in purple and they're only £2, but as it turns out they're actually really good. The tiny gripper dots don't seem to pull on the glove while I use trekking poles (I find that the grips on some gloves sometimes take over, the gloves sticks more to the pole or axe than your hand and gloves feels all loose and rubbish), they grip an ice axe fine, they're warm, soft, dry quickly, they come in purple and they're only £2. I've just washed them and they're fine. Brilliant, really. Ebay. I've bought more.
And this hat. For when this one below is in the wash. Ah, it's 1992 all over again…